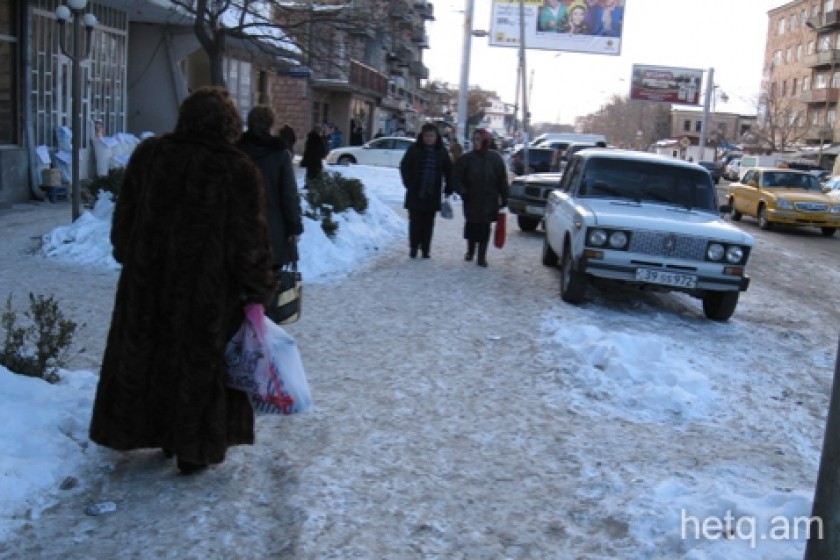 Treacherous Travel: Vanadzor Municipality's Inadequate Snow Removal Efforts
The snow that fell over the northern Armenian town of Vanadzor over ten days ago has turned into a dangerous, totally impassable, sheet of ice for residents who have to get on with their daily business.
The Vanadzor Municipality has done next to nothing to make public spaces safe for its residents. It even hasn't cleaned the sidewalks outside the mayor's office and other municipal buildings.
Senior citizens, fearing bodily harm, have stayed indoors. Women, who are tasked with the household shopping, are seen slipping and sliding throughout the town. Those who do succumb and fall on the black ice, breathe a sigh of relief when they get up – no bones broken.
It was yesterday afternoon. A middle aged woman slipped and fell on her back at the Vanadzor clothing market. As passersby helped her to her feet, the wobbly woman exclaimed, "That's the tenth time today."
The absurdity in all this is that on January 10, the Vanadzor Municipality's website boasted: "We are continuing the difficult snow removal work." Oh really? Perhaps the municipality's snow removals crews got lost somewhere on the way to the job.
Had the snow been removed in time, it wouldn't have turned into the sheets of ice that blanket the town's sidewalks and intersections.
The municipality has an excuse for the unacceptable situation. It issued a statement saying that the seven pieces of snow removal equipment wasn't enough to do a proper job. That's an understatement.
The municipality's website also states that it only made the roads passable for cars on the afternoon of January 10, two days after the snow started to fall. Town officials are asking residents to understand the enormity of the challenge they faced.
But what has the municipality done since the snow ended? Work crews haven't even thrown salt down on sidewalk intersections and other important byways.
The mess also reveals the lack of preparedness on the part of the municipality. Hey, it's winter time. The salt, shovels and snow removal trucks should have been at the ready and in significant force.
Vanadzor residents, left to their own devices, must continue to navigate the omnipresent ice.
When the next snow comes, and it will, town residents will have even more challenges to contend with.
It seems that the Vanadzor Municipality is content for taxpayers to fend for themselves.