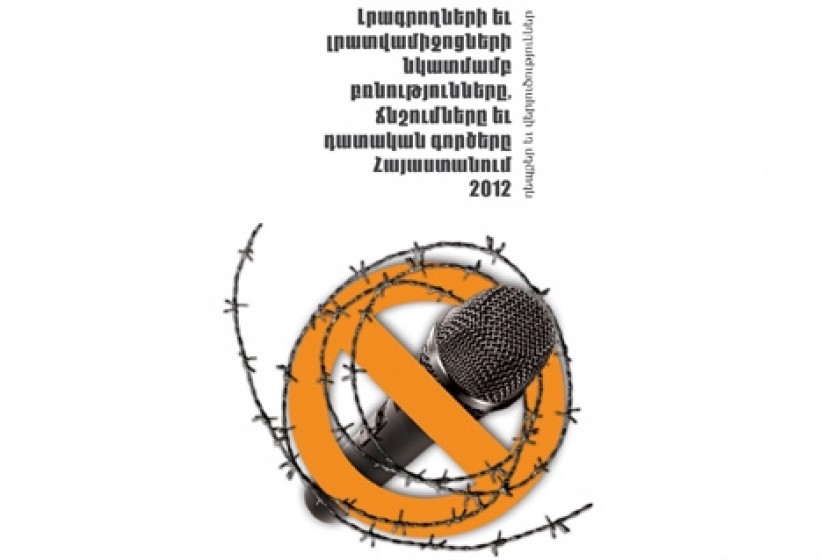 Media Freedom in Armenia: Positive Judicial Trends Coupled with Police Inaction
Those concerned with the state of freedom of speech in Armenia will find this latest study of the Investigative Journalists' NGO of particular interest.
Entitled "Violence, intimidation and legal cases against journalists and the media in Armenia 2012", the compendium pays particular attention to incidents of violence perpetrated against reporters and a new method that has surfaced within the past two years to impede the functioning of the press; namely to sue the media on charges of slander and insult.
The book summarizes the cases and incidents that have been reported from January to October, 2012.
Attorneys Ara Ghazaryan and Ashot Vareljyan have concisely presented various aspects regarding the freedom of news outlets – legislative regulation, news accessibility, physical violence, and slander/insult court cases. In their analysis, they have expressed an optimistic view only on the latter; i.e., the overall judicial process is developing in the right direction.
Such cases brought to the courts have decreased dramatically, and the significant drop in the amounts of compensatory damages awarded has become established judicial practice. In contrast, when it comes to exposing incidents of violence committed against journalists, the situation hasn't improved. In 2012, as in years past, police investigations of the cases reported have been more for "show" than anything else and thus unproductive.
In contrast to past publications, this book has a new section entitled "Media Coverage of the Parliamentary Elections". Hetq's political commentator followed the May 6, 2012 official and non-official campaign appearing in the print media, TV and internet surrounding the elections and came up with a number of interesting insights.
The book has been developed and published with the assistance of the OSCE Office in Yerevan.
If you found a typo you can notify us by selecting the text area and pressing CTRL+Enter