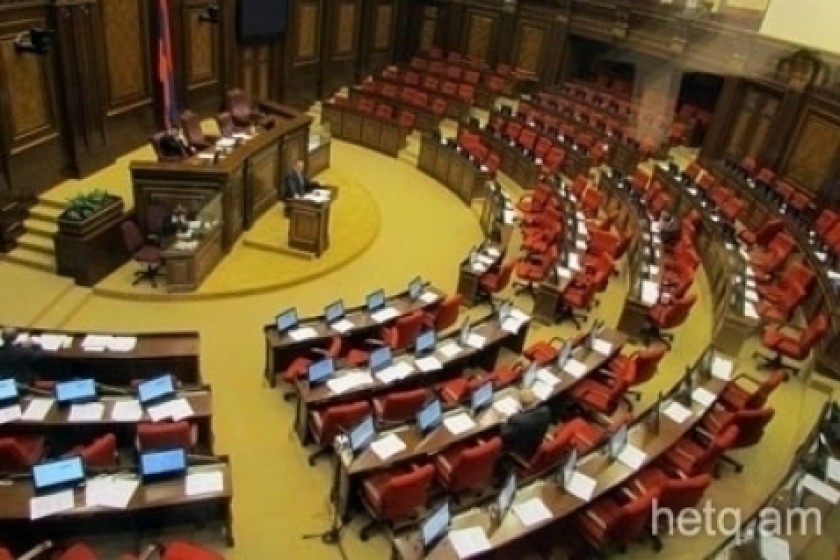 Edward Sharmazanov: "Whoever wants to be president should wait till 2018".
At today's session of the of the RA National Assembly, opposition MPs took the opportunity to deliver a number of speeches.
HAK MP Nikol Pashinyan criticized the legislature for getting bogged down in matters that had no relevancy to reality and should be focusing on the past-election situation that is "in the hearts and minds of the people".
Pashinyan proposed that the president of the Central Electoral Commission be invited for a discussion of the "explosive situation that has arisen due to the scandalous election results".
He also called on the CEC not to certify those results.
Heritage Party MP Roubik Hakobyan got up and congratulated Raffi Hovhannisian on his election as president.
Heritage Party MP Zarouhie Postanjyan congratulated the people for their victory.
Republican Party MP Galust Sahakyan then addressed the parliament and said, "I understand our colleagues. Serzh Sargsyan has been elected Armenia's president. I know one thing. The end of evil is coming, please do less evil."
Republican Party spokesman Edward Sharmazanov also chimed in, "Whoever wants to be president should wait till 2018".
National Assembly President Hovik Abrahamyan proposed that the factions organize 3-4 member groups to study the post-election situation.
Abrahamyan said his party respects the 500,000 citizens who voted for Raffi Hovannisian and called on these voters to respect the 800,000 who voted for Serzh Sargsyan.
"We all know that those votes don't belong solely to Raffi Hovannisian but to the opposition," said Sharmazanov.