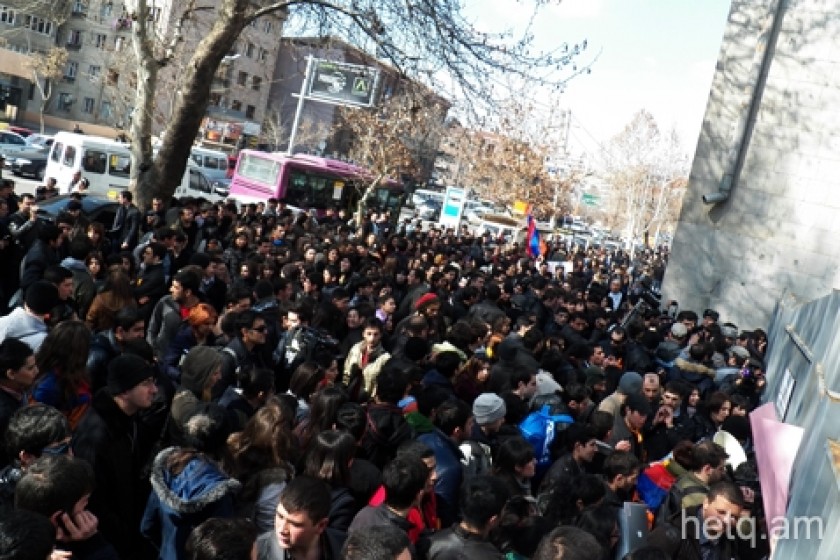 Striking Yerevan State University Students: "We demand a Serzh-Free Armenia"
Hundreds of students at Yerevan State University did not attend classes today to protest what organizers call the "rigged" February 18 presidential election in Armenia.
Norayr Hovhannisyan, a history student, stated, "We are against the fraudulent election and do not recognize the official vote results."
Some of the striking students held aloft placards reading "Free and Independent Students", "Strike", and "Unity".
Some of the students said that department heads had warned then not to participate in the strike, even threatening them about possible negative ramifications.
One name that repeated as a university official exerting pressure was Geography and Geology Department Head Marat Grigoryan.
He denied the charges, saying that never forced his political views on the students.
Nevertheless, Grigoryan said that students could express their views after classes.
YSU Student Council President Rafi Karamyan told Hetq he didn't agree with the strike since students must focus on their studies.
Karamanyan noted that the student council was apolitical and thus could not comment on the election results.
YSU student Hermineh Virabyan argued that such actions help students overcome the atmosphere of fear that exists and that she and her friends were fighting for the rights.
"I demand that the president must be elected based on the voice of the people and not according to the dictates of the authorities. We are fighting against the regime. We want and demand a Serzh-free Armenia," said Virabyan.
If you found a typo you can notify us by selecting the text area and pressing CTRL+Enter