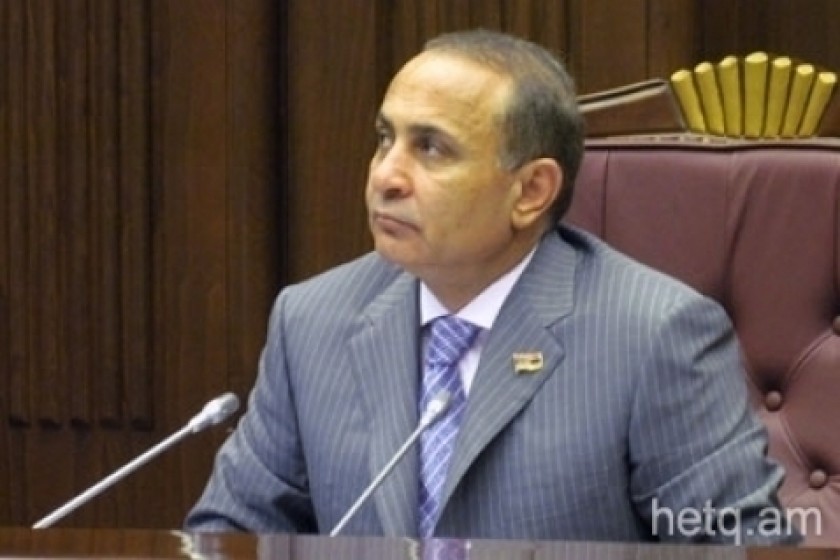 National Assembly Prez: "Turn on his telephone...I mean microphone"
At today's National Assembly session, Heritage Party MP Zarouhie Postanjyan created something of a ruckus when she tried to read a tongue-in-cheek letter entitled "The Petition of Current President Serzh Sargsyan to Newly Elected President Raffi Hovannisian."
About thirty seconds into Postanjyan's reading of the text, National Assembly Vice-President Edward Sharmazanov ordered that her microphone by shut off, arguing that the letter had nothing to do with the agenda of the day.
Postanjyan remain unperturbed and continued reading the letter out loud, without the aid of a microphone.
At the same time, National Assembly President Hovik Abrahamyan was addressing the legislators and presenting the upcoming agenda.
Abrahamyan then gave the floor to Republican Party MP Manvel Badeyan.
"Turn on Badeyan's telephone...I mean microphone. Let Arayik speak," said Abrahamyan, getting the MP's first name wrong.
Badeyan urged Abrahamyan to use his powers to have Postanjyan removed from the chamber.
"Have her removed so that we can proceed normally with our work. Otherwise I will leave," declared Badeyan.
"Mrs. Postanjyan, please allow us to continue our work," said a exasperated Abrahamyan.