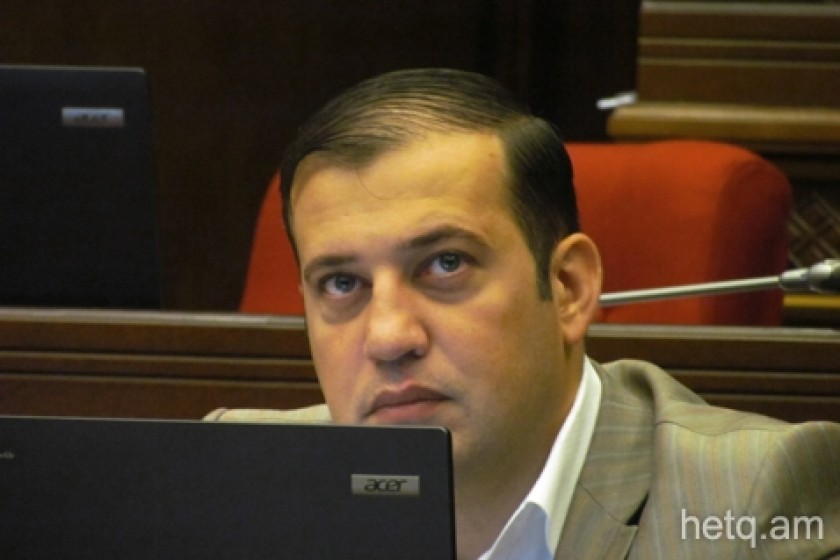 Prosperous Armenia MP: Another Five Years of Prime Minister Sargsyan Would Be a Disaster
Things are heating up between young MPs belonging to the Republican and Prosperous Armenia parties.
Recently, Republican Party MP Karen Avagyan wrote on his Facebook page that, "Prosperous Armenia isn't really a political party but rather a political project that periodically surfaces and introduces a bill."
In a conversation with Hetq, Prosperous Armenia MP Vahan Babayan complained that the issues raised by his party in the legislature regarding economic development and emigration haven't received the proper response.
"Instead, the prime minister and the government are trying to evade the issues by posting personal insults against us on Facebook under false identities," Babayan said.
Babayan said that this approach wouldn't work and that Prosperous Armenia would continue to raise these issues and their opinions on them.
The Prosperous Armenia MP, in reference to the comments of MP Avagyan, said that it was impermissible to stoop so low and employ such insults in a vain attempt to avoid the issues.
Babayan said his party's MPs had never overstepped any ethical bounds, even when they voted against passage of the government's budget and other bills.
"We are confronted with the issue of forming a new government. We have raised concerns that if the current prime minister is re-nominated for another five years, the consequences would be catastrophic for society," Babayan said.