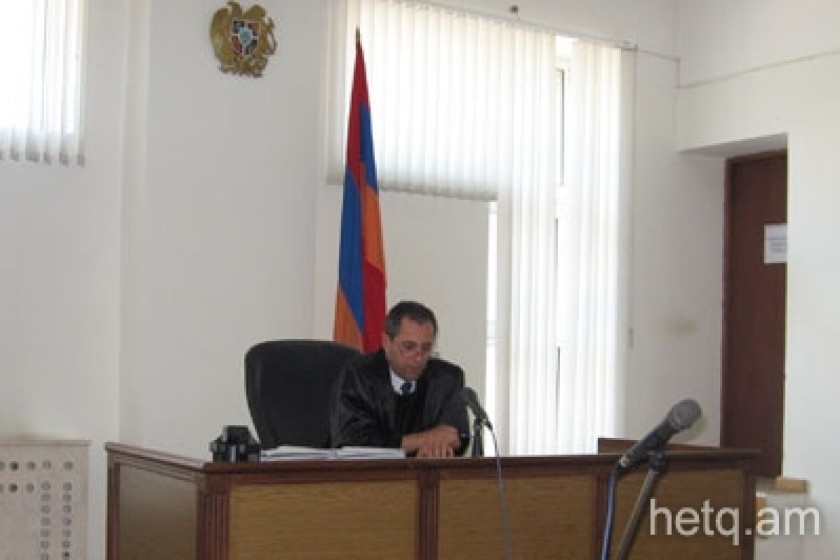 Protestors Demand "Justice" in Der-Boghossian Trial
As promised, Hetq will now provide some details regarding the trial of American-Armenian businessman Serop Der-Boghossian that got underway today at the Vanadzor District Court.
Der-Boghossian has been charged with coercing minors to engage in sexual acts with him.
Even before the noon start time, protestors had assembled in front of the court house demanding a just verdict. The protest was organized by an NGO called the Women's Resource Center.
They held up signs that read, "The country tolerates pedophilia", "Don't Replace the Fear Lived by Kids with Disillusionment" and others.
Tatevik Smbatyan, a representative of the group from Yerevan, said that they were demanding theat the guilty be punished and that there be a just trial.
The trial was delayed for one hour because the court room was packed to the rafters. It eventually started at 2pm.
Present were Der-Boghossian's attorneys Givi Hovhannnisyan and Tigran Safaryan. Also present for the prosecution were Hovsep Sargsyan and Aram Amirzadyan from Armenia's National Security Service.
In the waiting room was Vahram Parsadanyan, who allegedly tried to extort money from Der-Boghossian in return for handing over a videotape purported to show the businessman having sexual encounters with minors.
Presiding Judge Moushegh Haroutyunyan then declared that Der-Boghossian was outside the court, refusing to enter in the presence of reporters. He then asked the members of the press to leave the courtroom.
Since the two defending attorneys were recently brought into the case, the court decided to recess the trial till July 21 so that they could have time to familiarize themselves with it.