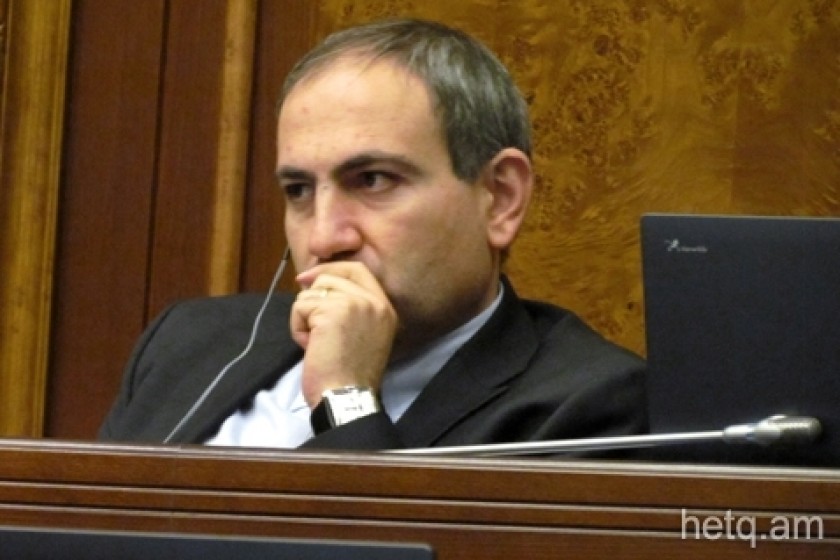 Pashinyan to Control Chamber Head: "Pot calling the kettle black"
During an ongoing parliamentary hearing on the Control Chamber's activities last year regarding cases of misuse of government expenditures, MP Nikol Pashinyan redirected the focus on the oversight department head himself, Ishkhan Zakaryan.
Pashinyan, in no subtle terms, voiced suspicions as to the source of funds that Zakaryan used to build a multi-million dollar private residence over the past nine months.
"Nine months ago, Ishkhan Zakaryan was giving a report in the parliament about the abuses of others and today, nine months later, he is doing the same," Pashinyan said.
The opposition MP called on his colleagues to take a closer look at the biography of Zakaryan since they will not find one episode that would not raise the specter of suspicion regarding the construction of such an expensive mansion.
"I am amazed how Ishkhan Zakaryan can stand her and make heroic statements regarding the abuses of others. They too have built private homes like Zakaryan, but I'm sure that many of them could only dream about having such a luxurious one," Pashinyan said.
The MP argued that all these recent exposes on government abuse are a direct reflection on the government of Prime Minister Tigran Sargsyan who, after being implicated in an off-shore scandal, is wasting no time in speaking about the need to combat corruption.