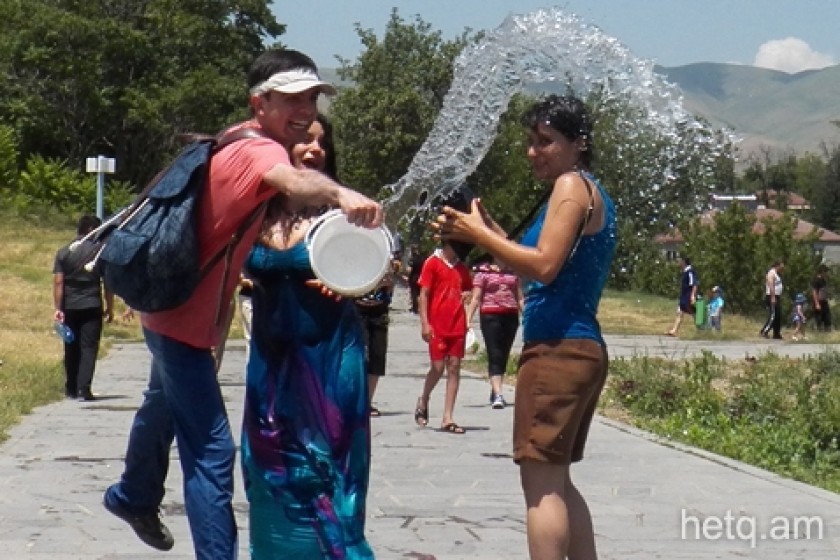 Vardavar Celebrations in Garni
Referred to as Paytzarakerputyun, the Feast of the Transfiguration is one of the five principal feasts of the Armenian Church, so named because of Christ's luminous appearance. In Armenia it is also known as Vardavar (the Festival of Roses) after the old pagan feast, which it replaced.
The pagan feast Vardavar (the Festival of Roses) marked the harvest each year and was traditionally associated with the goddess Astghik—the pagan Armenian deity of water, love, and fertility. To replicate Astghik's bathing, people would sprinkle each other with rose water and hold a special festival of roses during this joyful feast.
With equal delight, Armenians rejoiced over agricultural abundance during Vardavar. It either preceded or coincided with the feast of the harvest, which was the Armenian New Year (Navasart-Amanor). It was most likely held between August 1 and 6, each year.
Different regions in Armenia celebrated the harvest with different traditions. For instance, in the district of Koghtn it was customary to hold a ritual during this festival involving green wheat that had previously budded. In other regions, special rituals were directly connected with animal husbandry. The Armenian Meliks marked the day with feasts held in the fields and rituals dedicated to fertility-such as bringing fruits as gifts to future brides and grooms, throwing fruits on their heads, or sending them apples. Throughout much of Armenia, families enjoyed delicious harisa as part of the feast.
Today in Armenia, people still maintain the tradition of splashing each other with water on Vardavar. Children and young adults are usually seen ambushing passerby with buckets of cold water—a welcome surprise on hot summer days.
(The Armenian Church website)
If you found a typo you can notify us by selecting the text area and pressing CTRL+Enter