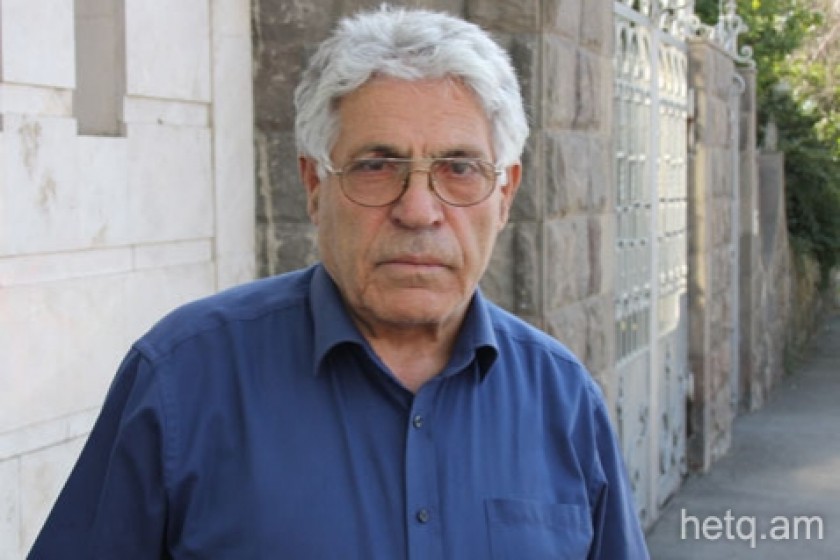 AmeriaBank Continues to Sell-Off Property Seized from Paylak Hayrapetyan
Paylak Hayrapetyan is not a happy man, given that Bon Armenia LLC. has taken title to three of his properties that had been put up as collateral with AmeriaBank in a government-backed program to transform Armenia into a world center for the polishing and sale of diamonds.
That program has gone belly-up and Hayrapetyan has been stripped of $33 million worth of property as a result.
Implicated in the off-shore scandal are RA Prime Minister Tigran Sargsyan, Locum Tenens of the Ararat Diocese of the Armenian Apostolic Church Archbishop Navasard Kjoyan and businessman Ashot Sukiasyan.
Sukiasyan was the one who used Hayrapetyan family property as collateral to receive $10.7 million in loans from AmeriaBank.
Bon Armenia is owned by John Sasoun Geledj, who is better known in Armenia as Christian. Geledj is also the director of VKS Armenia Ltd., a garment factory. Geledj has been engaged in textile manufacturing in Armenia since 2007. VKS has factories in Yerevan, Vanadzor and Amasia. Geledj owns 49% of the VKS Armenia stock.
Geledj founded Bon Armenia on June 25 of this year. The company address is registered as 1 Gadjegortzner Street in Yerevan. This is the same address of the Hayrapetyan property put up as collateral with AmeriaBank. Geledj owns 100% of Bon Armenia.
During our telephone conversations, Geledj told me that he purchased the property in order to develop the textile trade in Armenia.
"I knew Paylak Hayrapetyan even before the events connected with him. I had spoken to him about buying those properties. I have good relations with him," Geledj said at the time.
Geledj purchased the properties from AmeriaBank for $700,000.
In the meantime, Paylak Hayrapetyan told me that Geledj had once suggested that the two set up a joint business.
"He sent me a ridiculous contract. I told him just one thing, that we were still involved in a court case and that I would get possession back of all my property. I advised him not to get involved," says Hayrapetyan.
Recently, Paylak Hayrapetyan published an open letter addressed to Armenian businesspeople urging them not to purchase any of his properties either being directly sold off or auctioned by AmeriaBank given that there was an ongoing court case.
Many haven't heeded his call.
One that hasn't is Davit Setrakyan, son of National Assembly MP Mher Setrakyan.
He has purchased one section of the property at 1 Gadjegortzner Street.
Photo: Paylak Hayrapetyan (Courtesy of Hraparak)
If you found a typo you can notify us by selecting the text area and pressing CTRL+Enter