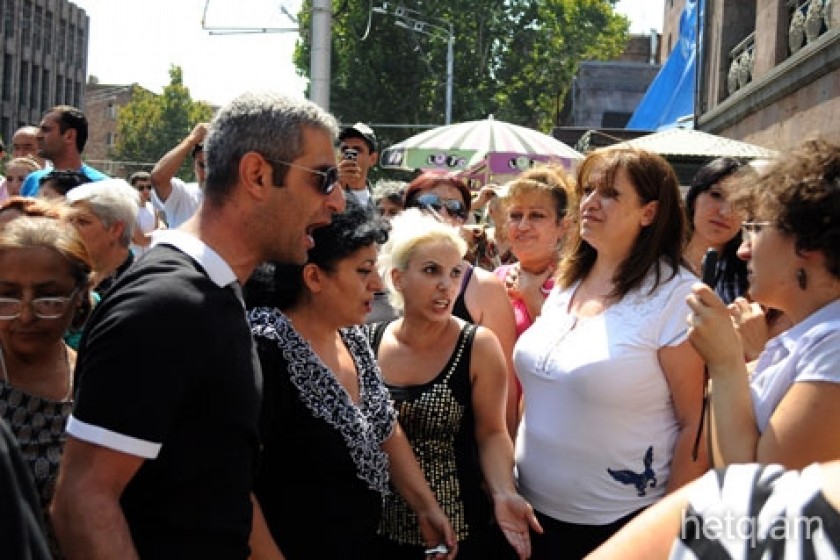 Opposing Sides Clash at Yerevan's Pak Shouka
Mayhem is probably the best word to describe the clash of interests that took place this afternoon at Yerevan's Pak Shouka (Enclosed Market).
Citizen activists opposed to the construction that is taking place at the market, which was handed to businessman and ruling republican Party MP Samvel Aleksanyan, converged on the site, only to be met by a vociferous group of people in favour of the "improvements" they say are taking place.
The iconic landmark, one of the few remaining in Yerevan, is seen as a litmus test for the growing civic movement in Armenia in terms of how many people it can mobilize to oppose the wanton disregard for the capital's few remaining structure of historical and cultural value.
Those in favour of the what is taking place at the market called the protestors "outsiders" and went so far as to rip the banners of the opposing camp.
Of particular note is that almost all in favour of the construction were women who claimed the improved market would afford many new jobs to area residents.
The local rumour mill alleges that these women had been paid-off by Aleksanyan's henchmen to show up and give the impression that many are in favour of the construction.
The scores of police at the scene at times seemed incapable of separating the two opposing sides. As a result, several scuffles broke out along with the traditional scenario of name calling and more strongly worded insults.
MP Aleksanyan owns the Yerevan City chain of supermarkets in the capital and many fear the historic landmark will be converted into yet another run of the mill supermarket.
The activists argue that the entire process of selling the structure to Aleksanyan and the granting of permission to make changes to the building was illegal and riddled with favoritism.
For over a year, various state agencies, the Yerevan Municipality and the Ministry of Culture have come out with a number of conflicting statements regarding the matter, each passing the buck and blame to someone else.
Several sections of the market's famous arches have already been destroyed and the insides gutted.
The activists opposed to the construction say they will resort to all legal means, including civil disobedience to halt any further desecration of the market and to prevent any business from being conducted.