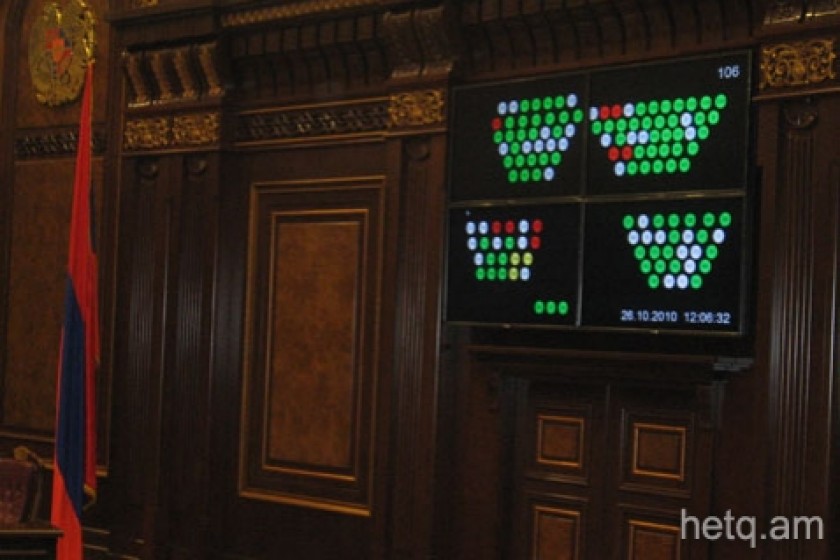 Parliamentary Factions Short on Specifics Regarding Upcoming Draft Legislation
The fourth legislative session of the Fifth Convocation of Armenia's National Assembly begins on September 9.
Hetq spoke to representatives of the six parliamentary factions regarding the draft bills and other proposals they plan to introduce.
Republican Party Secretary Hovhannes Sahakyan said that his party had introduced a number of bills in the past and that they plan to remain active in the future.
Sahakyan added that there was no need for special changes to the legislation on the books, adding that the party is busy writing up reform legislation pertaining to the judicial system, in particular the criminal court system
Prosperous Armenia Party Secretary Naira Zohrabyan cited a recent bill that her party had introduced regarding the possible repayment of Soviet era bank deposits.
The MP added that the party had introduced a bill making the minimum monthly wage 75,000 AMD as of January 1, 2014.
ARF Secretary Aghvan Vardanyan told Hetq that the party would be holding a conclave on September 9 that would include a discussion on possible draft bills. He said there were a number of proposals covering a wide variety of sectors.
Armenian National Congress (HAK) faction leader Levon Zurabyan noted that he was reluctant to name all the bills that his party would be introducing this fall.
"We see our objective as the weakening of this authoritarian regime. We are planning several bills aimed at restricting the powers of this regime to curtail demonstrations and public meetings," Zurabyan said.
He said that HAK would also introduce legislation aimed at supporting the freedom of the press, but he wouldn't go into details.
Zurabyan also noted the offshore financial scandal raised by Hetq as one issue HAK would speak about in the parliament.
Heritage Party faction leader Rubik Hakobyan told Hetq that he wasn't ready to reveal the legislative initiatives of the party, saying he would call a press conference when ready.
We were unable to receive any statement from the Rule of Law Party faction.
P.S. On May 6, 2012, elections (131 Parliament Members - 90 proportional and 41 majoritarian electoral system) for the National Assembly of the Republic of Armenia were held.

Six parliamentary factions were created in the National Assembly of the Republic of Armenia of the fifth convocation: "Republican Party of Armenia" faction (69 MPs,) "Prosperous Armenia" faction (37 MPs,) "Armenian National Congress" faction (7 MPs,) "Rule of Law" faction (6 MPs,) "Armenian Revolutionary Federation" faction (5 MPs "Heritage" faction (5 MPs). 2 Deputies were not included in those factions.