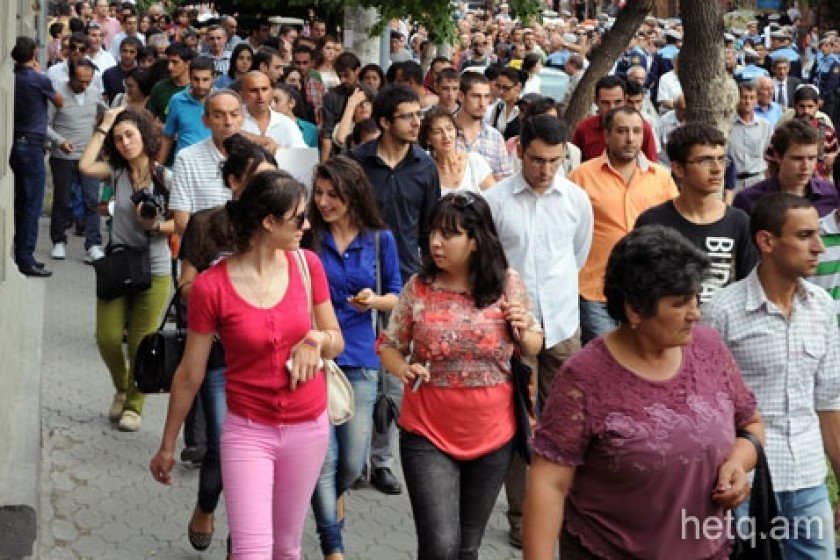 Thousands in Yerevan March on Presidential Palace to "Reclaim" Armenia's Independence
This afternoon, on Armenian Independence Day, a few thousand marchers took to the street in Yerevan in a civic initiative to reclaim Armenia's independence and to voice their opposition to President Sargsyan's recent announcement that the country intends to join the Russian-led Customs Union.
March organizers had released a statement arguing that Sargsyan doesn't speak in the name of the people and that Armenia should not join any outside union that threatens its sovereignty.
The marchers, from various political affiliations and stripes, assembled in Yerevan's Liberty Square and then made their way down Northern Boulevard to Republic Square.
As the ranks of the marchers swelled, they took over one half of Amiryan Street despite the best efforts of the police to confine the protestors to the sidewalk.
A number of minor scuffles broke out between the marchers and the cops along the protest route.
More police were called in to confine the marchers along one sidewalk of Mashots Avenue as the throng made its way towards Baghramyan Avenue and the Presidential Palace.
The cops and Special Unit Forces were stretched to the limit as the marchers, mainly young people, circumvented police barricades, reaching the intersection at the National Assembly.
There, a cordon of police formed a human chain and held back the protestors from advancing further.
In the meantime, a convoy of black SUV's was seen leaving the Presidential Palace.
Once the convoy had fled the scene, the police opened the barricade, allowing protestors to assemble opposite the now empty Presidential Palace.
If you found a typo you can notify us by selecting the text area and pressing CTRL+Enter