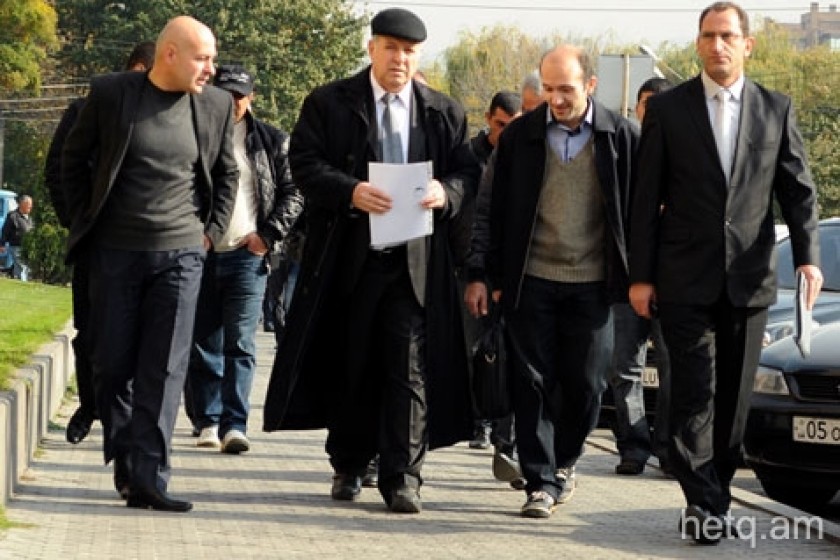 Transit Operators March on Yerevan Municipality Demanding 200 Dram Fare
Owners of minivan transit routes marched to the Yerevan Municipality to protest the temporary ban on raising fares from 100 to 150 Drams.
The owners, led by Transit Operators Union President Hrant Yeghiazaryan, claimed that they are losing money and that the fare should actually be increased to 200 Drams (50 cents).
"We are displeased with the work of mayor's committee studying the transit fare. Our calculations show that the fare should be set at just above 200 drams. However, we are ready to accept a 150 Dram fare if the municipality would kick in the additional 50," noted Yeghiazaryan.
This past summer, the declared hike to 150 Drams set off a wave of street protests, forcing Yerevan Mayor Taron Margaryan to temporarily suspend the raise and to form a special committee to study the issue.
Yeghiazaryan said that the committee is twiddling its thumbs and hasn't been able to reach any conclusions on what the fare should be.
"We respect our people and the Yerevan Municipality. It decided to raise the fare to 150 and we silently accepted it and continued working. Later, they struck it down. We also respect that decision, since the people said they were opposed to a fare raise. Now, a committee has been established to decide whether the transit operators are right, the people or the activists. I put the issue this way because the people were calmly paying the new fare during the first days," said Yeghiazaryan.
When this reporter asked Yeghiazaryan if it wasn't feasible to have normal transportation at 100 Drams or even less, which many independent experts agree with, Yeghiazaryan responded that he has frequently called on those who back such claims to put their calculations on the table.
"Let's compare the numbers, is what I've told them. Let's see who has a more convincing argument. But they have failed to do so."