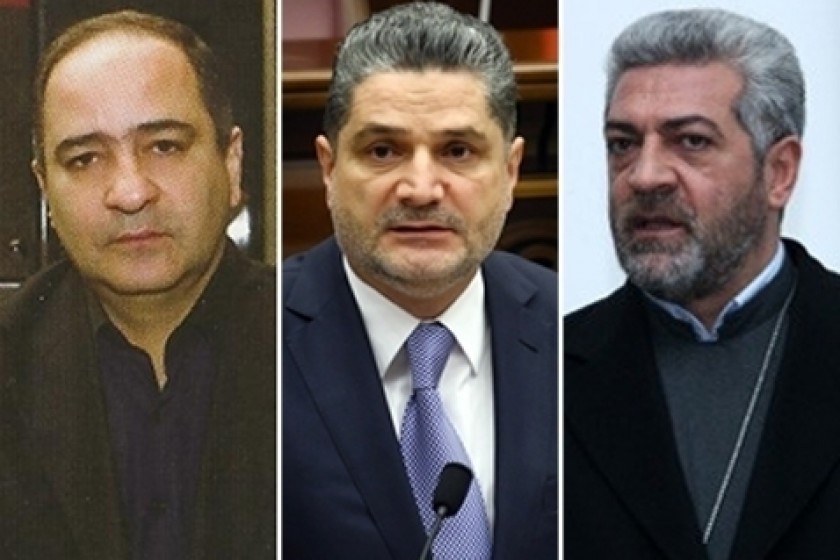 Offshore Scandal: More Than a Mere "Chain of Coincidences"
When it comes to the involvement of Armenian Prime Minister Tigran Sargsyan in the Cyprus offshore imbroglio, we need to get a few things clarified.
While Sargsyan has stated that he never has visited Cyprus, thus attempting to clear his name of any dealings in the scandal, we at Hetq have never claimed that he has. In any event, whether he has or hasn't is beside the point.
Another shareholder, Navasard Kjoyan, has in fact said that he has visited Cyprus. But nothing has changed as a result.
Sargsyan and his team are constantly attempting to pull Hetq into a convenient field of political intrigue.
Once, they tried to put out feelers to us via National Assembly President Hovik Abrahamyan; another time through Vardan Oskanian. Once again let me say such efforts are futile. Hetq will not play such political games.
We are not interested in Prime Minister Sargsyan's relations with Abrahamyan, Gagik Tsarukyan, the Dashnaks, other assorted oligarchs, or the reporters of this or that editor. They can play that game if they like.
In his letter to Armenia's Prosecutor General and Hetq, Ashot Sukiasyan wrote the following:
"I stood as the godfather of the cross at the blessing of the water ceremony at Saint Sargis Church located in the Ararat Diocese. The secretary was Tigran Sargsyan and the diocesan primate, Archbishop Kjoyan. I wish to raise the issue of the offshore company Wlispera Holdings Limited. First, let me say that I founded this company and I registered T. Sargsyan and N. Kjoyan as shareholders, without their knowledge and without their agreement. I took this step to protect my business from various threats. It never occurred to me that what I did could have such consequences."
All three, Prime Minister Tigran Sargsyan, Ararat Locum Tenens Navasard (Samvel) Kjoyan, and Ashot Sukiasyan have close ties. They frequently get together at Sukiasyan's home located next to the Ararat Diocese.
After Hetq broke the story, Prime Minister Sargsyan declared that he had no connection to the company. Archbishop Kjoyan denied any connection as well. The two also stated that they had no idea how their names appeared on Wilspera's registry document as shareholders.
For months, the police have been allegedly busy trying to ascertain whether Sargsyan's signature appears on the document or not. The forensic examination has been a bust since such a test requires the original document. Consequently, Armenia's prosecutor General has filed a request with his Cypriot counterpart to seize the document and send it to Armenia.
We can assume that such a development will never happen given that the Prosecutor Generals of the two countries have merely signed a memorandum that appears to have no legal power at all.
In other words, according to this memo, the Cypriot Prosecutor General's Office is under no obligation to carry out such a request.
To date, neither Tigran Sargsyan nor Archbishop Kjoyan has been questioned by law enforcement. Kjoyan was in Cyprus twice, along with Sukiasyan. (Kjoyan says it was just the one time) Hetq asserts Kjoyan was there twice. It would only take police a few minutes to verify this. But since there is no political directive from on high, the police won't do it.
As to why the police, PM Sargsyan, Kjoyan, or Ashot Sukiasyan only refer to Wilspera Ltd remains a mystery. Let's remember that Sukiasyan took US 9,370,450 from the loan money received from AmeriaBank and transferred it to the accounts of the following three offshore companies at Hellenic Bank Publik Company.
A.B.S. Global Limited - $7,020,450
Wlispera Holdings Limited - $350,000
STR Emerald Limited - $2,000,000
Sukiasyan transferred the $7 million to A.B.S. Ltd, and Wlispera owned 66% of this company; that's to say Ashot Sukiasyan and Tigran Sargsyan. And the amount of the transactions of the company, according to one of the other shareholders, amounted to $35 million.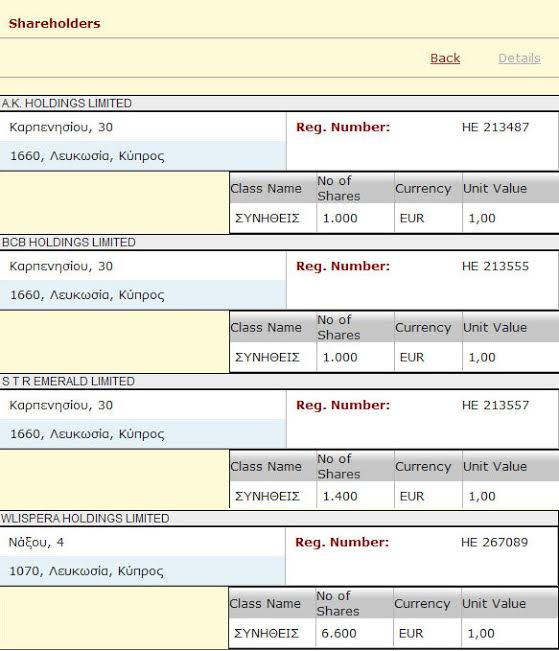 Ashot Sukiasyan is now involved in a court case with GMC Global (SL) Limited, a company registered in Sierra Leone. The company owns gold and diamond mines. The owner of this company, at the invitation of Sukiasyan, visited Armenia twice and met with Prime Minister Tigran Sargsyan.
As Hetq has noted elsewhere, Shermon Cissy, director of Sierra Leone-based Western Mines Company, is defending the interests of A.B.S. Global in court. Sukiasyan gave Cissy a power of attorney to act as the representative of A.B.S. Global. Shermon Cissy met with PM Sargsyan and Ashot Sukiasyan in Yerevan, at the Government Building, on November 7, 2008.
The remaining 34% of A.B.S. Global belongs to three companies. Two of their shareholders, Sergey Trykaziuk and Aleksandr Valchykouski, met with PM Sargsyan in Yerevan's Government Building in July 2010.
This chain of "coincidences" continued to grow. The government decided to spur the diamond reprocessing sector in Armenia; Minister of the Economy Nerses Yeritsyan "accidentally" invites the representatives of 23 business organizations to his office and then introduces them to diamond businessman Ashot Sukiasyan who, "by chance", is also there.
Minister Yeritsyan later "accidentally" puts in a good word with management at AmeriaBank so that they provide financial loans to a diamond business plan. AmeriaBank then sits down and "accidentally" drafts such a plan. The bank then "accidentally" decides to loan $12 million to back the business plan it drafted. As collateral, all the assets of Paylak Hayrapetyan, at a market value of $30 million, were put up. And lo and behold, out of the blue, all these assets have reverted to AmeriaBank.
Hetq hasn't fabricated this chain of coincidences. They are simple facts.
After all this has been exposed, who cares whether Cyprus will send the original documents or not, and whether the signatures will be sent for verification?
My answer - Those naïve enough to believe the above sequence of events was merely a chain of coincidences.
If you found a typo you can notify us by selecting the text area and pressing CTRL+Enter