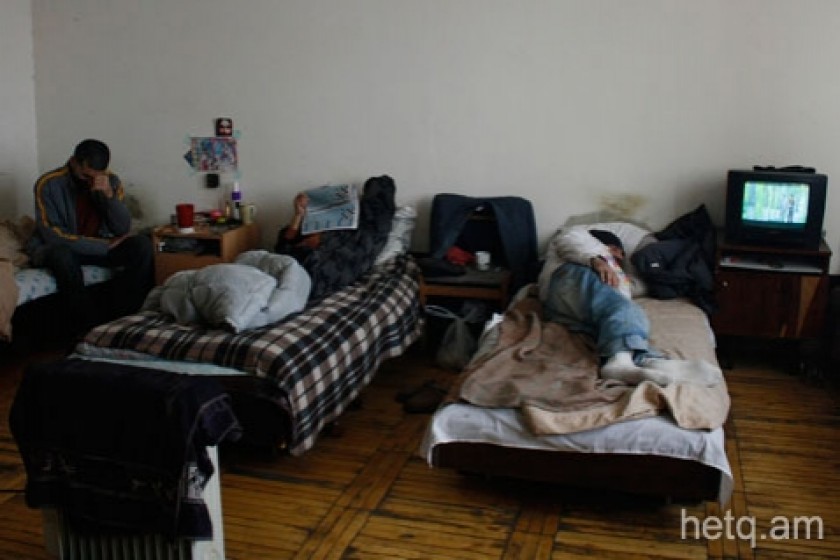 Out in the Cold: 1,000 Homeless in Yerevan, Only 10% of Which Are in Temporary Shelters
According to Hans Christian Kofoed Charitable Foundation Director Shavarsh Khachatryan, there are around 1,000 homeless people in Yerevan. In December 2013, the homeless shelter in the village of Haghtanak was moved to Vardashen and combined with the Danish-Armenian Hans Christian Kofoed Charitable Foundation. There are currently 100 homeless people staying at the shelter, which means only 10% of the homeless have temporary shelter. There are also homeless people outside the capital.
It was Jan. 16 when we paid a visit to the shelter, but New Year's decorations still adorned the walls and curtains. Stuffed animals hung above the bed of Anahit Muradyan, 56, who's been living at the shelter for 2 years.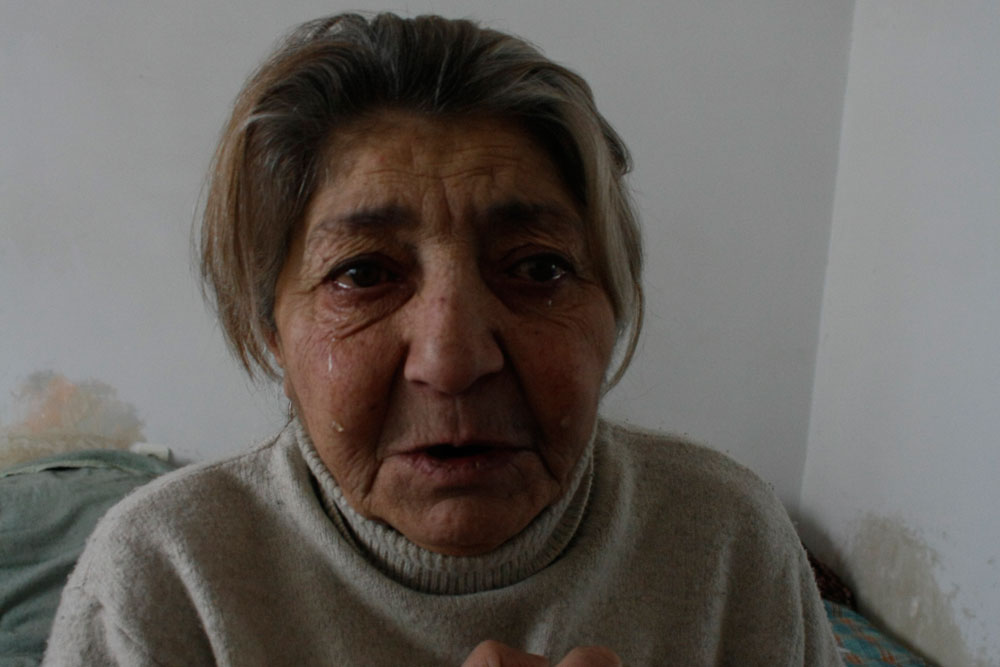 Previously, Anahit served a 6-year prison sentence. After her release, she lived with relatives in their home, then she was out on the street. "Yes, I made a mistake, that I was unable to stand up for my home; I fell under the spell of others; they tricked me, took my money, didn't put the house under my name and took it away from me. Whatever I had, I lost — the only thing that remains is my clear conscious toward myself and these children," she says, pointing to the toys hung on the wall.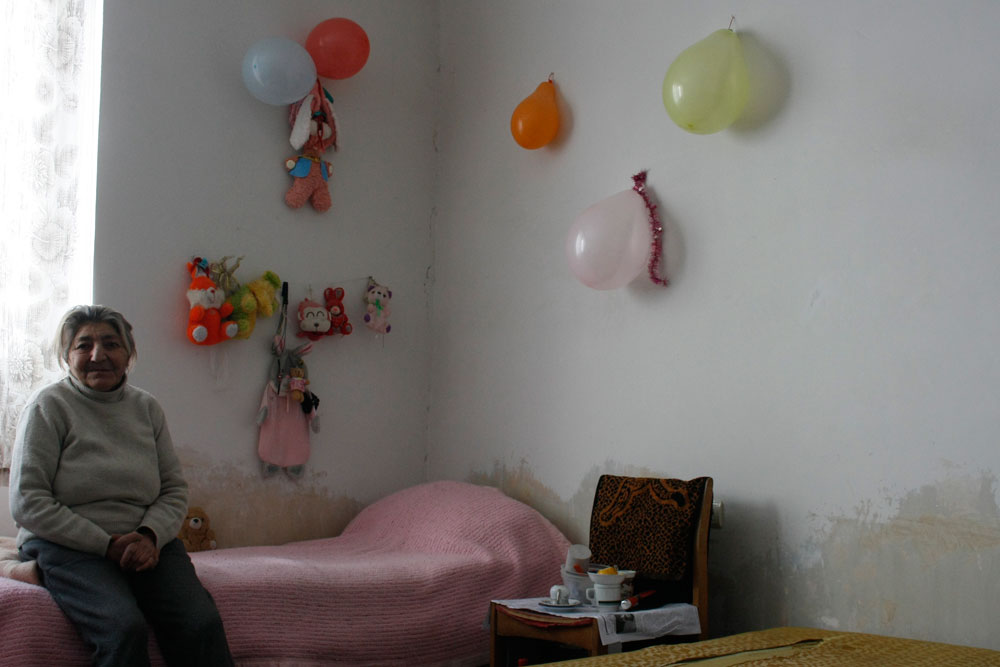 The shelter's social worker and nurse take us to the most renovated, in their words, the most "luxe" room. The smells of a meal being cooked on the electric heater permeate the room. Previously, the shelter would provide three meals a day; now it's two. The residents have to make their own lunch.
I see Mrs. Lida on one of the beds: I met her in the winter of 2011 at the homeless shelter in Haghtanak. She says the matter of her documents has been resolved, but she's still homeless. She asks not to be photographed. Mrs. Lida wants to be objective: "It's true, it's a bit cold, but they leave the heaters; we turn them on and with people's warm attitude, we get warm."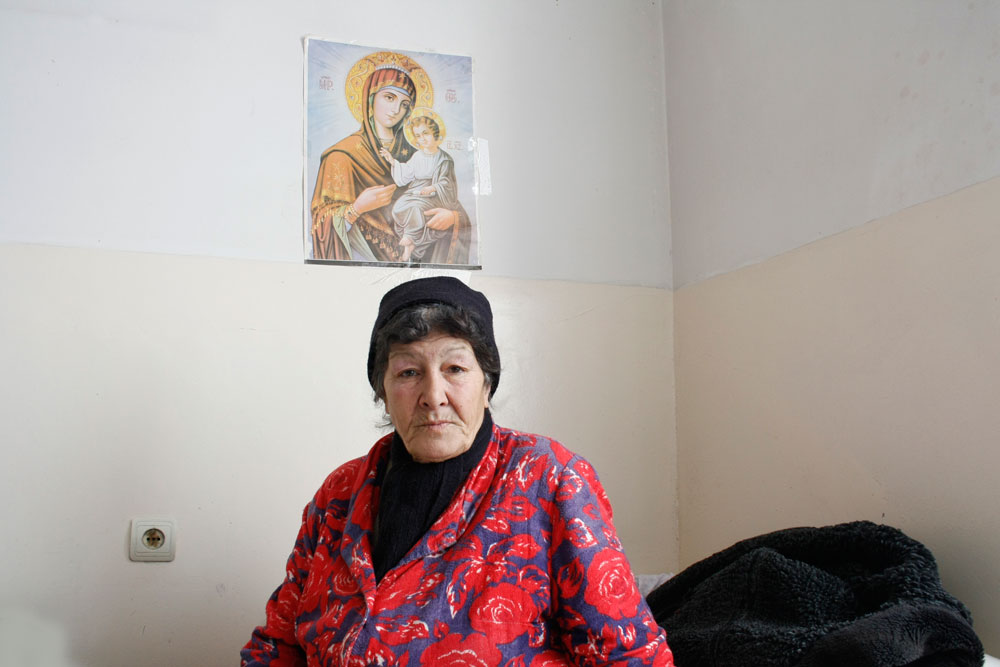 Mrs. Lida's neighbor, Susanna Gharagyozyan, 62, sold her house to pay off a debt and found herself on the street. She's been at the shelter for two months and says she has no family. Previously, she rented an apartment, but then her stomach ulcer burst and she was taken to the hospital. Not having the money for rent, she came to the shelter. "I've done just about everything: I worked in the factories; I have 38 years of employment; in the end I was also a cleaner," she says. She worked as a cleaner in the community of Arpi and lived in a hut with broken windows. She was prescribed medication, but since she didn't have money, Mrs. Lida bought Susanna's medication with her pension money.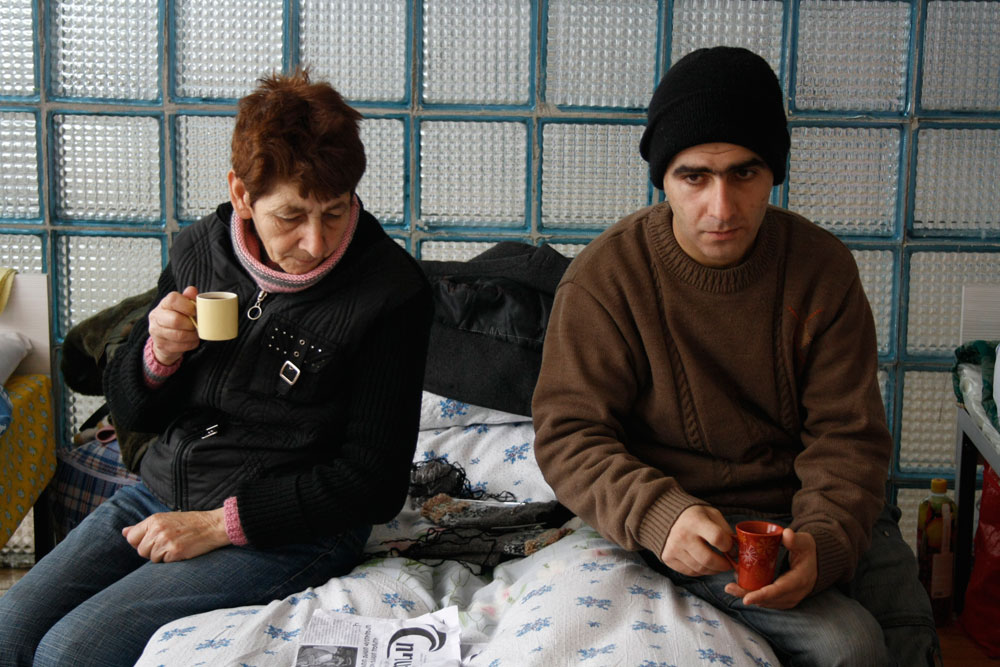 Some time later the room's other residents enters: Mrs. Aghavni with her son Garegin. They too came from the shelter at Haghtanak, where they were living for 4 years. The pair make coffee and the smell permeates the room.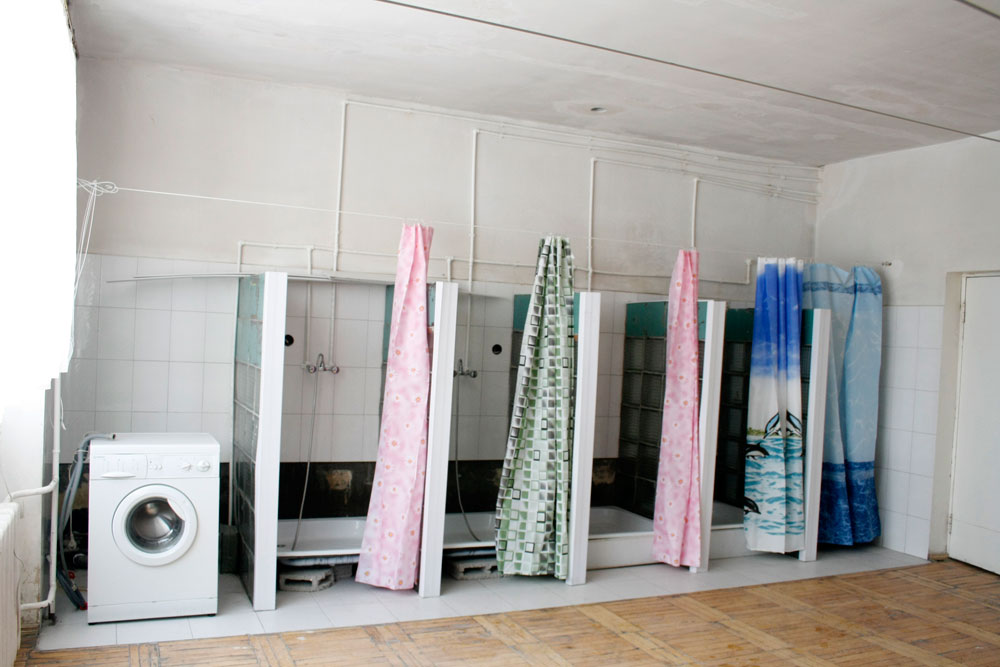 The women's rooms are tidy; they clean their rooms themselves. They don't complain about the conditions; they've become accustomed to life at the shelter. One of the shelter staff shows us the tidy shower room.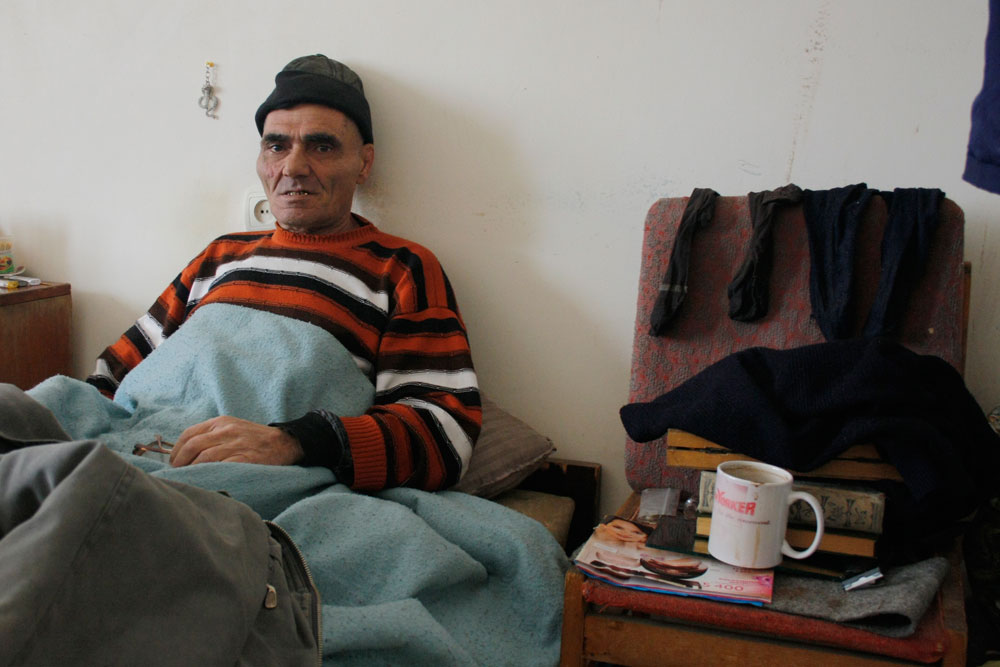 Gevorg Marukyan, 60, greets guests from his bed. He just took a shower and since it's cold outside, he's gotten into bed to stay warm. "I had a home, but now I don't," he says. For 5 months, Gevorg lived in one of the basement dwellings on Gnuni street. He's been at the shelter for about one year.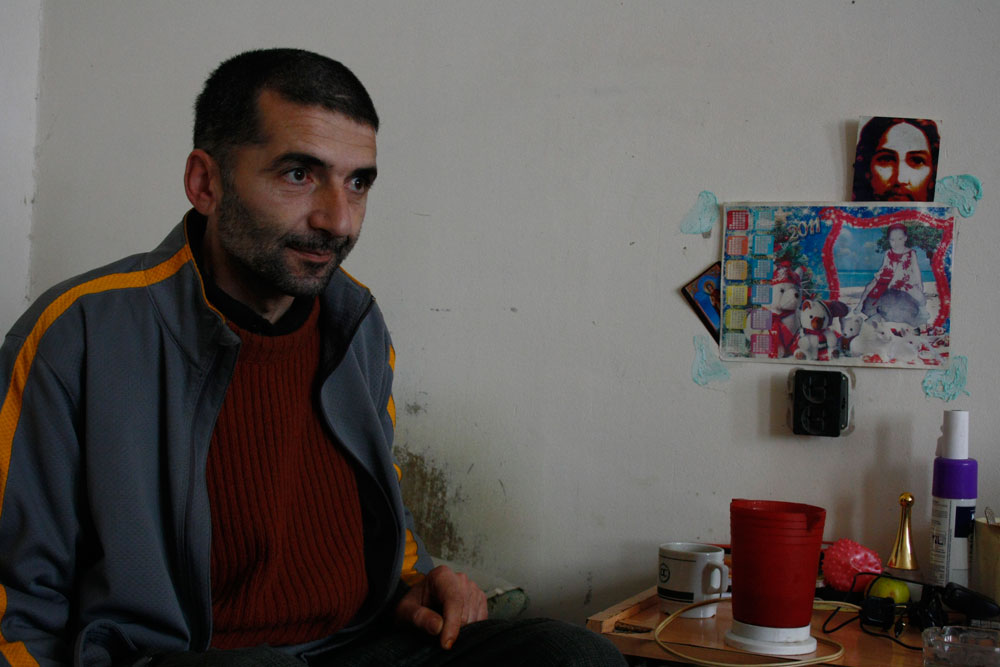 Gagik Hakobyan celebrated his 40th birthday on Jan. 15. He doesn't wait for questions; he wants to talk about his daughter. "They took my child away from me," he says, pointing to the photo of his daughter, Tamar, on the wall. Tamar entered first grade this year. "It's been two years today that I came here. I came; I was neither speaking nor walking, nor was my hand working. Now I'm better, but the place is not comfortable. If you got better at home; you'd get up and see your child," he says. Eight months after Gagik's wife left him, taking their daughter with her, Gagik had a stroke, becoming paralyzed on one side. For some time he lived at the house of a friend, who then brought him to the shelter. He has a sister and brothers, whose spouses are police officers. The social worker says once they called his sister and asked her to come: a matter related to Gagik's documents required guidance from his relatives. But no one came.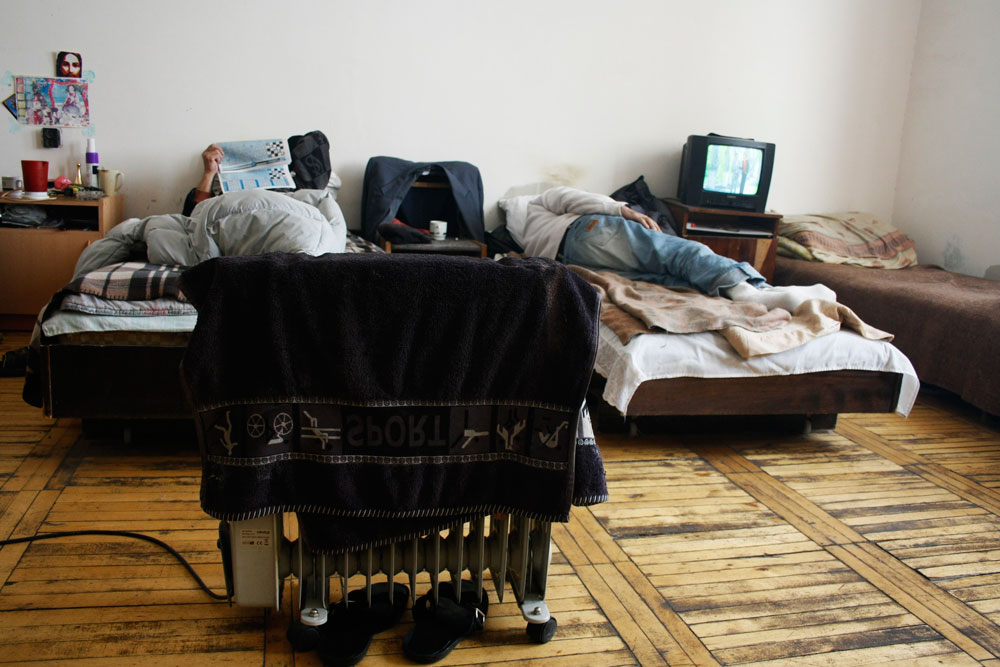 Sargis Chaghalyan is not yet 50 years old. He has 4 children. He's been living at the shelter for a year. As a result of bad relations with his wife, he left the house. He says if he stayed he would've been convicted (but doesn't elaborate). He works at Fayla Bazar and covers his expenses. Sargis doesn't want to be photographed. "I don't want my children, my grandchildren to see that I'm here, though they know," he says.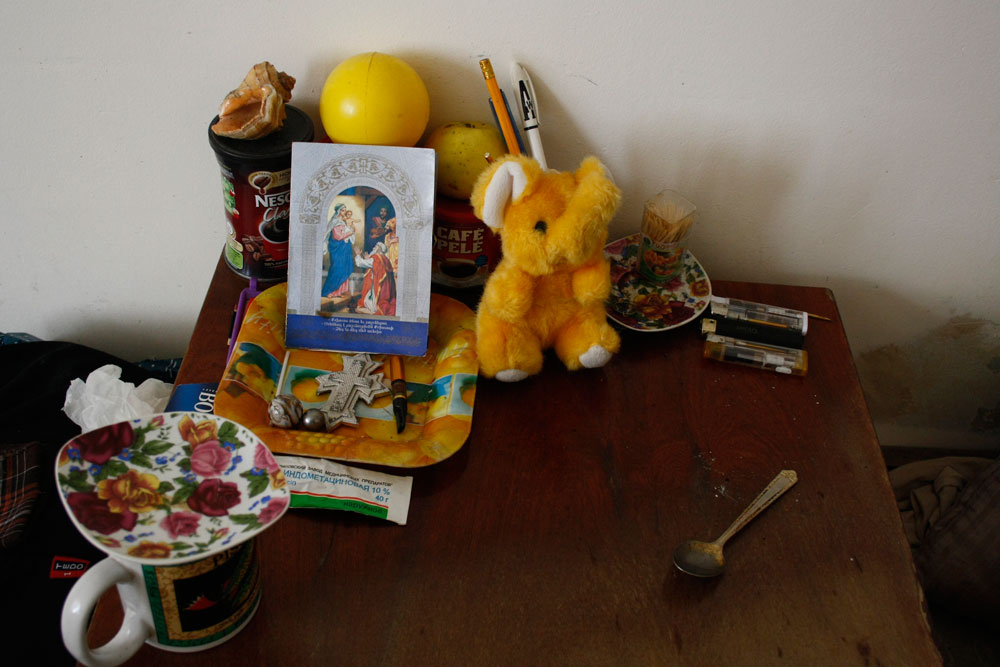 The stuffed animal on the dresser next to his bed is for his four-year-old grandchild Dima. "My children, with my grandchild, will come in these coming days; they called today. They haven't yet come to wish me a Happy New Year. I was a good parent. I love my grandchild, and he loves me."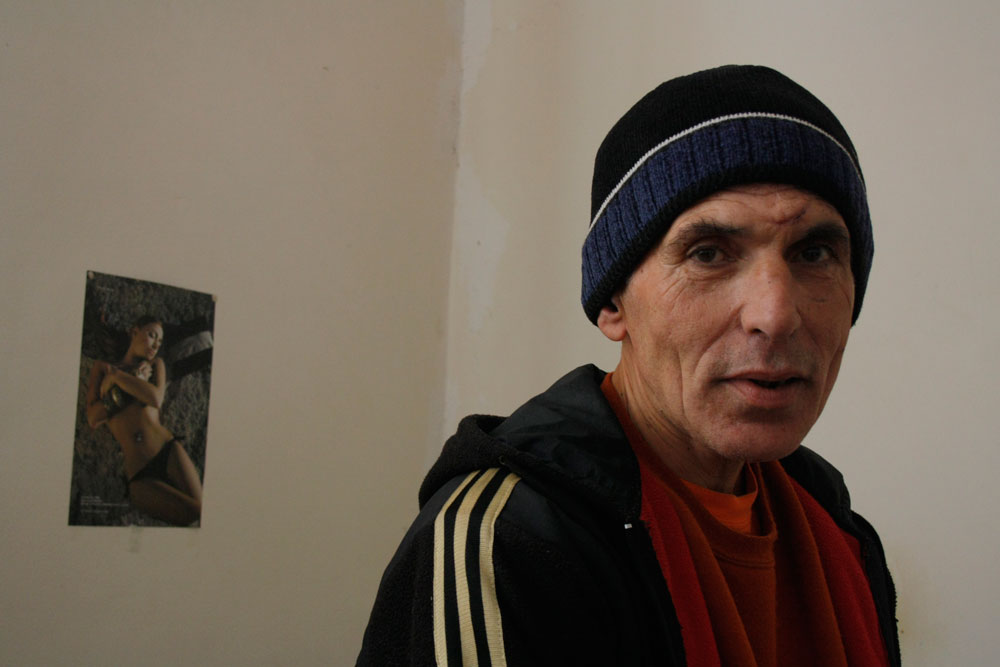 Boris Safaryan will soon turn 55. He came to Armenia from Russia, but, according to his roommates, people tricked him and didn't give him his money, and Boris became homeless. "I'm not married; at this moment I'm single," Boris adds about himself. I ask about the photo of a nearly nude woman stuck on the wall next to his bed. Boris says she's a Georgian woman in Russia on whom he has a crush.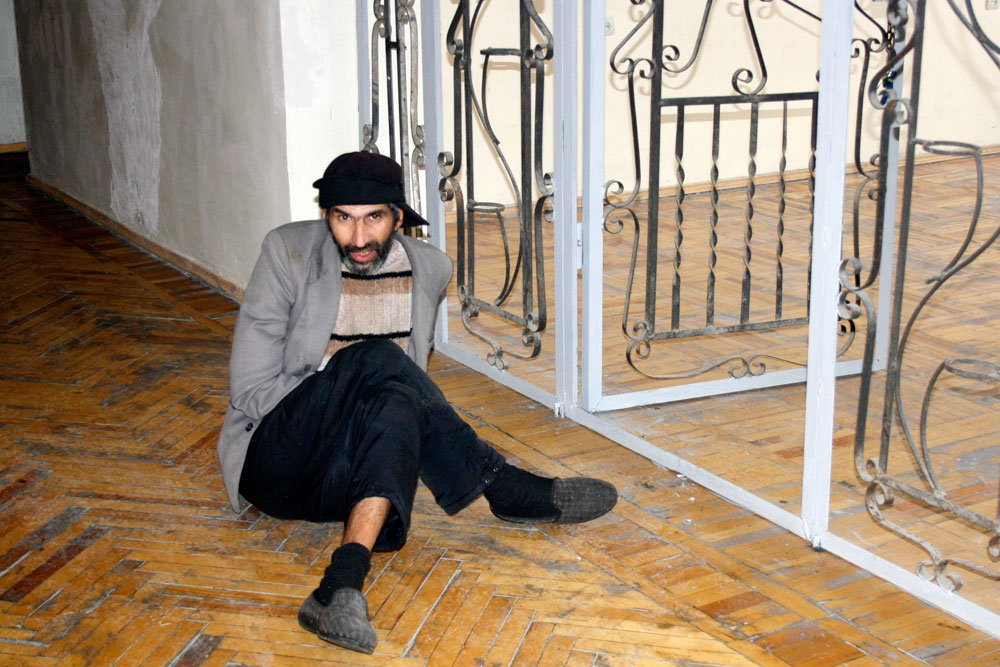 My conversation with residents out in the hall is interrupted by Suren, who slides on the floor with his hands and cannot speak. When I ask his age, he shows me 4 fingers. Garegin clarifies: Suren is 40 years old. The social worker informs me that Suren refuses any sort of assistance; he wants to do everything himself. When residents were moved from the shelter in Haghtanak to Vardashen, the men at the shelter offered to carry Suren to the third floor. He refused and went up the stairs himself. The social worker says they don't yet have a wheelchair, but they soon will, and Suren won't be forced to walk on the ground with his hands.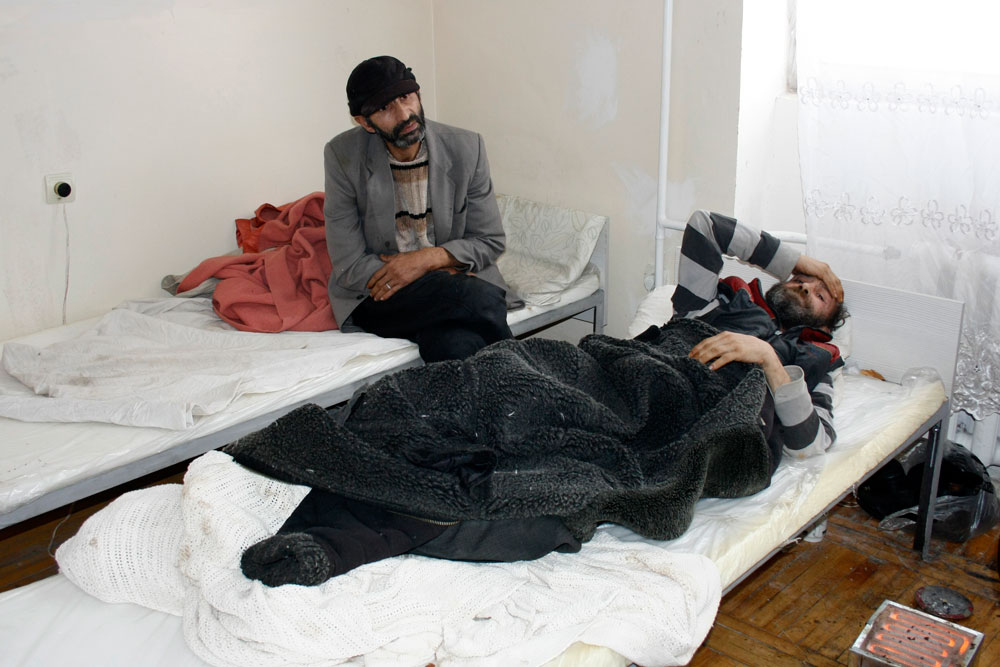 In the last room there are 16 beds and the window is open against the winter cold. At the end of the room, in the bed next to Suren's, is Karen Gharagyozyan (no relation to Susanna Gharagyozyan). He was taken from Republic Square to the hospital 20 days ago with frostbite. Doctors were forced to amputate his legs. It was the window above Karen's bed that was open.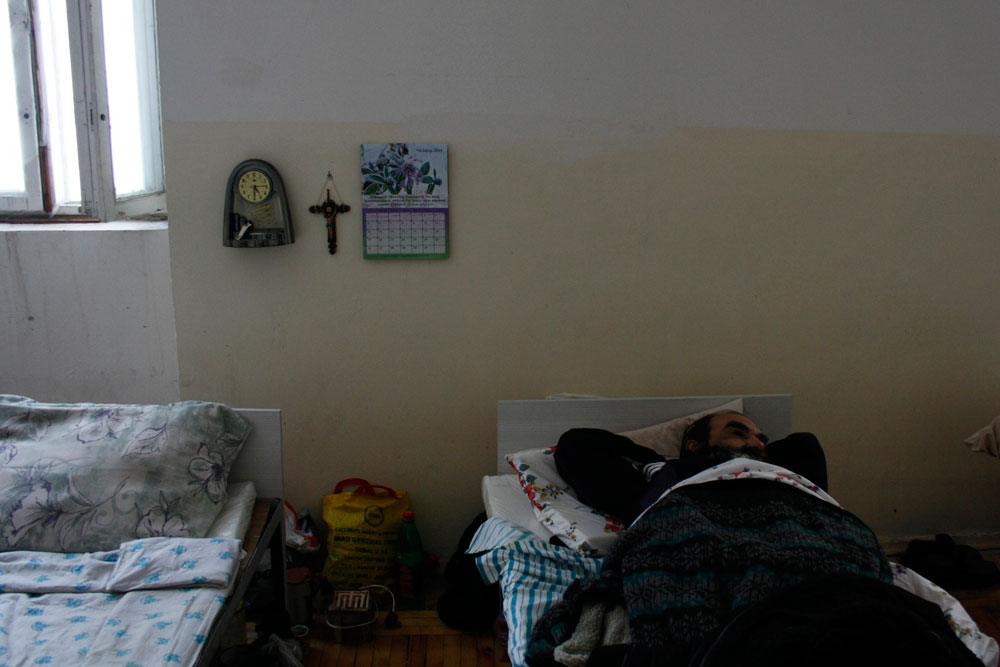 The other residents began to complain: people requiring special care have been lodged with "ordinary" people, with the former peeing in their beds and stinking up the whole room.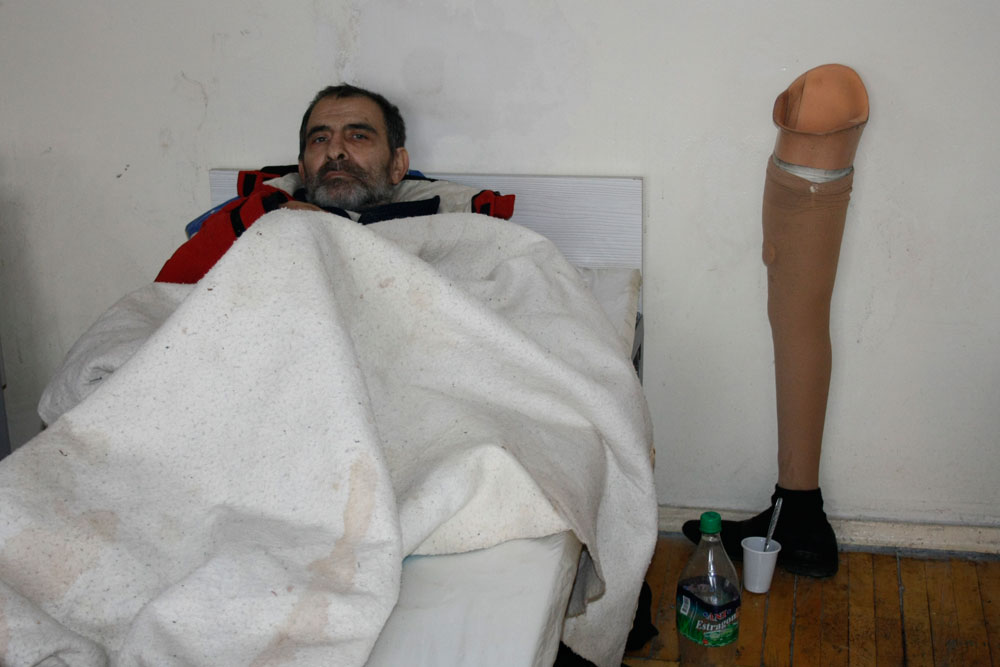 The social worker defends the shelter: the residents of the homeless shelter in Haghtanak have just moved, everything is still at the organization and distribution stage, and this issue will soon be sorted. "Take a photo of the window; say that we don't sleep at night; we leave the window open in this winter cold; we can't sleep because of the smell," the residents complain.
If you found a typo you can notify us by selecting the text area and pressing CTRL+Enter