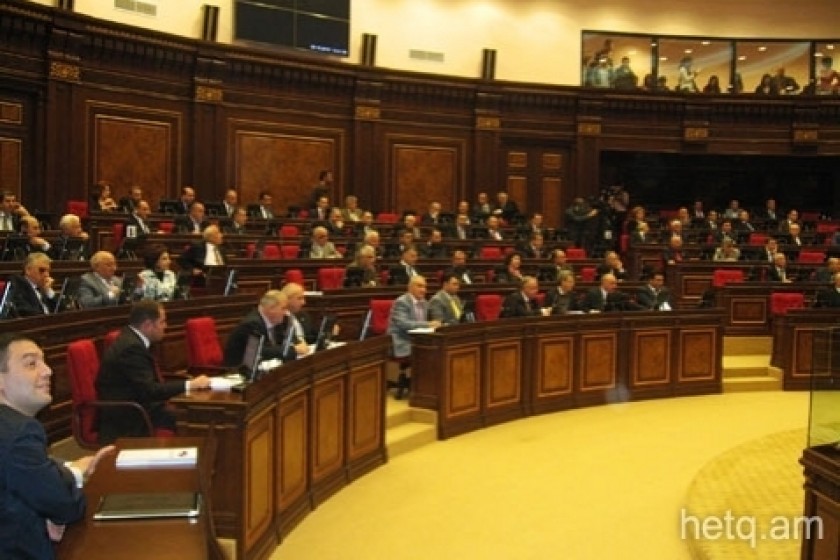 Dashnak MP's Tactic Didn't Work. Parliamentary Majority Approves Bill to Allow Alcohol Advertising on TV
The draft legislative package on making amendments to the Law on Advertising and the Law on Television and Radio, put to a vote in Armenia's National Assembly today, was approved upon its first reading. Eighty-five MPs voted for the bill, 5 voted against, and 18 abstained.
Recall, the legislative package, proposed by MPs Arman Sahakyan, Samvel Farmanyan, Naira Karapetyan, Tachat Vardapetyan, and Levon Martirosyan of the ruling Republican Party of Armenia faction, and independent (no party affiliation) MP Edmon Marukyan, will allow television advertising of beverages containing more than 20% alcohol content from 10 pm to 6 am.
Just prior to the second vote on the legislative package earlier today, secretary of the Armenian Revolutionary Federation (Dashnaktsutyun) faction Aghvan Vardanyan asked for a 20-minute recess, which caused quite a stir among many of the MPs. When reporters rushed to ask Vardanyan (who had left the chamber) why he called for a recess, National Assembly Vice President Eduard Sharmazanov joked that Vardanyan hadn't had a chance to drink coffee in the morning; hence, the need for a break.
Sharmazanov was accompanied by a few MPs, who, upon hearing the joke, laughed. Meanwhile, Armenian Revolutionary Federation MP Artsvik Minasyan told reporters that Vardanyan's was a tactical move so the parliamentary majority doesn't vote.
Nevertheless, after the break, parliamentary speaker Hovik Abrahamyan very quickly put the legislative package to a vote, and it was approved with 66 in favor, 1 opposed, and 2 abstentions.
If you found a typo you can notify us by selecting the text area and pressing CTRL+Enter