Still No Trace of Missing American-Armenian Businessman; Construction Continues on Hotel He Owns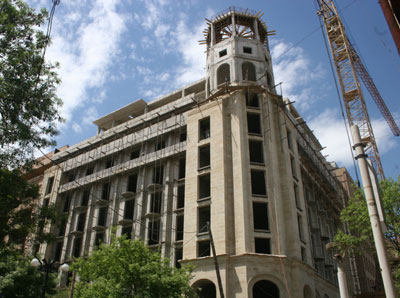 There still is no trace of American-Armenian businessman Nazaret-Hagop Berberian who went missing on April 25. He left his apartment on Amiryan Street at around 8 pm and hasn't been seen since. The attached photos show on-going construction of a Yerevan hotel belonging to Mr. Berberian. Mr. Berberian's Toyota automobile was later found on the grounds of Zvartnots airport. None of his family or friends have heard from him. Workers at the hotel construction in downtown Yerevan site belonging to the missing businessman are also at a loss as to what might of happened to him. The hotel under construction is located at the intersection of Abovyan and Puskhin Streets, close to Northern Avenue. This is prime Yerevan real estate and in takes deep pockets and pull to get construction rights.

Nazaret Berberian is a U.S. citizen. He moved to America with his family from Yerevan back in the 1970's. His wife, children and sister all live in Los Angeles where he has a chain of stores. In the mid 1990's, Mr. Berberian moved back to Yerevan and took over a rug factory in the village of Dalar in Ararat Marz. He has funded various assistance projects in Armenia and Artsakh and had recently decided to embark on a large-scale business project in Armenia. Mr. Berberian wished to turn the hotel into a tourist center. The first two floors were to house various souvenir shops. Guests at the hotel would have the opportunity to visit the Dalar rug factory, get acquainted with the art of rug-making and even purchase rugs produced there. Recently, Mr. Berberian would scour the different regions of Armenia in search of unique items and antiques with which to furnish the hotel and plant. According to our information, Mr. Berberian started to encounter problems with the onset of the global financial crisis. He had entered into talks with two large international hotel chains with the aim of securing investment funds from them. We can only speculate as to the results of these talks since Mr. Berberian was known as being somewhat of a secretive person who kept things "close to the chest". None of his family members have travelled to Armenia since his disappearance. We have learned that the family has contacted the U.S. Embassy in Yerevan for assistance and that officials have become engaged in the case, periodically raising the issue with the Armenian police. When the RoA Police were informed about the disappearance they started questioning Mr. Berberian's circle of friends and acquaintances. The questioning stopped a few days later which leads one to believe that the police have some leads which they are pursuing. Our police source tells us that the department has a specific theory as to the disappearance but preferred not to divulge any details which might damage the ongoing investigation. Thus, "Hetq" will also hold off on publishing information on the case that we have obtained. All we will say is that experts place a $20 million price tag on the hotel now being constructed at full swing even though its owner has been missing for some three weeks.