Former Major General - Recent Army Killings a "Settling of Scores"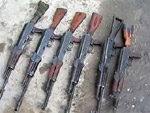 On-going effort needed to reform armed forces
Commenting on the November 19 incident at an NKR military unit that left 4 Armenian soldiers dead and 4 wounded, ex Major-General Arkady Ter-Tadevosyan, "Commandos", said it was the result of a 'settling of scores'. He didn't wish to go into further detail on this latest in a series of troubling incidents in the Armenian armed forces. "I too would like to understand what is going on and to what extent our army is to blame. I want to know, not to increase the pain, but to help," he said at a press conference. Ter-Tadevosyan said that the army shouldn't shoulder all of the blame since the military is a reflection of the society at large. "Soldiers must understand that army discipline does not allow them to behave as they once did on the outside. Certain freedoms are restricted." He said that the army had inherited both the good and bad traits from the Soviet military. The Artsakh military commander called for an on-going effort to purge the armed forces of these negative aspects and that education, not just punishment, be implemented.