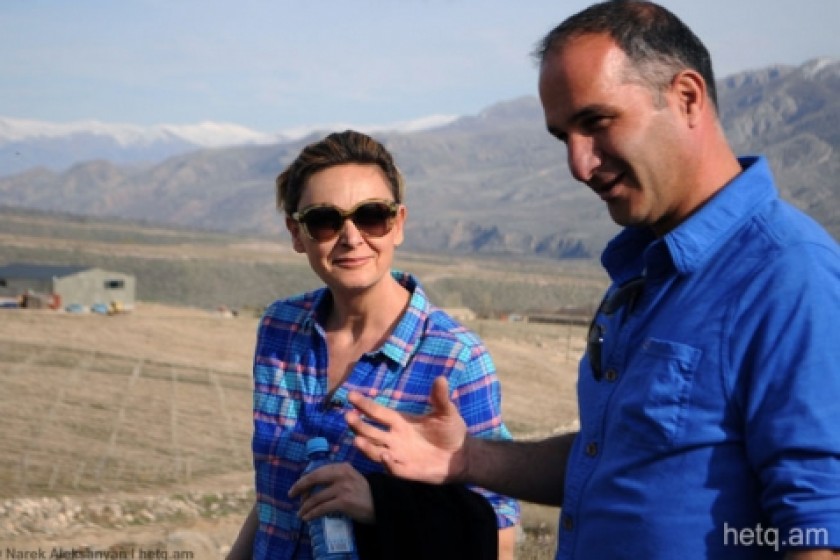 Diasporan Armenian's Vineyard in Armenia Produces One of the World's Top 10 Wines
Zorik Gharibian, an Armenian living in Italy, made a life-changing decision in 1998: instead of growing grapes and producing wine in Tuscany, he decided to buy land in the village of Rind in Armenia's Vayots Dzor Province to produce wine and launch his winery, Zorah, here. For 10 years he researched grape varieties native to Armenia, and these are the varieties he wants to bring to the world stage. One of Zorah's wines, the Karasi Areni Noir, even caught the attention of a Bloomberg author, who included it in her list of top 10 wines of 2012.
Gharibian found out about making it to the list of the world's top 10 wines accidentally, after the article was published. "The other 9 wines have been in the market for several generations," he says, citing as an example the 2009 Domaine de la Romanee-Conti Romanee-Conti, which costs $14,000 – $18,000, and the 1963 Quinta do Noval Nacional port, costing $4,500 – $6,500 a bottle. For comparison's sake, the 2010 Zorah Karasi Areni Noir costs a mere $45.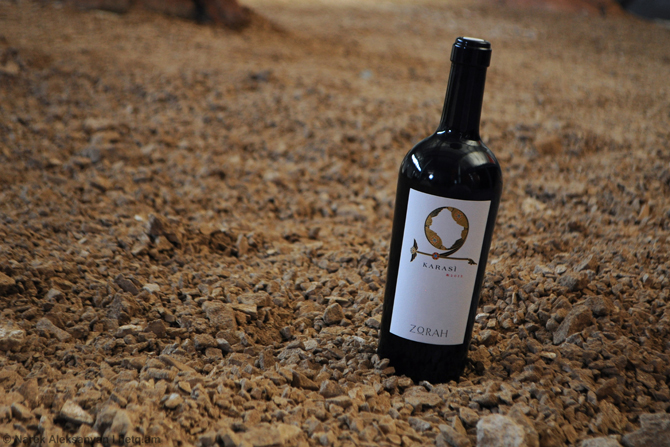 The author of the Bloomberg article, Elin McCoy, sampled more than 4,000 wines in 2012 in the search for the best, including Zorah Karasi Areni Noir in her top 10. About this wine, she writes: "In Izmir, Turkey, I was wowed by my first-ever taste of an Armenian wine, this stylish red made from areni noir grapes and aged in traditional clay amphora. Smoky, silky elegance, soft mulberry-like fruit and wild earth notes are part of the wine's appeal; I also savored the thrill of drinking history. It's the first vintage from a new wine making project near the Areni-1 cave, where archeologists discovered the world's oldest winery, dating back 6,100 years."
In Rind's "Italy"
From a high vantage point in the village, Gharibian proudly looks toward the horizon, where his vineyard can be found. In the field, local vintner Arsen's profile is discernible. The villagers call the factory and Gharibian's terrain "Italy," while the winery's founder considers himself partly a native of Rind. The factory is on the outskirts of the village, not too from the cemetery. "In the future, we're going to plant poplars here so the [final] resting place can't be seen. We've decided to build a small house right here where we're standing, but these are future plans," says Gharibian's wife Yeraz Tovmasyan, looking toward the cemetery. Tovmasyan is responsible for developing the company's image abroad.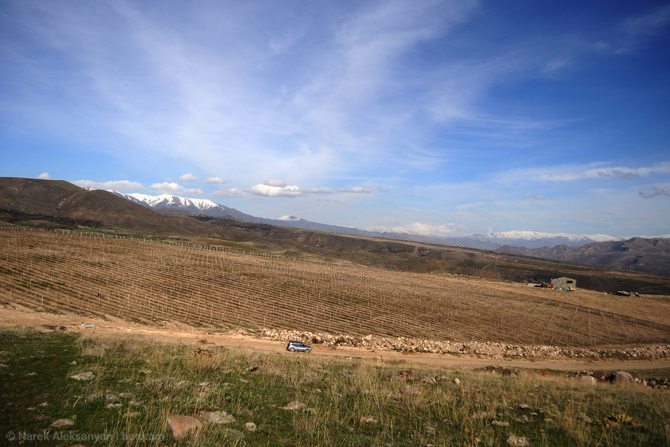 The land belonging to Zorah winery is 40 hectares in size, of which 9 have been set aside for researching wines indigenous to Armenia. "I don't call myself a businessman because a lot of what I do is far from business — researching the clay amphora and the vineyard, and isolating the right one from among the varieties. I do that for my piece of mind," Gharibian says.
Gharibian lives in Milan, Italy, with his wife and two children. He graduated from the Moorat Raphael College of Venice (Collegio Armeno Moorat Raphael), then studied with the Mechitarists congregation. Gharibian is an economist by profession, but as he says he was always passionate about wine. Before 1998, he had decided to begin producing wine in Tuscany, but that very same year he came to Armenia as a tourist — a visit that changed his mind. Two year later, he began to search for land in Armenia where he could produce good wine. He finally settled on the rural village of Rind.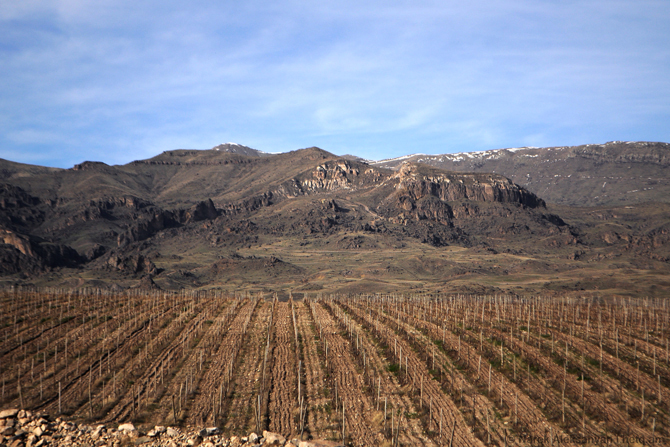 "[The village] attracted me by the power of its mountains and [rocky soils],1400 meters above sea level. The first thing I did was get the soil content and micro-climate analyzed for a 40-year span at two Italian universities. The tests concluded that my land is on the highest level at an international level," explains Zorah's founder, adding that getting grapes at this height is rare for global viticulture. There is also a second important fact: there is no industry on that terrain.
The Connection Between Clothing and Wine
After selecting the terrain, Gharibian for about 10 years worked on studying Armenian grape varieties. "My purpose is to be able to get to a level where the variety that's indigenous to Armenia will get the highest grade by international standards, and winemaking in Armenia will be able to secure its place on the map," he says, again emphasizing that winemaking is not a business for him — otherwise he would not be obliged to research Armenian varieties for 12 years.
In Italy, Gharibian has a clothing manufacturing business. He delivers the clothing he makes to large US department stores, and the money he makes from this business he invests in Armenia. "The only connection I see between clothing and wine is that in both cases you're dealing with beauty. In the case of clothing, you are the one who decides. The advantage of wine over clothing, at least for me, is that you begin to interact with nature. Can you imagine, for a large part of the year you work with nature and you don't yet know if you'll have harvest or not? In this case it's nature who decides," says Gharibian, smiling, who named the company after his name: "When I was a child, my mother called me Zorah, and that's what I decided to call the company."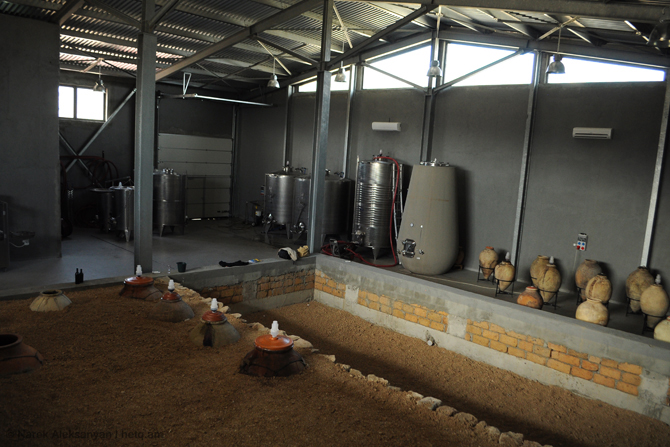 He avoids talking about the investments he's made so that he too won't "be afraid" of the big numbers. According to him, locals sometimes don't believe that someone can come and produce wine in these hills, but he tells them that winemaking likes peace and tranquility, and wine is a living thing in which you have to invest love. Winemaking, he adds, yields serious results many years later.
On the Market
Today the Karasi Areni Noir is the winery's only wine that is available for purchase. It is exported to the UK, Germany, the Netherlands, Italy, France, the US, the Baltic states, and Russia, and will soon be sold also in Australia and Greece. Among these countries, Gharibian considers the sale to Italy his personal victory. In Armenia, the wine is sold in specialized shops and in a few restaurants, where one bottle costs $80.
"I'm very proud that especially diasporan Armenians praise our wine, but my goal is focused on the outside world, so that Armenia is placed on the map because abroad, where our wines are sold, [they] are on the highest mark. The most important thing for me is for wine lovers to value my wine," he says.
What's Missing from Armenian Winemakers?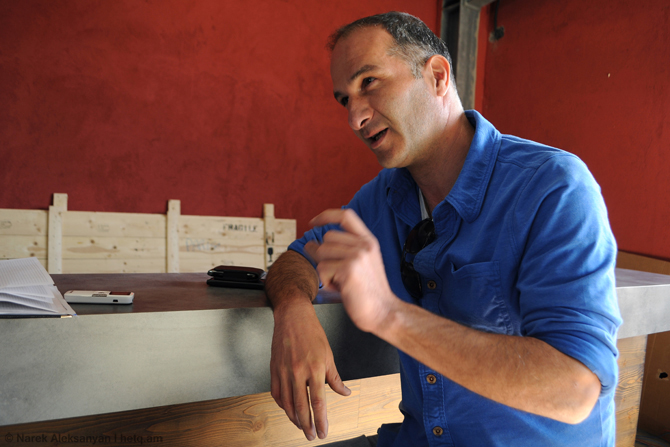 "Unfortunately, [people] in Armenia don't understand what a treasure they have. Many world-famous winemaking countries such as, for example, Australia, New Zealand, and Argentina, don't have indigenous varieties, while Armenia has hundreds of indigenous varieties, which many are not interested in. This is lamentable. The second woeful fact is that we have a 6,000-year-old [winemaking] history and we don't pay attention to this fact, while in Europe they preserve their 500–600-year-old [winemaking] history to such an extent," he says.
He refrains from discussing the matter of Armenian winemakers producing Europeanized varieties, then stresses he's not saying that everyone has to work on producing Armenian varieties — he only wants that if not all, then at least the majority opt for Armenian grape varieties.
Sometime later, Gharibian adds that even the company's Italian winemaker, Alberto Antonini, is inspired by the Armenian varieties. Antonini is among the top 5 of Forbes' list of the world's best winemakers. The company's agronomist, Stefano Bartolomei, is also Italian.
"I'm now speaking about my land. Armenia has altitudes — this land, this water, history, indigenous varieties… we have all the links [to the chain] to develop winemaking, but what we're missing is self-consciousness," he says, looking toward the clay amphorae laid out in the first floor of the factory.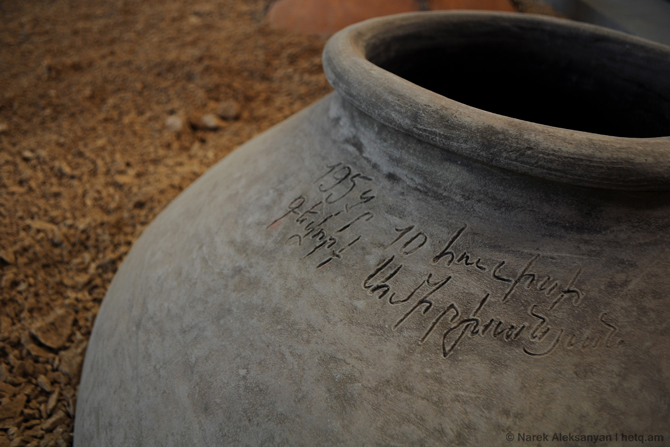 One of the problems today, according to Gharibian, is finding the clay amphorae in which they age the wine. The clay amphorae are found by going from village to village, house to house. "The [clay] amphorae has its scent, and a wine breathes differently in a [clay] amphora than wood. Our specialists abroad praise wine aged in amphorae more. First, it's a novelty; second, it gives a special balance to the wine. But let me also say that aging wine in amphorae is a very difficult process and it might not be profitable from a business perspective," he says, reminding us that in the past, wine was aged in amphorae in the caves. "The world can be envious of Armenia," he says, smiling.
On a School for Making Clay Amphorae
In order to preserve Armenian traditions, Zorah's founder has decided to open a school in Rind for making clay amphora. "I would never have thought that 20 years later my profession will come in handy," says Gharibian's wife, Yeraz Tovmasyan, who studied ceramics in the US. In the coming 1–2 years, two new Zorah wines, one red and one white, will be available for sale. The red will be more expensive than the Karasi Areni Noir.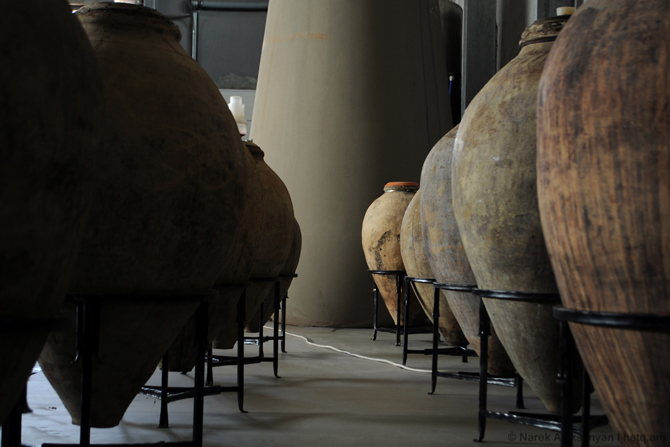 Located next to the clay amphorae are the grape fermentation containers. All of the factory equipment is Italian. On the second floor of the building, there will be a wine exhibit hall where, according to the couple, winemakers from all over the world can come, taste the wine, and appreciate it. "We have many international winemaker friends, and we hope to turn this venue into a center of winemaking in the near future," says Gharibian.
Jancis Robinson, who writes articles about winemaking in The Financial Times and has already thrice written about Zorah, will be publishing a book about grape varieties and winemaking. Armenia will be represented in the book through the Zorah winery.
Photo credit: Narek Aleksanyan
If you found a typo you can notify us by selecting the text area and pressing CTRL+Enter