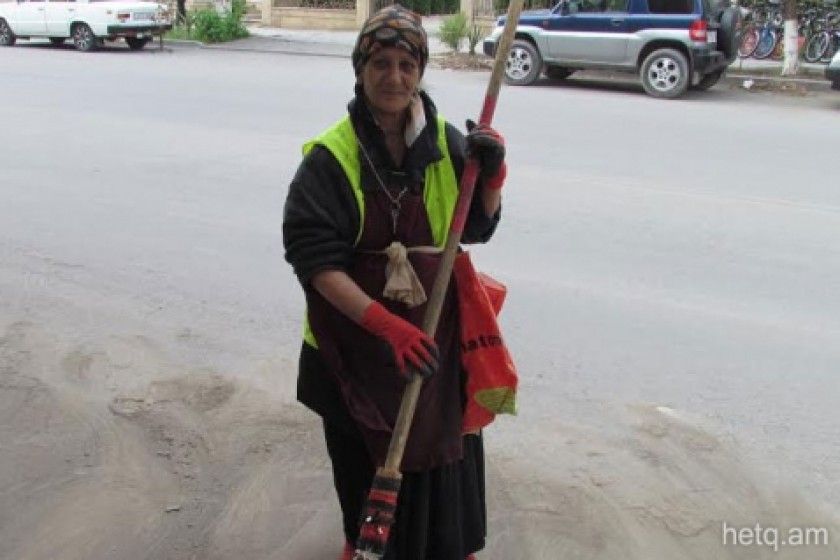 Laura the Street Sweeper: "The leaders live off the backs of the workers"
Laura Atoyan is a street sweeper in Artashat, a town some 30 km southeast of Yerevan.
She's one of the many women in Armenia who use the familiar 'eco-friendly' brooms made of branches to sweep the streets of the country's towns, large and small, to make a living.
Laura starts her work day at 6am, when most residents are still fast asleep in their beds. It was 10am when I caught up with Laura and she still hadn't finished her assigned route.
She's been cleaning the streets of Artashat, the capital of Ararat Province, since 1992. Almost everyone in the town knows her by name.
Laura's three daughters also work as street sweepers in Artashat, setting out before sunrise to hit the empty thoroughfares with their brooms.
Laura makes 45,000 AMD (UD$110) per month and says she's lucky to have the job despite the meager salary.
"Such is life, one day good, one day bad," says Laura as she bids a good day to a passing pedestrian.
While her salary disappears before the end of the month, forcing the family to rack up debt, Laura hopes the new government will take steps to raise salaries for workers like her.
She takes pride in her work and tells me that local residents respect her for the important job she does. Sometimes they even come up and thank her personally.
"The leaders live off the backs of the workers. They should understand that. I'm content. People respect me," Laura says.
While she doesn't have a specific request of the authorities, Laura would like to see them focusing more on the problems faced by those emigrating from Armenia. She's concerned that the country is emptying out. When she speaks about the problem Laura gets misty eyed and her voice quivers.
"It's not good that Armenians are leaving. Something must be done to keep them here. They go because there is no work so that they can take care of their kids. Only our love and attention will keep them from going," Laura says.
"How is it that we invite everyone to 'come home', while local Armenians don't have a place in Armenia? That's not acceptable. It's like separating a child from its mother. And our country is our mother," the street sweeper says.
Laura then got a call from her daughters saying they had finished their shift and would wait for her.
"We'll go home and rest a bit. Tomorrow's another work day, bright and early," said Laura as she waved goodbye.