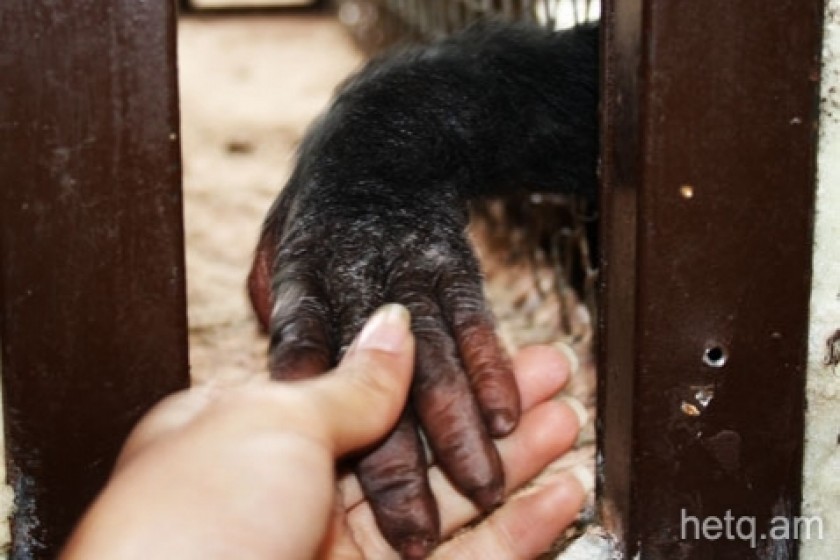 Hetq Reporter Testifies in Endangered Animals Trafficking Case
The Investigative Division of Armenia's State Revenue Committee today "invited" Hetq reporter Kristine Aghalaryan to serve as a witness in a criminal case that was launched on the basis of a series of articles she had written exposing the trafficking of endangered animals to and from Armenia.
The series focused on the importation of the bonobo (Pan Paniscus) great ape listed as endangered in the IUCN Red List of Threatened Species.
Native to the Congo Basin in the Democratic Republic of the Congo (DRC), the sale and export of the animal is banned in the DRC.
Despite the ban, an animal resembling the bonobo has turned up in Armenia. The animal can be seen caged in the newly opened Jambo Park located in Dzoragbyur, a town in Kotayk Province.
Some of the animals brought to Armenia remain in the country. Some are used as "attractions" at various businesses, like the street hawkers of old, to pull in customers. Some wind up as pets in the homes of Armenia's rich or wannabee-rich, to impress the neighbors or to add a touch of "class".
In January of this year a criminal case was launched on the basis of a Hetq expose regarding the trafficking of endangered bonobo apes in Armenia.
Criminal contraband charges were filed against Artur Khachatryan, the owner of Zoo Fauna Art, a company in the animal trade.
If you found a typo you can notify us by selecting the text area and pressing CTRL+Enter