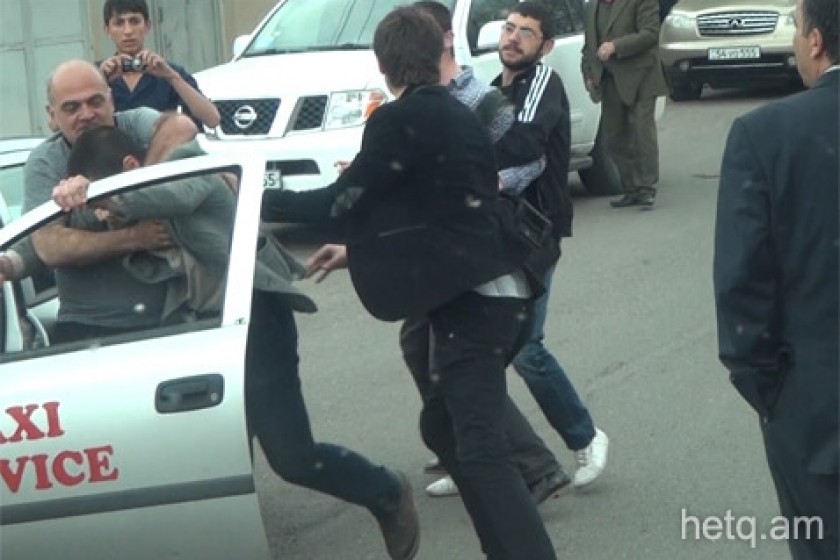 Supporters of Man Accused of Domestic Violence Attack Hetq Reporter and Activists
Following Wednesday's court hearing of a man accused of assaulting his wife, former leader of the Progressive Socialist Party Robert Aharonyan and others attacked a Hetq journalist and NGO representatives who are supporting the defendant's wife.
The trial currently underway at the Gegharkunik District Court of First Instance involves 27 year-old Hasmik Khachatryan, a resident of the village of Gandzak in the Gavar region, who has taken her husband, 33-year-old SargisHakobyan, to court on assault charges.
Many in the region, and even Yerevan, know of the Hakobyan family by way of Sargis' mother, Varsik, a prominent fortune teller.
Robert Aharonyan, according to Hasmik Khachatryan, is one of Varsik's clients and helps her any way he can. This was the second time he had come to the courthouse in Gavar with three young men, a woman, and a taxi driver.
The defendant, Sargis Hakobyan, days ago met with Khachatryan and promised to kill her before he is imprisoned. "They had come to see the child, to write an explanatory statement on whether I beat the child or not. My daughter said that I don't beat her and it's all a lie. He got into a rage, told me he's not afraid of imprisonment, but he will kill me and then go to prison," she said.
In his testimony in court yesterday, Hakobyan said that Khachatryan wanted to poison him, which is why he punished her — with a single slap. "One day I asked for water; [she] brought it; I saw that it was bitter and asked what did you put in the water? She became afraid, took the water, and fled. Then one day I came inside, saw she was talking on the phone. I said, who are you talking to? She said, my mother. I said, well, give me the phone, let me see. She erased the number then gave [me the phone]. That and few other things that had accumulated — I got into a rage, and gave her one [across the face]," he said.
Asked whether he admits his guilt, Hakobyan said: "No, no, I don't." Hakobyan confessed that he had a girlfriend, and he lived with her in Yerevan. Note, his girlfriend likewise contacted Hetq, saying she was tortured. A criminal case was launched against SargisHakobyan based on these allegations; however, the case was quashed because the victim did not submit a claim.
In his testimony, Hakobyan also stated that he doesn't imagine living together again with Khachatryan. "She wants to put me in prison, take the kids, and go to Europe — her head full [of ideas]. Besides immorality, what work is she going to do, to support the children? She was repulsive: she would go to the toilet, wouldn't wash her hands — how could I eat the food she gave me? All the girls dream to have a husband like me. I want her to leave me alone and for me not to recognize her," he concluded.