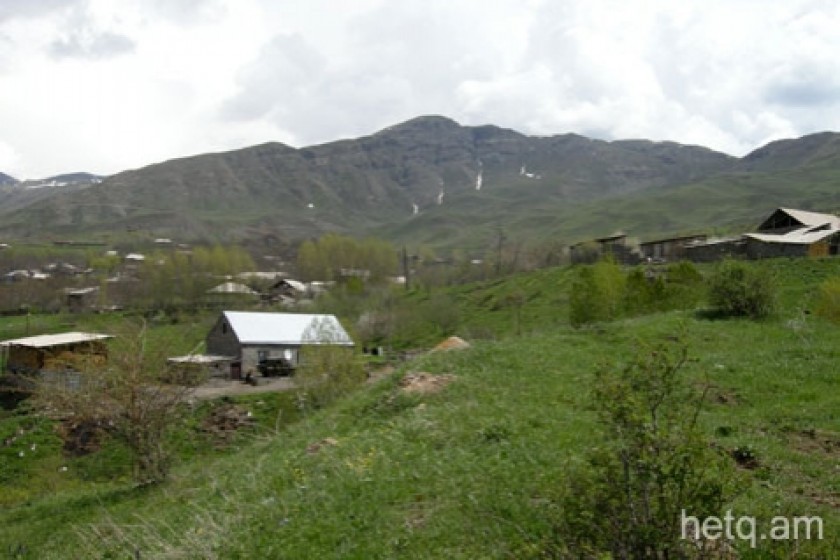 Armenian Labor Migrants Who Return Eager to Launch Small Businesses in Vayots Dzor
Getting paid twice as less for the same work abroad can sometimes become an impetus for a migrant to look for work in his own country.
An electrician by trade, 54-year-old Vayk native Ishkhan Zakaryan did installation work for large buildings in the Russian city of Noginsk. After working for several months, he noticed that Russian employees were getting paid 60,000 RUB (about $1,700 USD) a month, while he was getting 25,000 RUB ($708).
"I was greatly disappointed by this," he says. "Besides, they worked from 9 am to 5 pm, while we [migrants], from 8 am to 8 pm, and we did the same work."
In the opinion of Andranik Martirosyan, head of the village of Gladzor in Armenia's Vayots Dzor Province, some of those searching for work in Russia can ensure the well-being of their families just as well in their own village, though social assistance has condemned people to laziness.
"Our region has great agricultural opportunities, and if 30% take up animal husbandry, I'm convinced they will live well," he says. "But there are people who go for 6–7 months and they can't even live. All winter long, they accumulate debts from the store so they can go again in the spring; meanwhile, they can raise 5 cows here and live properly. Reaping hay will be a little bit difficult, but 20 years ago, we reaped thousands of tons of hay in May."
Vayots Dzor is one of the country's smaller provinces and has three cities. According to the National Statistical Service of the Republic of Armenia, 52,000 live in Vayots Dzor, about 70% of which are in villages and rural settlements. The primary means of subsistence for this province is agriculture.
According to regional governor (marzpet) Edgar Ghazaryan, agriculture in the province is diversified, and all the branches are developed proportionally — even in the rural communities. "In many of our communities, by working in agriculture, people are able to take care of their families' needs and in some cases are even able to buy a car or renovate their home. It [all] depends on how they manage their finances," he says.
Ghazaryan says though people emigrate from the province, labor migration is mainly characteristic of large cities, where industry was developed during the Soviet years.
Out of all 10 of Armenia's provinces, Vayots Dzor has the lowest poverty rates: according to 2012 data, 0.5% of the province are extremely poor, while 20.7% are poor — comprising 1.8% of the proportion of poverty in the total population.
After returning from Russian, Ishkhan Zakaryan participated in a business training program for returnee migrants and now wants to establish a business in Vayk. "In the past, I had a co-op electrical service center, which I then wanted to establish in Moscow, but great investment was needed there, and I was forced to work for others," he says. "Now I want to open that center in Vayk. People can call and bring for repair all sorts of electrical appliances — washing machine, fridge, fan, vacuum cleaner, and so on."
Participating in the business training session were 22 people — mainly from Vayk, but also Yeghegnadzor and neighboring villages.
"There's the impression that participants want to stay home [in Armenia], since some have families and are tired of coming and going. Also, I believe that if they're able to earn half of what they earned in Russia here, they will stay," said training facilitator Lilit Hakobyan.
Another Vayk native, 49-year-old Armen Avagyan, after coming and going to Tyumen, Russia, for 6 consecutive years, decided to work in agriculture here, since with the money he saved he purchased 10 cows and has a farm. "It's not easy to live in the north, and I have four children — my youngest son is 8 years old and he missed me a lot. I would come, stay for a month then leave," he says. "Now I want to expand my work, buy a mower and milking devices and broaden my livestock breeding plans, since there's a demand for milk here, and we're tired of going [abroad]."
The business training program is implemented in migration resource centers established in the provinces of Armavir, Ararat, Vayots Dzor, and Syunik, which operate alongside state employment services. After the end of the program, the participants will present their business development plan, which, if approved by the evaluation committee, will receive 3,000–5,000 EUR. This won't be provided as cash but as necessary equipment, which the beneficiary can keep after he successfully develops his business.
Lilit Hakobyan notes that there are still despondent moods in the group because many of them are disappointed and have bitter experience and in some cases are skeptical of this opportunity. "But at least 5–6 people in the group have an inclination for business, and they will continue their work in any case and at any cost," she says.
Demographer, expert on migration issues Ruben Yeganyan says that there is a trend now of labor migration developing into permanent migration. He states that migration is conditioned by complex economic, social, and psychological factors and is a systemic disease. "And treating the disease means eliminating its causes. If these symptoms are not addressed, any treatment will be cosmetic and will have minimal impact," he says.
The business assistance program for migrants who return to their homeland is implemented by People in Need NGO and the Armenian Relief Society and funded by the EU (for 1 million EUR) as part of the Support of Circulatory Migration and Reintegration in Armenia program.
If you found a typo you can notify us by selecting the text area and pressing CTRL+Enter