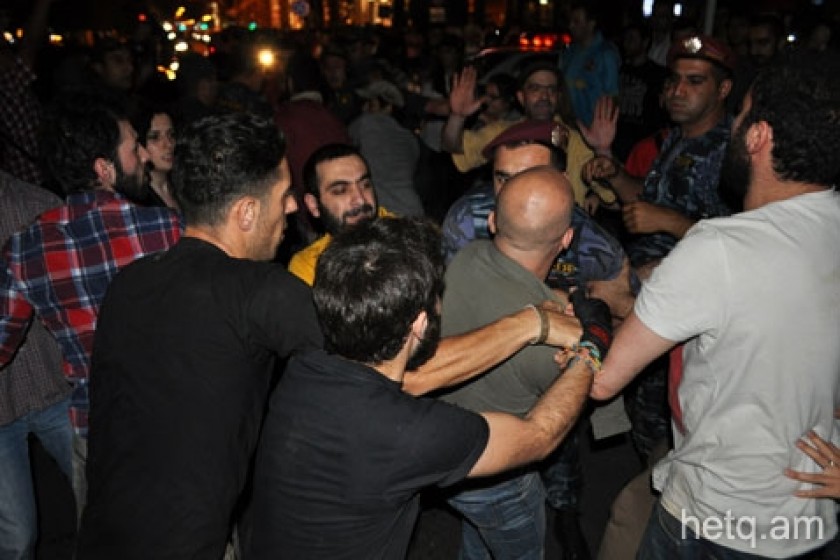 Activists Protesting Dismantling of Historic Building in Downtown Yerevan Detained
Activists attempting to thwart the demolishing of a historic building in downtown Yerevan built by a prominent merchant family were detained by police late Monday evening.
Activists began to tear down the metal partitions erected around the Afrikyan house and erase the numbers on the stones. When they had almost completely torn down the sheets, police officers appeared on the scene, demanding an explanation. The activists said they are trying to save historical and culture values that are being destroyed.
An altercation ensued, resulting in police detaining Vahagn Gevorgyan. Other activists attempted to prevent police from detaining anyone else. Chanting "Victory!" and "Free, Independent Armenia!" they marched to Kentron Police Division where their friend was taken. Media reports [AM] indicate that other activists may have been detained.
The Afrikyan house located at 11 Teryan St., constructed at the end of the 19th century and belonging to the merchant Armen Afrikyan, served as a center where political figures, entrepreneurs, artists, and other prominent members of the city would meet. The Afrikyans were also Yerevan City Council members.
The building, recognized as having eminent public interest, was purchased by Millennium Construction, which intends to dismantle it, reconstructing the façade in another part of the city, and build a hotel in its place.