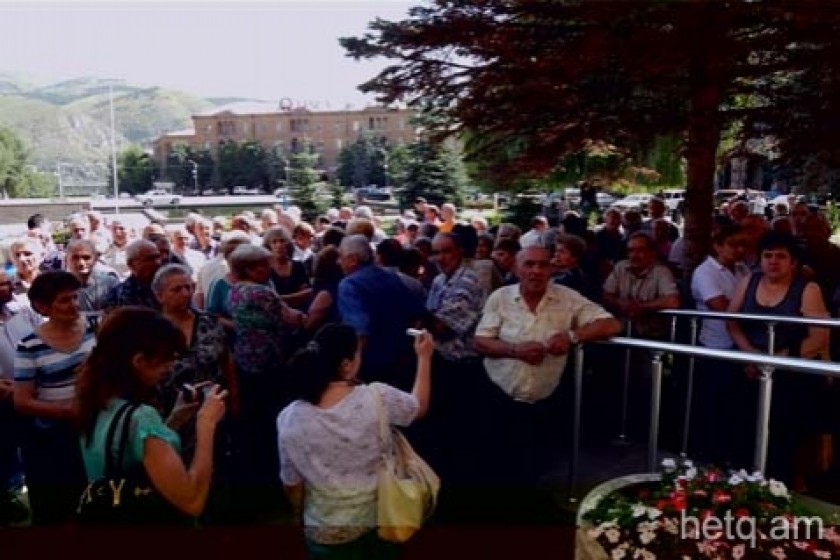 Former Energy Minister to Meet with Kimprom Workers; Reporters Barred
Workers at the financially strapped Vanadzor- Kimprom plant again took to the streets in front of the Lori Regional Government Office in Vanadzor early today demanding to speak to presidential adviser and former energy minister Armen Movsisyan.
They believe that Movsisyan is the only person around who is familiar with the plant and its financial dealings.
Lori Regional Governor Artur Nalbandyan called on the 300 or so demonstrators to be patient while he phoned Movsisyan to set up an hour for the meeting.
Nalbandyan told the demonstrators, who are demanding months in back pay, that Movsisyan would give a definite time for the meeting within the hour.
When demonstration organizer Hrachik Martirosyan told the crowd that Movsisyan would meet today with a 15 person delegation from Kimprom, the crowd responded that they would all fit into the meeting hall.
Martirosyan noted that while Armenian labor law stipulates that interest be added on daily to unpaid wages, Kimprom workers haven't seen any such increases.
He added that the company owes them wages retroactive to 2011.
While Martirosyan went out of his way to clarify that their demands weren't "anti-government", many responded that government officials were giving them the run-around.
One demonstrator, Hasmik Matsakyan ridiculed the regional governor for saying that he and his staff haven't been able to identify the actual owner of Kimprom.
MP Edmon Marukyan approached the demonstrators, advising them to take their wage demand to the courts.
Demonstrators told Marukyan that 60 Kimprom workers had won their suits in the courts but that the Vanadzor Compulsory Enforcement Service of Judicial Acts has refused to act on the matter.
Marukyan requested that the workers in question provide him with copies of the court decisions in their favor.
When the demonstrators asked if it might be possible to meet with the prime minister, Marukyan said he would raise the issue at a meeting with the prime minister later in the afternoon. Marukyan also didn't rule out the possibility that Kimprom would be declared bankrupt.
Afterwards news was relayed from the regional governor's office that a meeting between the workers and Movsisyan would take place at four this afternoon at the Kimprom plant.
Hrachik Martirosyan told workers that a 15 person delegation would be allowed and that reporters would be barred.