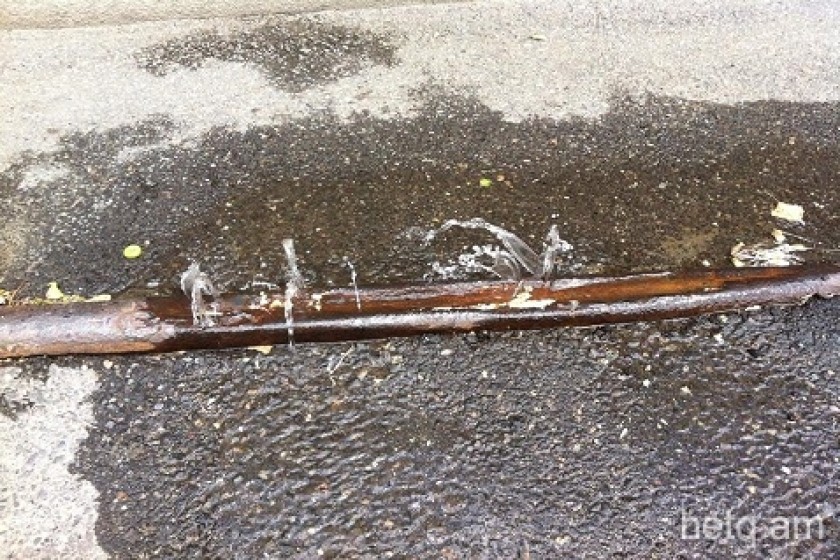 Residents Offer to Pay for Irrigation Water, But Yerevan Municipality Keeps Postponing Issue
Residents of one of Yerevan's many administrative districts have even offered to pay for an irrigation water system to water the trees in their yards; however, the municipality keeps postponing addressing the issue.
Since September of last year, two Yerevan residents, Hrach Hakobyan and David Khachatryan, have been sending letters to the administration of Yerevan's Arabkir district, raising the matter of irrigating the plots of land adjacent to their homes at Marshal Baghramyan Ave. and Yerznkyan St., to which they kept receiving the following reply: "The irrigation water pipes on Yerznkyan St. were repaired several times this year. To finally settle the issue, a new irrigation waterline (about 700 m) will need to be built."
The issue refers to the area beginning from the Baghramyan-Yerznkyan intersection, where there are about 80 houses, as well as residential buildings, the backyards of which also make use of this waterline.
Khachatryan informed Hetq that the waterline was considered accident-prone also during the Soviet years, but even during the early years of Armenia's independence when there were widespread gas and electricity shortages, the residents would get water in the hot summer months of July and August. But not this year.
"At the start of July, they'd always turn it on to test, to see where the outflow was coming from, turn it off, repair that section, and then there was water until the fall," he says. "Until last year, there was water even in that state, but this year they didn't give [us] water at all."
According to Khachatryan, residents irrigate their land with drinking water, as they see no other option. They have several fruit trees on their lands.
"In Hrach's courtyard alone, there are huge 50–60 year-old mulberry trees, and if there is an ounce of clean air in that area it's because of the trees in our yards," he says. "The district administration has placed flowers in pots in that area, watering them every other day with a water vehicle [just] for show."
Residents have never paid for irrigation water, by Khachatryan's account, and there's no water meter, but in their letters to the district administration they propose introducing a paid irrigation water system. But the administration does not respond to this proposal. Only one thing has changed in the letters they receive in reply to this nearly year-old issue: if the administration stated in its letters last year that a proposal for building a 700-meter-long waterline would be put forth to Yerevan City Hall, then in its letters this year it states that the solution to the issue is not included in the programs for 2014.
If you found a typo you can notify us by selecting the text area and pressing CTRL+Enter