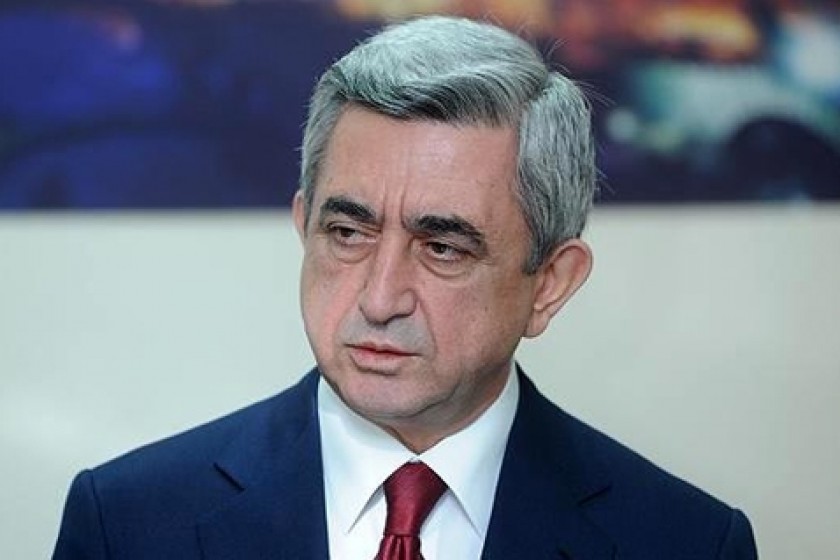 President Sargsyan Bestows Awards to Winners of Victor Hambardzumuyan Scientific Prize
Armenian President Serzh Sargsyan today handed awards to the winners of the 2014 international scientific prize named after the National Hero of Armenia, academician Victor Hambardzumyan at the National Academy of Sciences of Armenia (NAS RA).
The Chairman of the Commission for the V. Hambardzumyan International Prize, the President of the NAS RA, academician Radik Martirosyan presented the 2014 awardees – Felix Aharonyan, Igor Karachentsev and Brent Tully. Felix Aharonyan was nominated by the National Academy of Sciences of Italy for "His outstanding contribution to high-energy astrophysics and physics of cosmic accelerators and for playing a leading role in developing a stereoscopic system for Cherenkov telescopes. Igor Karachentsev and Brent Tully were nominated by the Special Astrophysical Observatory (Russia) for "their fundamental contribution to the cosmology of the local universe."
In his speech, the chairman of the commission noted that for the 2014 prize the commission received seven nominations of eminent scholars and scientific groups from different countries, including the Russian Federation (two nominations), the U.S.A., India, Ireland, Germany and Ukraine.
To read President Sargsyan's welcomg speech click HERE