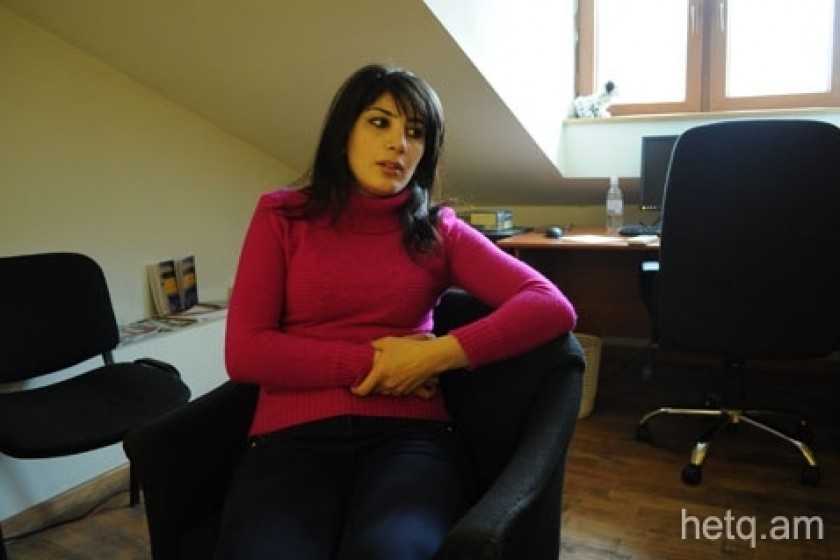 Domestic Violence in Armenia: A Crime or Merely a National Tradition?
I met Hasmik, a 28 year-old victim of domestic violence, last year.
Back then, she had no hope of receiving justice and believed that her life had come to a tragic end.
On the advice of attorneys and social workers, Hasmik went to the police with her story and a criminal investigation was launched. Nevertheless, she was certain that her husband would pay a bribe and avoid being held accountable.
Yesterday, at the Gavar Court of Jurisdiction, there was yet another trial session in Hasmik's case. Her husband, Sargis Hakobyan, has been charged with "torture" (Article 119 of the RA Criminal Code). If found guilty, Hakobyan faces 3 to 7 years in prison. Prosecuting attorney Vardan Lalayan has called for 5 years imprisonment and that the accused be held in pre-trial detention.
Hasmik fears walking around by herself because her husband has promised to "sacrifice" her and drag her to court.
She married Sargis Hakobyan, a resident of the same village, nine years ago. She never met her future husband before the marriage. Hakobyan's parents took a fancy to Hasmik and took her for their son's bride.
Hasmik claims that while living in the Hakobyan household run by her mother-in-law Varsik, who's known as a fortune teller in the Gegharkounik region, she was beaten and tortured for several years.
During the trial, when Sargis was asked why he beat Hasmik and extinguished cigarettes on her body, he denied all such talk. "I only slapped her once." Forensic exams undergone by Hasmik, however, show cigarette burns on her palms and numerous wounds to her head.
According to Amnesty International statistics, every third woman in the world is subject to some form of domestic violence – physical, mental, sexual, etc. 35% of respondents to a 2007 survey entitled "Domestic Violence and Abuse Against Women" considered themselves victims of domestic violence. 50% considered themselves partially deserving of such treatment. 40% said that their children had witnessed such violence against them. (See the report in Armenian)
There are no official statistics in Armenia regarding domestic violence and thus any study of trends over time cannot be conducted. Today, statistics are compiled by international organizations, NGOs and, in recent years, by the police.
In 2011, the OSCE office in Yerevan financed a survey on domestic violence for the Proactive Society NGO. The results of the survey, conducted in Yerevan and four provinces (Shirak, Lori, Armavir and Aragatzotn) are as follows.
Domestic violence, as a crime, isn't defined by Armenian law. Local NGOs are the prime source of legal, psychological and practical assistance for battered women. Anna Nikoghosyan, who heads the Society Without Violence NGO, says that the absence of any law is the first obstacle to battling violence.
In the last two years, a bill on domestic violence, drafted by various civic groups, the Ministry on Social Affairs and sector professionals, was presented for public debate. Despite a long support campaign waged by women's rights groups, the bill was never passed. The police didn't see eye to eye with several clauses in the bill; regarding them as unrealistic.
Anna Nikoghosyan told Hetq that the bill failed due to a lack of political will. "Financing was one of the arguments against the bill since it envisaged opening shelters for domestic violence victims, training courses for the police, and other government measures," she said.
Today there is one dedicated shelter in Armenia for victims of domestic violence and their children. Operated by the Women's Support Center (Maro Matosian, Director), it was established in 2010 with financing from the Tufenkian Foundation. During a typical year, the Center gets more than 300 hotline calls and provided shelter to 35 women along with 42 underage children last year. Those seeking assistance are so numerous that the shelter cannot accommodate all of them. Notices regarding the shelter and the professional services it provides have been distributed to the provincial authorities and local municipalities, and the Center's hotline number can be seen affixed to metro stations and in residential building elevators. Battered women also hear about the Center through word of mouth.
Women at the shelter have their own rooms and are seen by psychologists and social workers. The location of the shelter is a closely guarded secret.
After staying at the shelter, many women return to their families and their battering husbands. Social worker Alvard Karapetyan says there are many cases where women have been to the shelter several times.
"In the end, the woman is the decision-maker. We can only suggest options for her," said Karapetyan.
In court and in dealings with the police, women subjected to domestic violence are still defended by a number of organizations engaged in gender-related issues and civic groups. Their main aim is to change stereotypical attitudes of state institutions and for domestic violence to be defined as a crime and not merely a national tradition.
Sources – Amnesty International, Society Without Violence NGO, Proactive Society NGO, Women's Support Center.
(Maro Matosian, Director of the Women's Support Center (WSC), is currently in the United States. On Fri., Nov. 21, from 8-10:30 p.m., she will present an overview of the work of the WSC, followed by a question and answer period, at the Armenian Cultural Foundation (ACF), 441 Mystic Street, Arlington, Mass.)