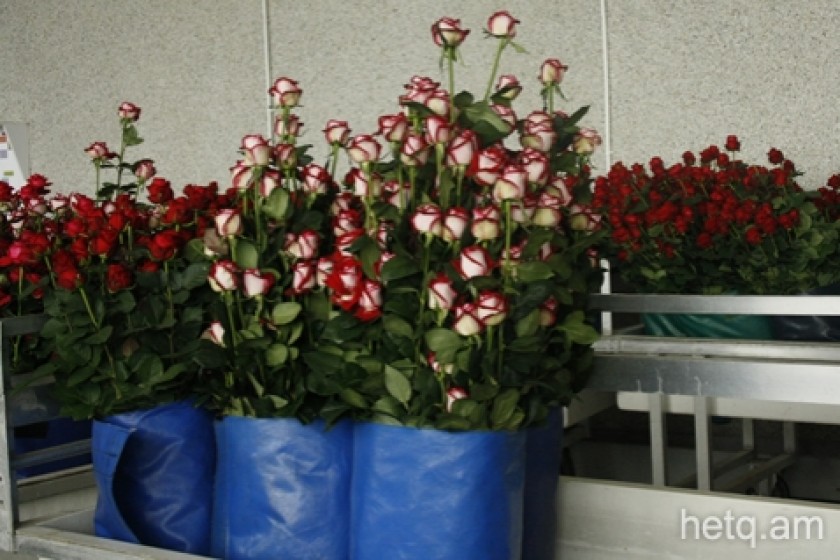 Armenia's Retail Flower Trade: Getting Worse by the Year
Armenian exports of flowers have shot up in the past two years.
According to data supplied by the National Statistical Service, 300 tons of flowers, bulbs and decorative plants were exported in 2013 and 2014 with a total value of US$2 million.
One of the major exporters, according to data from the Ministry of Finance, is a company called Ecotomato Ltd. founded in 2011 in the Kotayk village of Goght. Aram Gharibyan, an adviser to President Sargsyan, owns a stake in the company and Dutch tulips grew in the hothouses he built in the village.
Armenia Flower/Plant Exports (tons)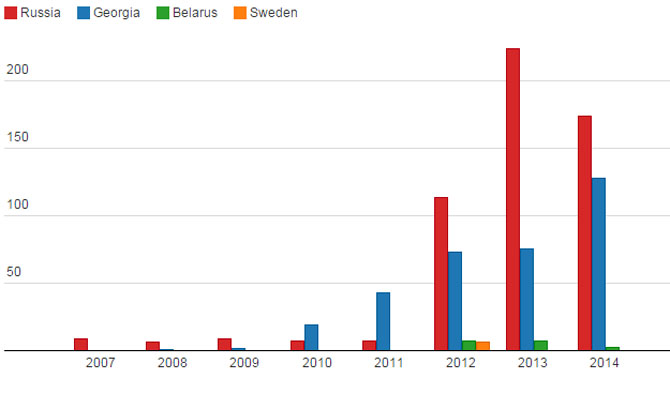 Parallel to the rise in exports, Armenia has imported fewer flowers. Imports of flowers and decorative plants dropped from 73 tons in 2011 and 2012 to 60 and 57 in 2013 and 2014 respectively.
| | |
| --- | --- |
| | |
| Armenia: Exports of flowers, bulbs, and decorative plants | Armenia: Imports of flowers, bulbs, and decorative plants |
One of the importing companies, Av Group Ltd., was founded in 2012 by Gagik Vanetsyan, husband of Margarit Azaryan, who heads the personnel department at the presidential office.
Another importer is L and M Ltd., founded by Larina Bichakhchyan, who runs the retraining and development team at AmeriaBank.
The well-known company Brabion Flower Service, founded by the Chobanyan brothers, is another importer.
Flowers from Ecuador
In the past three years, Ecuador has become the largest source of flowers, bulbs, and decorative plants imported into Armenia, surpassing Holland. Imports from Turkey have also been registered in the last two years.

While Armenia grows its own flowers, small retailers are complaining that business is down. Siranoush Hakobyan, whose been selling flowers for 23 years in her small Yerevan shop says that sales are down and the prices she pays are up by 20-25%.
Hakobyan told Hetq that last year she paid 10,000 drams for locally grown Dutch tulips which now cost 12,000 a bunch.
| | |
| --- | --- |
| | |
| Siranoush's shop | Flower World shop |
Vartiter Baghdasaryan, a floral arranger who sells her wares out of a store called Flower World, remembers that the shop was once full of flowers. On holidays, the store would sell out by 10am. Today, days go by without a potential customer setting foot in the store.
"This was been the worst year in the past fifteen," says Baghdasaryan. "We've posted a loss. Our items have a short shelf life. If the goods don't sell we have to dump them. For New Year's people would flock and buy flowers with abandon. But this year has been different. We buy at inflated prices and sell cheap."
Baghdasaryan says that they purchased Goght grown flowers per bunch (20 flowers) at 18,000 prior to New Years, as opposed to 10-12,000 previously. But they have been forced to sell the flowers at cost in order not to lose permanent customers.
They have sold single flowers at 800-1,000 without a profit.
Retailers do not know how much the depreciation of the AMD has affected their business this year.
All they do know is that the retail flower trade is getting worse by the year.