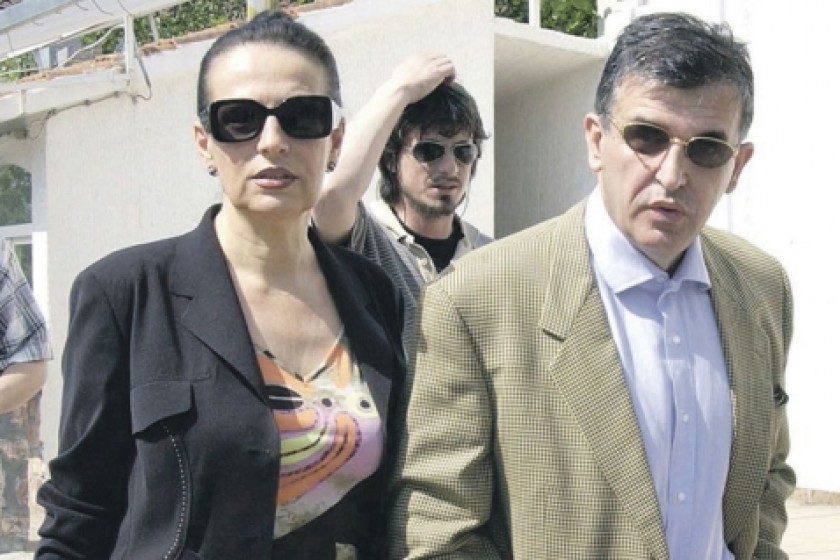 Montenegrin Official's Wife Stashed Millions in Switzerland
Djordjina Marovic, wife of a top Montenegrin official, had US$3.8 million in an account in the Swiss Bank HSBC, according to leaked documents.
Documents from the Swiss Bank HSBC leaked to journalists reveal that the wife of Svetozar Marovic, the former President of Serbia and Montenegro, had US$3.8 million deposited in the bank in 2006/2007.
The funds should have been reported in his asset declarations, but were not.
Marovic lists an apartment, a family house and land, his wife Djordjina's office space, his daughter Milena's car and even paintings and a library with 4,200 books in state filings--but not the money. Marovic has been a politician or worked for state-owned enterprises most of his life. It's not clear where the money came from and he did not answer calls or texts to his number. The Montenegrin daily newspaper Dan has reported that Marovic was questioned last year by prosecutors about his assets in another case. A press release from the prosecutor's office said he is not under investigation.
Montenegro's Law on Prevention of Conflict of Interest requires public officials to file a statement on the day they take office listing their own assets and liabilities and those of their closest family members, and to update it yearly. Marovic has always filed, but has not listed the large HSBC deposit in any declaration.
Djordjina Marovic, 63, was one of more than 100,000 clients of HSBC Private Bank (Suisse), whose files were leaked to the International Consortium of Investigative Journalists (ICIJ) via the French newspaper Le Monde. ICIJ shared them with the Organized Crime and Corruption Reporting Project (OCCRP) and other regional media. The leaked files provide a glimpse into the super-secret Swiss banking system. Among the clients are royalty, politicians, public figures, celebrities, and business leaders from more than 200 countries.
The records contain data on the accounts of some 80 clients from the former Yugoslavia. Djordjina Marovic's account was the largest linked to a politician. Both Marovic and their 31-year-old son Milos had access to the account, according to documents.
Marovic opened her account on Feb. 6, 1998. It is not known how much the family kept in the account over the years, although the records show that the maximum amount recorded in the account in 2006 and 2007 was US$3.8 million. As a formal address, she listed Dositejeva bb, Budva. In his 2006 assets declaration Marovic also listed this address as his official residence.
A philosopher by vocation, the 59-year-old Marovic has held public office since 1990 when he was elected as a member of the presidency of the-then Republic of Montenegro. He also served as a member of the assembly, and was elected three times as president of the assembly, including in 1998 when the account was opened.
Marovic was the first and only president of the State Union of Serbia and Montenegro that existed from 2003 to 2006. After Yugoslavia split up in 1992, the two countries joined to form a new country first called the Federal Republic of Yugoslavia. In 2003, the country structure was modified and renamed and Marovic became the leader until 2006 when Montenegrins voted in a referendum for independence.
Marovic served as deputy prime minister of Montenegro from 2008 to 2010, and he is now the vice president of Montenegro's ruling Democratic Party of Socialists.
While there are no records of his salary until 2006, his assets declaration from that year show Marovic earned €1,769 (then about US$2,250) a month from his job in Parliament and as chairman of the board of directors of a public company. His wife was listed as unemployed.
At that rate of pay, it would have taken the couple nearly 140 years to earn the US$3.8 million.
There is no indication in the HSBC data about the origin of the money, but the bank did register her occupation as an importer/exporter of cooling materials and automotive parts. According to the business registry, the Marovics did not own a private business in Montenegro before 2006.
Forgotten Assets
Svetozar Marovic and his wife Djordjina own valuable properties on the Montenegrin coast. The real estate cannot be explained by the couple's salaries. (Photo by Dan)While his salary seems insufficient for his holdings, assets declarations and land records reveal other assets besides the bank account that Marovic failed to report or to explain.
According to his 2006 assets declaration, Marovic owned an apartment in Budva, and a house and 20,500 square meters of land in the village of Krimovica near the historic coastal town of Kotor. His wife owned office space in Budva, and his daughter Milena a car.
But according to the Montenegrin daily Vijesti, records from the registry at the time show Marovic failed to report another three apartments and an office registered to his then-unemployed 20-year-old daughter at Dositejeva bb in Budva. Milena Marovic was listed as the owner of a three-bedroom apartment of 98 square meters and a ground floor office of 18 square meters. On the first floor in the same building she owned an apartment of about 100 square meters, and in the attic she owned a 90-square-meter apartment.
The official registry also indicated that Marovic at that time did not own land and his wife did not own office space.
If you found a typo you can notify us by selecting the text area and pressing CTRL+Enter