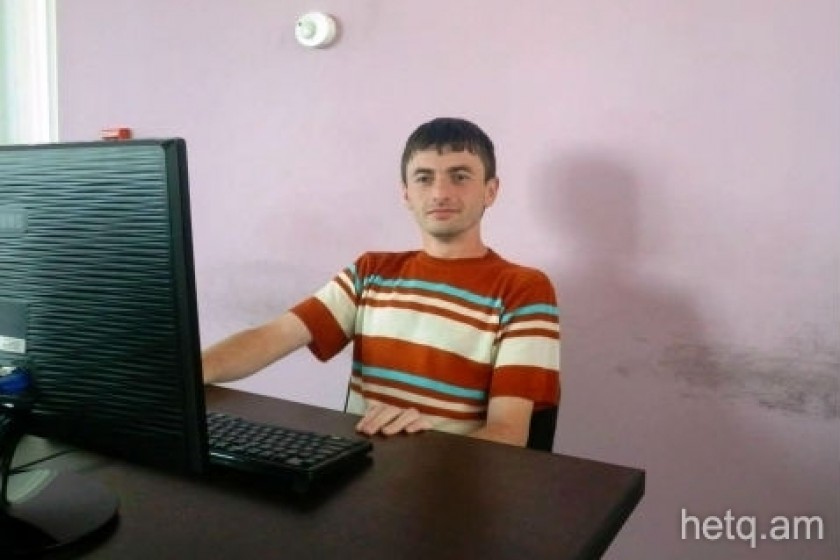 Trial of Hayk Kyureghyan, Who Discharged Air Pistol Outside Court, Postponed
Hayk Kyureghyan, now imprisoned for one year, hasn't been attending his court cases
Judge Armen Bektashyan, of the Kentron and Nork Marash Administrative Court, has banned his presence ever since the young man refused to stand when the bailiff announced "All rise".
Kyureghyan says the courts in Armenia are a joke and thus sees no reason to pay any heed to such calls or any displays of respect.
Kyureghyan is charged with hooliganism and using force against a representative of the state (RA Criminal Code Articles 258 and 316) in an incident that occurred on July 12 of last year before a trial of Shant Haroutyunyan and friends.
On that day, Kyureghyan climbed atop a car and shot an air pistol off several times in the direction of the police as a sign of protest over the way political trials are handled in Armenia.
(Shant Haroutyunyan and tens of other activists were detained in November 2013 before the start of a march in Yerevan entitled "The Revolution of Values".)
At today's trial of Kyureghyan, three videos were studied as evidence but only one was linked to the incident.
But the technical equipment at the court didn't allow for those present to hear and compare the testimonies made by the injured policemen. The video had been submitted by the police.
Kyureghyan's public defender Anzhela Hobosyan asked for permission to get closer to the television to hear the recording.
The trial was postponed until July 3 since Hobosyan had another court case to attend.
A verdict is expected on that day after other documentary evidence is examined.