Financially Strapped Electric Networks of Armenia Has Allocated Millions to Luys Foundation
Electric Networks of Armenia (ENA), the embattled utility that has racked up a ton in debt, has allocated millions of dollars to a number of foundations and charitable organizations.
One of the recipients of this largesse has been the Luys Education & Endowment Fund.
Hetq requested that Luys provide financial documents specifying just how much it has received from ENA over the years. Luys responded that each year the website azdarar.am publishes its yearly financial reports. "The information you request can be found in this website," was the written reply Luys sent to Hetq.
While the website has published the financial statements of Luys covering the past four years, only the 2013 and 2014 statements show the amounts of money the foundation has received from AEN.
In 2014, ENA allocated 1.5 billion AMD (US$3.1 million) to Luys and 1.3 billion AMD ($2.7) in 2013.
ENA also allocated money to Luys in 2011 and 2012, but we don't know how much. These financial reports do not appear in the Luys website. Hetq wasn't able to get the information from Luys after we wrote to them.
The Luys Foundation was created in 2008 as per a decree by then Armenian Prime Minister Tigran Sargsyan. There are a number of well-known individuals and organizations that support it.
Have any of them ever asked why ENA, a subsidiary of the Russian INTER RAO UES, is allocating such huge sums to Luys and whether ENA has done so voluntarily or has been obligated to do so.
Luys Sponsors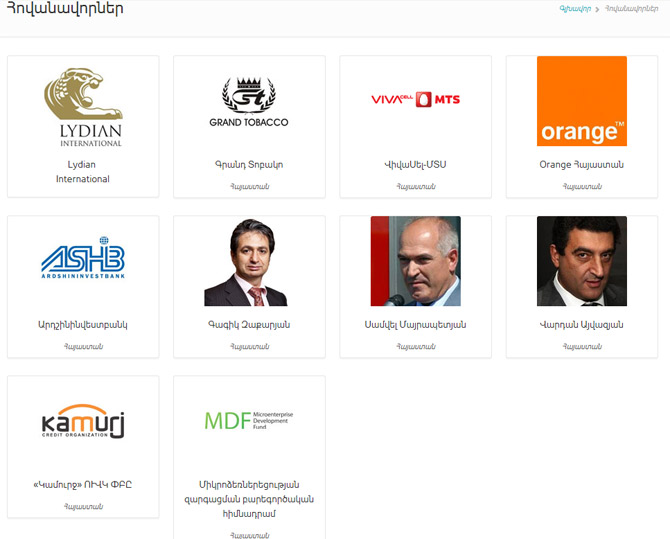 Surprisingly, ENA, Luys' largest benefactor is missing in the above photo of sponsors that appears on the foundation's website.
Another valid question is whether the recipients of Luys scholarships knew where the money was coming from and about the recent electricity rate hikes.
If you found a typo you can notify us by selecting the text area and pressing CTRL+Enter