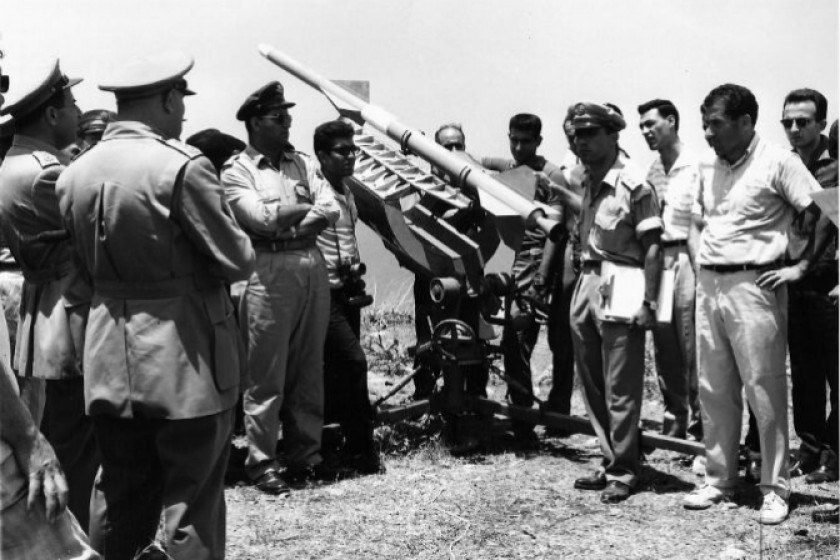 1960s Rocket Program Launches Haigazian University into the History Books
By Phyllis Hamo
As Haigazian University celebrates its 60th anniversary in 2015, it also commemorates 52 years since the height of its rocketry program founded by an innovative first-year math and physics instructor, Manoug Manougian, and a group of bright and determined undergrad students. Enthusiastically, they launched a series of rockets as part of their science, technology, engineering and mathematics program.
Manougian, a native of Jerusalem, joined the faculty at Haigazian College (now Haigazian University) in Beirut, Lebanon. During the 1960's, when the Americans and Soviets were spending billions to send rockets into space, the Haigazian student science club on a shoestring budget, under the tutelage of Manougian, began finding success with their fledgling rocket program.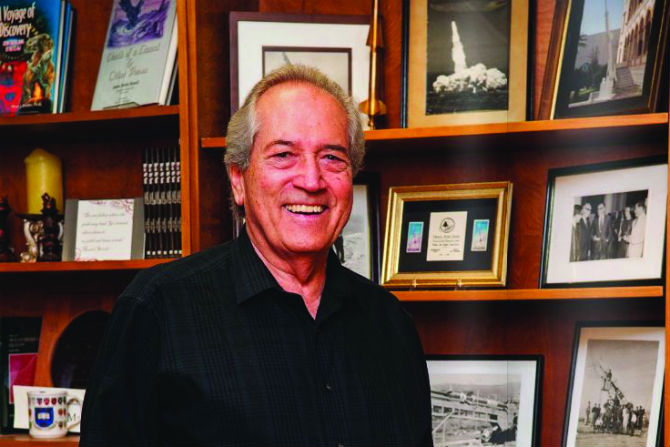 Professor Manoug Manougian motivated his Haigazian College students to form the Haigazian Rocket Society, which later became the Lebanese Rocket Society.
Manougian had been interested in science and rocketry since his youth. His intentions were never political or military; strictly scientific. His students concentrated on physics and math and used the open spaces of Lebanon for their first test sites.
When authorities, including the president, learned of the rocket program they offered better launch sites and funding. The Manougian-inspired team spent approximately $300,000 during its six active years. A dozen rockets were launched, each increasingly larger and more powerful than the previous. The most successful, the Cedar 4 three-stage rocket, launched in 1963, and was pictured on several Lebanese national postage stamps. A replica of that rocket is now on display in a courtyard at Haigazian University.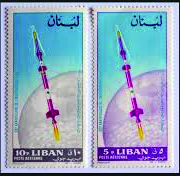 Haigazian Rocket images were selected
for Lebanese stamps in the 1960's
A half century has passed but the walls of Mathematics Professor Manougian's office at the University of South Florida where he teaches today, proclaim the success of the Haigazian rocket program with framed photos, articles, and artifacts.
Three years ago a long overdue 95-minute award-winning documentary titled "The Lebanese Rocket Society," directed by filmmakers Joana Hadjithomas and Khalil Joreige, premiered at the Toronto Film Festival and told the story of Manougian and Haigazian's student rockets.
Corresponding with the rockets launched in the 1960's, Haigazian is launching a $6 million scholarship endowment expansion fund.
A Gala Opera Celebration will be held on October 3 at the Dorothy Chandler Pavilion in Los Angeles. Plácido Domingo will sing the title role of Woody Allen's production of Gianni Schicci and then take the podium to conduct the magnificent Pagliacci! Domingo will welcome Haigazian supporters at the Black Tie Gala Supper following the performance.
Ticket information is available by calling the toll free number 1-844-809-4860 or by logging onto www.haigazian.org.
In the first photo: Members of the Haigazian Rocket Society preparing to launch one of the rockets in early 1960s.