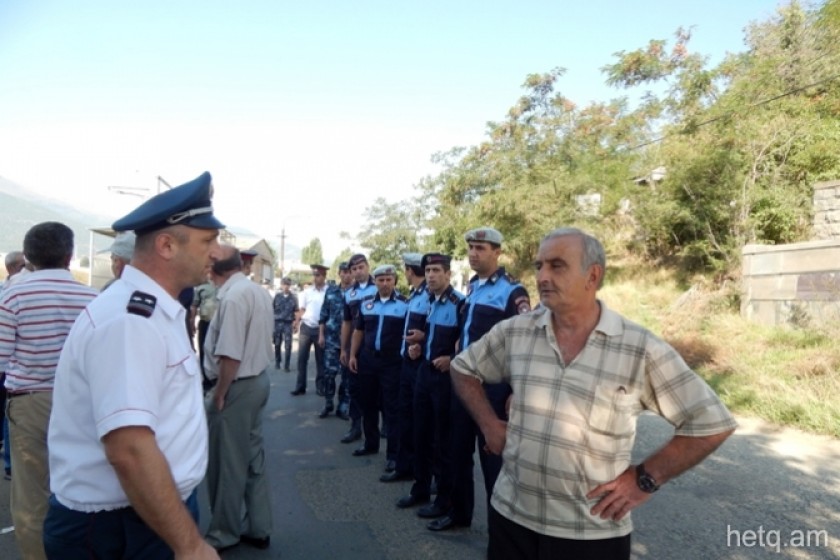 Heated Exchange Between Kimprom Workers and Lori Governor Prompted Attempt to Close Highway
Before this morning's failed attempt by Kimprom factory workers to close a section of highway linking Vanadzor and Alaverdi to raise the issue of back wages owed them, the workers had again met with Lori Governor Artur Nalbandyan outside his office.
The mayor of Vanadzor, Samvel Darbinyan, was also on hand.
Nalbandyan told the protestors that negotiations were underway between factory management and owners to resolve the issue.
"I invited Kimprom Executive Director Snigiryov to meet with me and we have reviewed the situation. To be honest I cannot understand how the company has accumulated more debt after paying off the original back wages in December 2014," said Nalbandyan.
The Lori Governor noted that the government would pressure the owners to finally resolve the matter.
Nalbandyan said that the new wage debt amounted to 366 million AMD, adding that the government was not to blame if Kimprom had such an irresponsible owner.
He did promise workers that the government would punish the company's owner but failed to specify the measures to be taken.
Protestors called on the government to dip into its reserve fund to pay them and then to seize the money from Kimprom's owner.
"They have cars and private homes. They should sell them to pay us," said one protestor.
Nalbandyan countered, "There are no vehicles worth 400 million AMD. It's easier for the government to punish the owner rather than allocating the money from the reserve fund."
It was after this exchange that the Kimprom workers decided to close the highway.
Police outnumbered the workers and prevented them from closing the road.
After one hour had passed the workers dispersed, stating that they would reassemble tomorrow morning in another attempt to close the road.