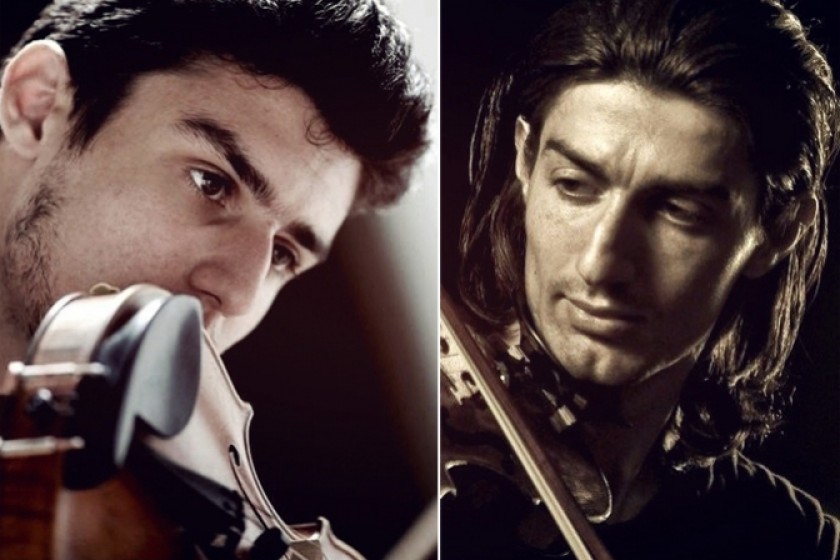 Musical Odyssey: Two Brothers from Armenia Reunite in Paris 14 Years Later
Two brothers, world class violinists Henrik and Hrayr Karapetyan, leave Armenia and don't see each other for fourteen years. Here, we take a glimpse into their fascinating odyssey and eventual reunion.
When Henrik, 20 years old at the time, left Armenia, his brother Hrayr was just 10 and just getting started on the road to becoming a professional musician.
Over the years, the brothers pursued their own career paths – Henrik in the United States, and Hrayr in Belgium.
Years later, Henrik Karapetyan signed a contract with the Michigan Opera and got his PhD. Hrayr, at the time, was wracking out international music awards (the Aram Khachaturian International Competition, and the Brussels international Triomphe de l'Art).
The paths of the two brothers never met for 14 years.
Henrik received a one entry visa to the United States and returned to Armenia ten years later. Just one week before returning, Hrayr had already left for Belgium to study at the Leuven Conservatory of Music.
It was their mutual love of music that reunited the brothers 14 years later when they were invited to participate in a concert – the International Armenian Orchestra - organized by the Paris branch of the AGBU dedicated to the 100th anniversary of the Armenian Genocide.
The reunion led to the creation of the Karapetyan Brothers musical project. The brothers have performed concerts in Belgium and Holland, with plans to play in the States and Canada.
I was able to contact Hrayr Karapetyan and ask him some questions:
The history of you and your brother is quite an emotional story. In different comers of the world, you and Henrik play the same instruments and have achieved great success. Out of nowhere a musical events reunites the two of you after 14 years.
It was probably one of the most emotional moments of my life. I was waiting for him at the airport. I can't describe my feelings. I didn't take my eyes off the exit gate for one hour.
We spoke non-stop for the next twenty hours. We were thirsty to hear each other's voice. We spent the first day roaming the streets of Paris; just walking and talking. We wanted to catch up on everything in just one day.
What is the main focus of the Karapetyan Brothers musical project?
First off, it's the result of the reunion we dreamt so long for and it's also dedicated to our father Hayk Karapetyan, the reporter and cultural figure who founded and served as editor of the spiritual program broadcast by Armenian Public Radio.
My father was born in a small village and didn't get the chance to realize his dream of becoming a violinist. We, his two sons, have achieved that dream for him.
We've already performed concerts in Europe and plan to do the same next year in the U.S. and Canada.
Our repertoire consists of international classical composers as well as contemporary composers, both Armenian and others.
We have also commissioned a piece from a young and very successful Armenian composer, Alexander Iradyan, for two violins and piano (piano part to be played by my wife Hasmik Manukyan).
I am pleased to inform our readers that you recently won the Grand Prize at the Triomphe de l'Art international competition in Brussels. What pieces did you perform?
The competition had a required repertoire consisting of the works of Belgian contemporary compose Marc Matis.
When given the chance to perform ones favorite works, I tend to play Armenian composers. For this competition I chose the rhapsody of Edward Baghdasaryan. I was accompanied by my wife who is also my first critic and supporter. The prize also belongs to her.
What can you tell us about the Art of Duo project?
The project is coming along and we are thinking about a second CD. We received a number of interesting offers and are mulling them over.
I wish you success in your future endeavors. Perhaps our next conversation will take place in Armenia.
I'd like that as well. I believe such an opportunity won't be long in coming.
If you found a typo you can notify us by selecting the text area and pressing CTRL+Enter