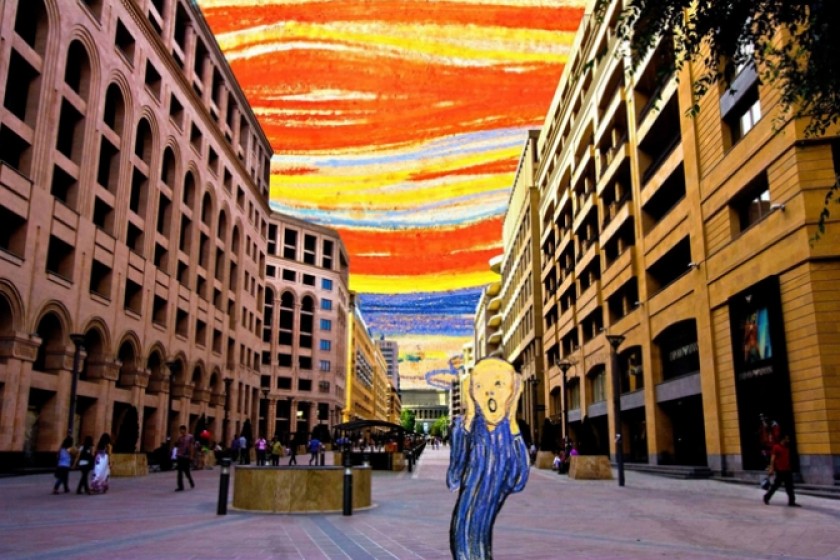 Axis of Upheaval: Northern Avenue
By Vrej Haroutounian
With the construction of Northern Avenue financial profit was the primary motivator for construction in the beginning of the rabid construction era of the 2000s.
"In the new city center doormen welcome residents who have paid $1000-2,000 per square-meter for the shell of their apartments— interior working comes extra. Modern facilities include air conditioning, independent water, heat and electricity, security, parking, and a satellite television, usually for additional fees of $40 to $200 a month." (Hakopyan, 2008, pg 2)
"With these prices, it is clear that the target market of the buildings was beyond the income of the average Yerevan citizen. In a World Bank paper titled Republic of Armenia: Interim Poverty Reduction Strategy Paper published in March 2001, per capita incomes in Armenia were $503 in 2000, two-thirds less than in 1990 at $1590. Purchasing power in 2001 was nine times less than it was in 1990, which placed two-thirds of the population around or below the poverty line." (Miller &Miller, 2003)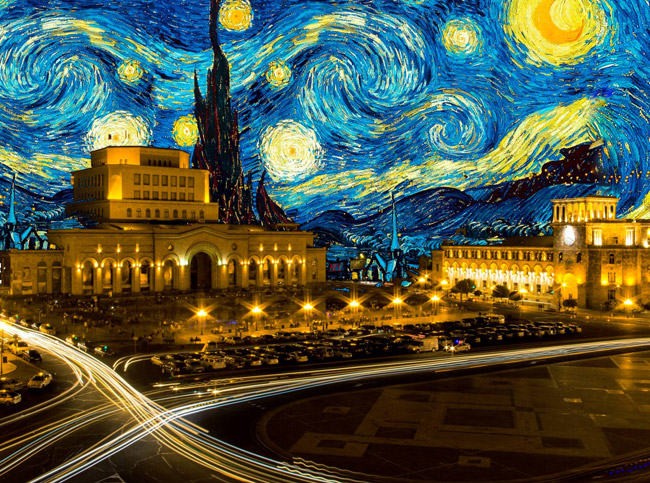 Aharon Adibekian, an independent sociologist, states that only 15 percent of Yerevan's population could afford houses at the cost of $100,000 and above, which is the average cost of most of the constructed buildings. (Adibekian, 2008, in Hakopyan, 2008)
"Northern Avenue was a part of Tamanyan's master plan (Interviewees, 2011). In 2001, the plans for Northern Avenue were developed: a mixed-use, multi-storey residential-retail development." (Hakopyan, 2008)
"Where before only streets bore names, now the new luxury buildings also carry titles indicating their origin—"Griar", "Elite Group", "DH Group", "Mika City", "Levon A"—names of the developers or investors who have triggered this new building boom in Armenia. So called "Elite" design has become a catch-all definition for any modern construction that differs from the style of building dominated in Yerevan from Tamanian's time until independence." (Hakopyan, 2008, pg.2)
"The architecture can be compared to that of Dubai or other new cities of that type; with mediocre results; the street design and character of the old buildings was not considered when building the street. Northern Avenue is foreign and still empty after four years" (Interviewee, 2011).
According to one of the interviewees the development does not function well as a pedestrian street, considering the fact that most traffic in the city runs east to west, as indicated in Tamanyan's plan. The design and construction is not well executed. There is a lack of vertical planning and consideration of how the buildings interact with the sidewalks around them. The engineering is also of low quality (Interviewee, 2011). According to an interviewee, there is a lack of street trees to provide much needed shade in the heat of Yerevan's summers.
"Without trees it's hard to walk in the summer heat of Yerevan. That is why you can't even walk up and down Northern Ave, because there is not a single tree. But you can walk on Mashtots, Tertian and Tasmanian, because the street trees provide shelter from the sun" (Interviewee, 2011). Postmodern architecture is the dominant construction choice of the new "elite" buildings throughout Yerevan and is an indicator of the ideology that motivated the construction boom.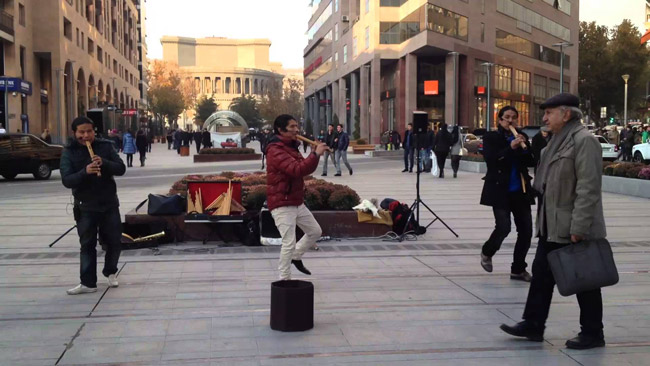 In theory, postmodern culture suggests the possibility of reconciling landscape and vernacular, and market and place; but the more visible it becomes, the more it takes on the decontextualized, market-oriented look of franchise culture. Postmodern architecture then makes places less distinctive. They become 'nonplaces' in the global markets. (Zukin, 1991, p. 39).
"The second phenomenon of postmodern architecture is a tendency towards signature or trophy buildings, which have a dual value to corporate owners: they identify with a corporate image, and they are salable." (Zukin, 1991) These buildings came to be known in Yerevan as "elite" buildings, suggesting the polarization of wealth in the urban landscape as the residents of the buildings that previously stood in their locations were forced to live elsewhere.
"Tamanyan never intended Northern Avenue to be at this scale, and his ideas were warped in its design. Northern Avenue is densely built in a seismically active zone" (Interviewee, 2011).
Over 5,000 residents of Yerevan's Kentron (center) administrative district had to leave their apartments because of the construction on Main Avenue, which includes Northern Avenue (Abrahamyan, 2012). The lack of a public hearing prompted activists to work on building democratic architectural institutions to address such issues in the future (Interviewee, 2011).
Newspapers reported that construction came at the expense of those residents living in the buildings that were to be torn down for construction: "Critics say the construction rises on the backs of vulnerable residents, powerless to fight authorities who claimed state need at prices far less than market value. Others, though, concede that if Yerevan were to be a modern city, it cannot avoid gentrification and urbanization." (Hakopyan, 2008, p.2) "During the construction of Main Avenue, which includes Northern Avenue, 5,000 residents of the area had to move. Some of them received compensation, but there are some who feel that the compensation was not adequate and turned to both national and European courts." (Abrahamyan, 2012)
"The construction of Northern Avenue is a sign of neoliberal economic policies being implemented in Yerevan, with profit being the main ideal and gentrification taking place at the cost of the local residents who are relocated into less desirable parts of the city. During the gentrification process, people do not simply move out while others move into a neighborhood, the process is a battle of class interests that are fundamentally opposed." (Smith & LeFaivre, 1984).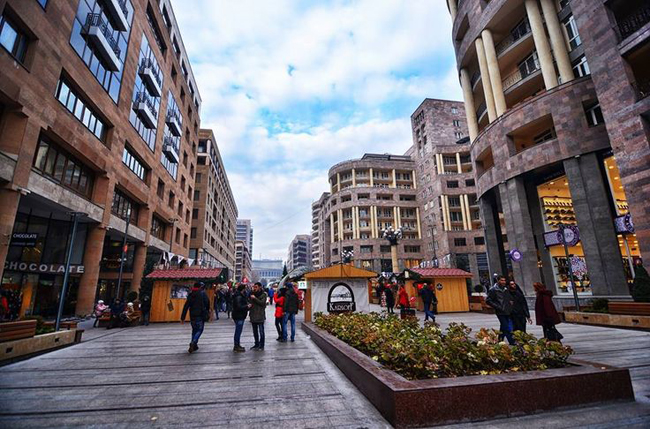 The buildings of Northern Avenue were built without upgrades being made to the city infrastructure, even though they will eventually have to accommodate higher water, electricity, and sewage needs. These externalities are not being paid for by the private developers in the form of public infrastructure expansion, in order to accommodate the denser residential buildings. This creates an issue of social justice, as the public may be burdened with possible infrastructural failures in the future. The fact that this development occurred in a seismic zone is another social justice issue, creating a possible future hazard that will have to be paid for by public funds.
The development of Northern Avenue, throughout its construction, has created a new identity of Yerevan, one that has displaced thousands of people who were living in the demolished buildings. This identity introduces a new dialectic of social justice in the media, which questions the validity and intent of Yerevan's direction. Northern Avenue, originally a part of Tamanyan's master plan, was not intended with the buildings at the scale that exist today. Northern Avenue, in itself, not only symbolizes the policy of neo-liberalism in Armenia, but it creates the foundation for the policy's existence and potential growth.
Northern Avenue (symbol of post modern consumer space), through its location and scale, establishes itself as the main pedestrian artery of Yerevan, connecting three significant central nodes of activity to the center of the city: Republic Square (a symbolic representation of State power), the Opera and Cascade (symbolic representation of Armenian culture). It also superimposes itself over these nodes with the sheer size and scale of its buildings in relation to its surrounding context and to other existing features along the new axis, establishing its presence as the new ideology of Yerevan.
Northern Avenue is a postmodern development that consists of mixed-use development, with retail and commercial activity on the ground floor, followed by offices on the first few floors, and residential apartments priced at an average of $1300 US dollars per square meter on the remaining top floors.
These prices are affordable to less than fifteen percent of Yerevan's population. Northern Avenue is the widest pedestrian street in Yerevan. Underneath the high-rise buildings on both sides of the pedestrian streets are retailers of different products: cell phone service providers, European clothing stores, international retailers and food service providers. It is below these buildings that one can enjoy a slice of Pizza Hut pizza or fried chicken from KFC.
Northern Avenue provides tourists with a sense of familiarity of place. For the local citizen, it provides a chance to experience the new offerings of the retailers, restaurants, and cafes for a price. The wide pedestrian street provides very little interest beyond its shops, restaurants, and supermarkets. The benches placed along the street are not conducive for long-term use. They are designed for rest in between destinations and limit group interactions to four or five people at a time.
The lack of shade-providing trees is also a major issue, as the street is barren and inhuman in scale. The design of the street is clearly meant to keep people moving either to their destinations beyond Northern Avenue, or to one of the retailers, restaurants, cafes, and supermarkets along the way.
Northern Avenue is the center portion of the new axis created by its implementation. The project, in itself, creates major inequalities in society, displacing residents that previously lived in the buildings occupied by this new development. This is a social justice issue. Civic society should continue to raise the issue in the consciousness of local government and the public at large and demand fair compensation and treatment for any unsettled cases. Government should be held accountable for practicing greater responsibility in future developments.
The pedestrian street of Northern Avenue should be redesigned with a more robust presence of shade providing trees, shrubs and green space, in order to reduce it to human scale and include more efficient rest features. Considering that the landscape features currently in place were an afterthought of the design process, owners of the developments that surround the street should finance the design and implementation of the area. This will help in restoring justice to the urban landscape of Yerevan. There are serious issues in the construction quality of the promenade as well, creating an unsafe walking surface at intersections of streets, a clear hazard for pedestrians.
The redesign of Northern Avenue in 2014 addressed some of the changes aforementioned in this article, yet the lack of shade providing trees and its main design concerns remain intact. Also the lack of proper draining has caused underground parking flooding issues, which is being repaired till today, at whose expense is a question yet unanswered.
Sources:
Abrahamyan, G. (2012, March 27). Buzand controversy: Resident of demolished houses
claim Armenian government cheated them and European court.
ArmeniaNow.com, np.
Hakopyan, J. (April 1, 2008). Changing for the ages: Yerevan constructs a 21st century
face.ArmeniaNow.com. n.p.
Smith, N. and LeFaivre, M.(1984).A class analysis of gentrification, ingentrification,
displacement, and neighborhood revitalization. Albany; State University of
New York Press.
Zukin, S. (1991). Landscapes of power: From Detroit to Disney World. Berkeley:
University of California.
Yerevan interviewee: This title is used for one of 20 anonymous experts interviewed during semi-structured interviews conducted in the summer of 2011.
First photo: Northern Avenue cover photo by Varduhie Kzlian
Second Photo: Republic Square by Varduhie Kzlian
If you found a typo you can notify us by selecting the text area and pressing CTRL+Enter