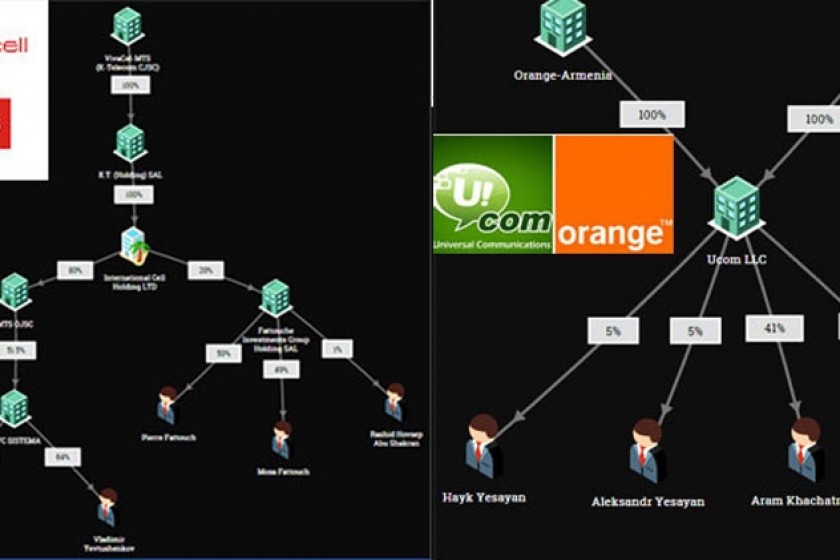 Who Owns the Internet in Armenia
By Edik Baghdasaryan and Kristine Aghalaryan
For the most part, foreign companies control the telecommunications sector in Armenia. They are international holding companies, companies founded by the governments of other governments, as well as companies registered in various offshore zones. Russian companies dominate this sector, just like other economic sectors in Armenia.
Armenian government officials, both current and former, and their relatives, own shares in the telecommunication sector. These shares are hidden under a web of offshore companies.
Companies providing internet service in Armenia also supply telephone service, both cellular and landline.
According to 2013 official statistics, 46.3% of Armenia's population uses the internet. 40% of households own a computer and 35.6% of these are connected to the internet. The picture will be somewhat different for 2014 and statistics have yet to be published.
The following companies provide internet connection (cable) access to Armenia: ArmenTel CJSC, K- Telecom CJSC, UCOM Ltd, GNC-Alpha Ltd, and Armenian Datacom Company CJSC.
According to stats provided by Armenia's Public Services Regulatory Commission, there are 71 companies providing internet service in Armenia. As of December 31, 2014, the following companies were the largest in terms of traffic and subscribers: ArmenTel CJSC, UCOM Ltd, GNC-Alpha Ltd, K- Telecom CJSC, Orange Armenia Ltd, Web Ltd, Aranea Ltd, Interactive TV Ltd, Arpinet Ltd, and Mylan Ltd.
Data culled from the latest published reports of these companies regarding fundamental technical/economic criteria shows that ArmenTel leads the way when it comes to people using the internet by means other than their mobile phone network. The breakdown, in terms of percentage, is as follows.
ArmenTel and K-Telecom were in the top five taxpayers' list for the past five years. Starting in 2010, UCOM rose from 664th place to 55th. The other internet providers also appear in the top 1,000 list of taxpayers but not at the top.
The internet was introduced to Armenia in the early 1990s. The first web service, www.arminco.com, was established in 1993.
Dial-up internet service in Armenia was developed by ArmenTel which allowed customers to connect over land-line phone connections. In the mid-2000s, other operators appeared in the market and the scope of network accessibility increased.
Andranik Aleksanyan, one of the founders of Arminco, a former deputy minister of transport and communications in Armenia and currently executive director of Armenia's Commerce and Manufacturing Chamber, was in the midst of internet development in Armenia and says the technology in the country wasn't late arriving. The problem, he says, were the connections and the monopoly enjoyed by ArmenTel.
"If we consider that the internet is thirty years old, it developed better in the first five years when there were no hindrances and it was a labor of love. What followed were the meddling and government-private sector monopolies that hindered development. During that period, we lagged behind certain countries. The connection problems no longer exist. Our problem today is content," says Mr. Aleksanyan.
He believes the internet in Armenia is of quality and comparably inexpensive. Examining the proce offers of the operators, one can conclude that 24 hour quality internet can be obtained for 5,000-8,000 AMD ($10-$18) per month; at speeds of 4/2 megabit per second or more.
Mr. Aleksanyan is of the view that content must know be developed, especially domestically and in Armenian. The internet ion Armenia is of higher quality than some developed European countries
ArmenTel – Armenia's 1st internet provider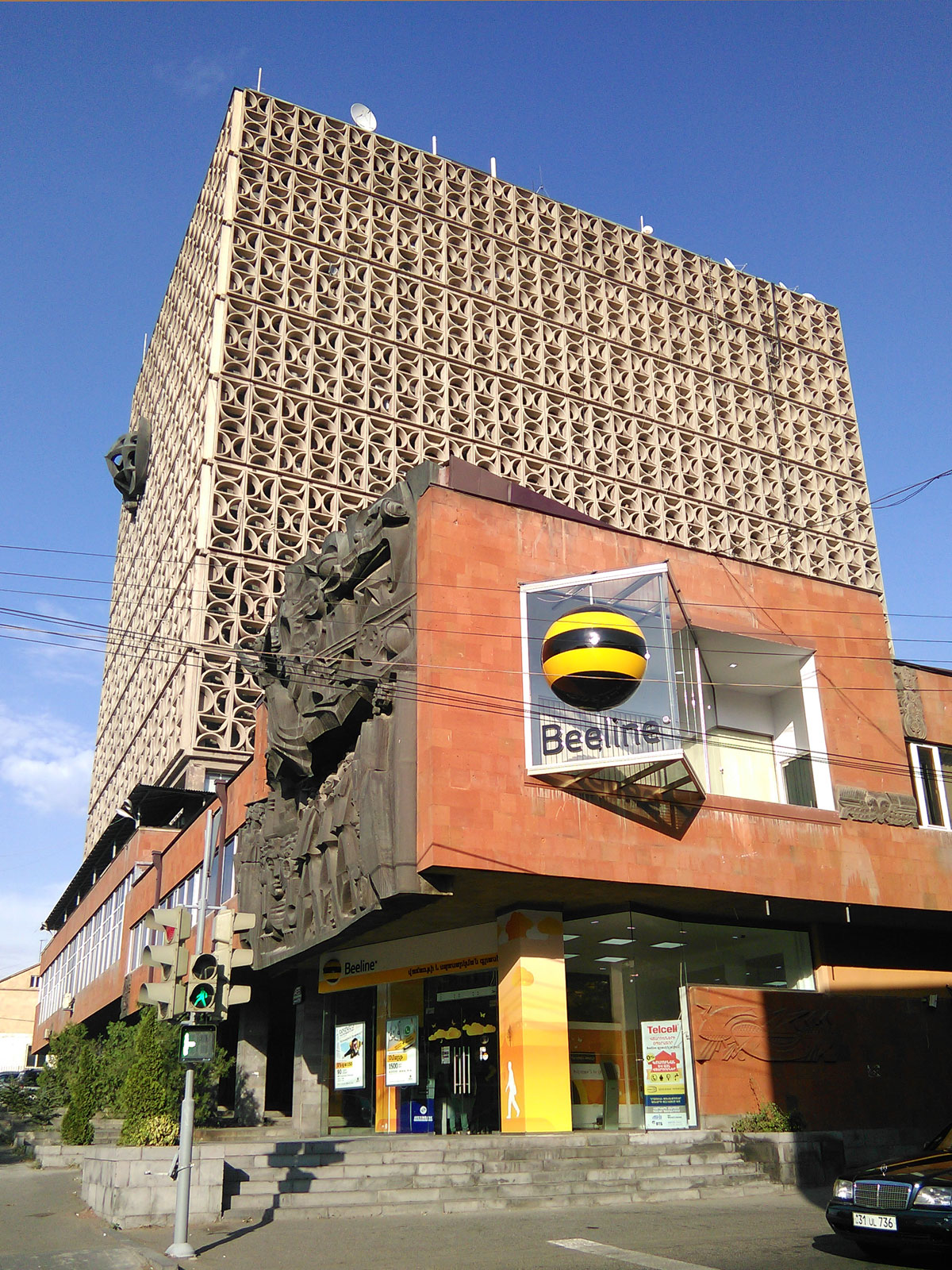 Armenia Telephone Company (brand Beeline) is the largest telecommunications company in Armenia. In 1995, the Telephone Network of Armenia (TWA) company and the Armenian-American ArmenTel company were created on the foundations of the Inter-City Telephone Network. The Telephone Network of Armenia was dissolved in 1997 based on government decisions and was merged with ArmenTel. Also merged with ArmenTel was the Yerevan telephone network which operated as a separate entity.
Only the international connection is a part of the Armenian-American company, which at the time of its founding comprised 30% of the connection with Armenia. As to the percentage of TWA became a part of the property of the American company can be calculated from the sale; from the profits derived. It was due to these decisions that ArmenTel became the owner of such a big share of Armenia's communications market. The above government decisions put an end to the shady transactions begun in 1995. Levon Ter-Petrosyan was the president of Armenia at the time of the transaction and Robert Kocharyan was prime minister. ArmenDarbinyan headed the competition committee of the ministry of finance.
In 1997, ArmenTel was sold to OTE, a company 89% owned by the Greek government, at a cost of US$250 million. Some of that was to pay back a $46.7 million loan to Siemens and the 10% shares owned by the Armenian government. The Armenian-American TWT company and the Armenian government received $142.47 million. (TWT got $62 million and the government, $79.966 million)
In 2006, VimpelCom Ltd. (a Russian-Norwegian company valuated at 341.9 million Euros) obtained ArmenTel shares from OTE.
ArmenTel, under the trade name Beeline, now provides mobile and fixed telephone service, as well as CDMA and ADSL internet connectivity, throughout all of Armenia.
As of 2007, the company has continued to develop broadband internet connectivity services via ADSL technology (HiLine). In March 2012 it launched internet accessibility via FTTB technology (Hi-Line Optic). In 2008, ArmenTel launched the first 3G cell network in Armenia. According to the latest 2014 data, ArmenTel has 150,356 internet subscribers in Armenia.
VimpelCom, an international telecoms company operating in 14 countries and headquartered in Amsterdam, is one of the world's largest integrated telecommunications services operators providing voice and data services through a range of traditional and broadband mobile and fixed technologies in Russia, Italy, Ukraine, Kazakhstan, Uzbekistan, Tajikistan, Armenia, Georgia, Kyrgyzstan, Laos, Algeria, Bangladesh, Pakistan, and Zimbabwe. VimpelCom's operations around the globe cover territory with a total population of approximately 739 million people. VimpelCom provides services under the "Beeline", "Kyivstar", "WIND", "Infostrada" "Mobilink", "banglalink", "Telecel", and "Djezzy" brands.
VimpelCom's shareholders are LetterOne (56.2%), Telenor (33%) and Free Float (10.8%)
LetterOne Holdings was established in 2013 by Alpha Group. The new Luxembourg based investment vehicle was set up to initially invest into oil & gas and telecommunications opportunities but had an unrestricted mandate allowing investment across virtually all geographies and industry segments.
Three Russian businessmen control the lion's share of Alfa Group – Mikhail Fridman, German Khan, and Alexey Kuzmichev.
LetterOne, registered in Luxembourg in 2013, also owns 13.2% in Turkcell, the leading mobile phone operator in Turkey.
Telenor Group, headquartered in Oslo, is 54% owned by the Norwegian government. Telenor operates in 13 markets around the world – Sweden, Denmark, Serbia, Montenegro, Malaysia, Bangladesh, Pakistan, India, Thailand and elsewhere.
A money laundering scandal engulfed ArmenTel in 2014. Armenia's National Security Service (NSS) is now investigating the matter. Igor Klimko, the ArmenTel's former director, is the top suspect. According to Armenian press reports, a large portion of money paid to make international phone calls to Armenia via ArmenTel from 2009 to 2012, went missing. Such payments amounted to $20 million per month. All or parts of these payments were being deposited into various off-shore accounts rather than the company's. Over the three years in question, some $500 million went missing. A search to locate the former director is now underway.
On his Facebook page, Klimko labels these press reports as slander, threatening to sue. He alleges that an info war is being waged against Russian citizens, painting them as thieves and robbers, in the public eye. He says this is being done to divert the attention of people from the real problems in Armenia and to conceal the "dirty deeds" of certain individuals in ArmenTel and other companies. He says this is being done to divert the attention of people from the real problems in Armenia and to conceal the "dirty deeds" of certain individuals in ArmenTel and other companies. Klimko doesn't go into details as to who these individuals are.
Vladimir Sachkov, a Russian citizen and former technical block director at ArmenTel, was arrested in Belarus and extradited to Armenia in the same case.
Sachkov is charged with cooking the accounts at ArmenTel and embezzling funds for international calls while working at the company. Sachkov came to Armenia in 2009. In 2013, when ArmenTel's management changed, he left for Belarus and later appointed as deputy director of technology related questions at Velcom, a mobile phone operator there. At the time Armenia's NSS had filed criminal charges against him. He was arrested while attempting to flee Belarus for Austria. Sachkov's lawyer says that his client accepts his culpability and is ready to testify.
ArmenTel shareholder Vimpelcom is also caught up in scandal. The company's name has surfaced in connection with the criminal activity of Gyulnara Karimova, daughter of Uzbekistan's president. Using her influence, Karimova is charged with accepting bribes in return for granting telecommunications licenses in the country to companies including VimpelCom. Vimpelcom and a parent company paid $176 milion bribe to Gyulnara Karimova. The investigation was launched regarding the company in Sweden, Netherlands and USA.
VivaCell-MTS: Russian-Lebanese internet with Armenian connections
In 2005, when K-Telecom entered the Armenian market and began to offer mobile phone and internet services under the brand name Viva-Cell, ArmenTel began losing its monopoly position it enjoyed for years.
Today, Viva Cell MTS is the second largest internet provider in Armenia. By the end of 2014, there were 1,052,398 people were accessing the company's internet services via mobile phones. 82,700 were accessing the internet via the company's broadband service (including connections via wireless equipment)
VivaCell operates its own trunk line network that is plugged in to the Georgian "Caucasus" transit operator networks and Rostelecom in Armenia.
In 2002, the Fattouche Investments Group of Lebanon spearheaded the creation of Karabakh Telecom in Artsakh - the country's only mobile and internet provider. In 2004, the family founded K-Telecom and started business as a mobile operator in 2005 under the VivaCell brand.
According to a document retrieved from the Lebanese State Registry via Investigative Dashboard, KT (Holding) SAL, a company registered in Lebanon, is the 100% owner of K-Telecom. International Cell Holding Ltd., registered in the British Virgin Islands, is the major shareholder of KT (Holding) (29998 shares). The minor portion of shares (2 shares) is controlled by Artem Vasiliev and Pavel Masharov, two management officials at Mobile TeleSystems OJSC (MTS), the largest mobile operator in Russia and the CIS.
In 2007, MTS purchased 80% of International Cell Holding Ltd; which is a 100% indirect owner of the largest mobile operator in Armenia - CJSC «K-Telecom» (trademark VivaCell).
The acquisition price was EUR 310 million, including EUR 50 million to be paid to the seller within three years - from 2008 to 2010 - provided that the targets set in revenues and profitability of the company K-Telecom. MTS also provided K-Telecom a loan of 140 million euros for the repayment of existing debt and finance its investment program.
An option agreement to acquire the remaining 20% stake K-Telecom was also signed.
Responding to a Hetq inquiry Viva Cell-MTS General Manager Ralph Yirikian stated that the Fattouche Group still owns a 20% stake in International Cell Holding Ltd.
According to the Lebanese State Registry, the Fattouche Investments Group is owned by the brothers Pierre and Mosa Fattouche (50% and 49% respectively) and 1% by Rashid Hovsep Abu Shakran.
Pierre and Mosa are brothers of Lebanese parliament member and minister Nicolas Fattouche and their business interests are varied, including projects won via government contracts.
Let's now turn our attention to the owners of Russian MTS. According to its website, the free float of the company's shares is approximately 48.54%. MTS is 51.46% majority-owned by Sistema JSFC, the largest publicly-traded diversified holding company in Russia and the CIS.
Sistema, founded in 1993, is one of Russia's largest holding companies. Its portfolio comprises stakes in predominantly Russian businesses in a range of sectors, including telecommunications, utilities, consumer, high tech, healthcare, pharmacy and others.
Robert Kocharyan, Armenia's second president, has been a member of the company's board of directors since 2009. Kocharyan, in compensation, owns a 0.0052% stake in the company as of July 2014.
Vladimir Yevtushenkov owns 64.1% of shares in Sistema and serves as the board's chairman. In September 2014 he was placed under house arrest on charges of embezzlement and legalization of the company's shares. He was freed from house arrest in November 2014.1 9% of Sistema stock is traded on the London Stock Exchange.
ADC Internet – Sedrak Kocharyan and the deputy head of the Real Estate Cadastre

Sedrak Kocharyan, son of second Armenian president Robert Kocharyan, is involved in the beginnings of the Armenian Datacom Company. So too was Artak Zakharyan, (a former judge and the son of Yervand Zakharyan, Armenia's Minister of Energy and Natural Resources). Finally, there was Khajak Karayan, deputy to the president of Armenia's State Real Estate Cadastre.
The company is presently going through a rough period.
Armenian Datacom Company (ADC) is a joint Armenian-Norwegian company founded in April 2006. A year later it entered the market providing broadband internet services targeting the corporate sector. Its website says the company has 1,299 subscribers (690 individuals and 609 legal entities).
In 2010, it purchased the assets, valued at 734.678 million AMD, of Fibernet Communications Ltd.
ADC and Fibernet were declared bankrupt in 2014. In October of that year VTB-Armenia petitioned the courts to have ADC declarted bankrupt in order to recoup a US$4 million loan plus penalties. Yerevan's Arabkir and Kanaker-Zeytun Court of jurisdiction sustained the petition and declared the company insolvent on November 28.
According to Karen Sargsyan, ADC's Director of Business development, the verdict was designed to restructure the company's financial health and would not affect shareholders or investors.
"Given our charter, these two processes are running concomitantly. In other words, for financial health to be restored, we are obligated to go to the courts and be declared insolvent so that our financial obligations are put on hold for a certain period. Reaching an agreement with the bank, we went that route," says Karen Sargsyan.
Who are the shareholders of Armenian Datacom Company?
Officially, ADC has one shareholder – the Norwegian registered ADC Holding AS. Sedrak Kocharyan is a board member and Khajak Karayan is the board's president.
According to a document retrieved via Investigative Dashboard from the Norwegian Corporate Registry, the main shareholders of ADC Holding AS are Cupizinco Holdings C. LTD (37.65%), Yerevan Telecom CJSC (23.21%), and Telesto Norge AS (3.01%).
Yerevan Telecom has three shareholders. Sedrak Kocharyan owns 33%. Artak Zakharyan owns 30%. (Zakharyan resigned in September 2014. While regarded as one of the richest judges in Armenia, he never declared dividends from Yerevan Telecom for many years)
Global Soft, a company registered in Armeniaonce owns the remaining 37%.
Global Soft is owned by Vahe Khachikyan (95%) and the law firm Concern Dialog (5%). Khachikyan is also a member of the ADC Holding AS board of directors. Khajak Karayan, deputy to the president of Armenia's State Real estate Cadastre, once owned 47.5% of Global Soft shares but unloaded them in 2013. (When Yervand Zakharyan served as the head of the Cadastre, Karayan was his advisor and later became the deputy president. Karayan still serves on the board of ADC Holding AS)
Karayan confirmed to us that he was a founding member of ADC but says that he no longer has any connection to the company. "I'm engaged in other things. In the first place, I have no right, but I can advise you regarding the sector if you're interested," said Khajak Karayan.
Karayan added that the Norwegian Corporate Registry isn't updated and that he should rip up that document confirming that he was president of the board of directors. He says that the board hasn't been active for a long time. While Karayan claims that he sold his shares two years ago and has no connection to the company, it was evident from our talk that he is quite well informed regarding the company's activities. "I looked into it. I know. What do you want with that company? It's in bad shape now. It wouldn't be desirable for me to expound," said Karayan.
As for Vahe Khachikyan, it turns out that he's a good friend of Karayan. "Vahe Khachikyan is an old school buddy. I'm a good friend of his," Karayan confided.
Cupizinco Holdings C. LTD, which owns 37.65% of ADC Holdings AS, is in turn owned by The Amicorp Group; a worldwide network of companies that specializes in entity management and financial services. Amicorp specializes in managing companies in the secretive offshore realm. A team of lawyers runs Amicorp and the company's shareholders is not public knowledge. Some of the companies it manages have been implicated in money laundering and tax evasion cases. Amicorp Netherlands Holdings B.V. was embroiled in a case involving former Indonesian dictator Suharto. It seems that Amicorp managed the business dealings of the Suharto family and earned the $15 million in profit.
Telesto Norge, which owns 3% of ADC Holdings, was founded by the family of Snorre Osvald Bentsen.
According to adc.am, Delta Partners (registered in Bahrain) merged with ADC in January 2009. The company promotes itself as a leading advisory and investment firm specialized in the telecoms, media and digital (TMD) industry with a global reach. It has offices in key hubs in the United Arab Emirates, South Africa, Spain, Singapore, Colombia and the United States.
We wrote to ADC to find out whether the insolvency process had ended and the rehabilitation begun. We also wanted to know whether had any legal modifications been made as a result (name/registry changes, etc.), and whether there had been changes to the list of shareholders after the rehab process. The company refused to answer.
We weren't able to speak to Nerses Voskerchyan, director of Global Soft, the shareholder here in Armenia. We then left a post on his Facebook page about a possible interview. There was no response.
Ucom – Unknown shareholders: from Gagik Khackatryan to the Virgin Islands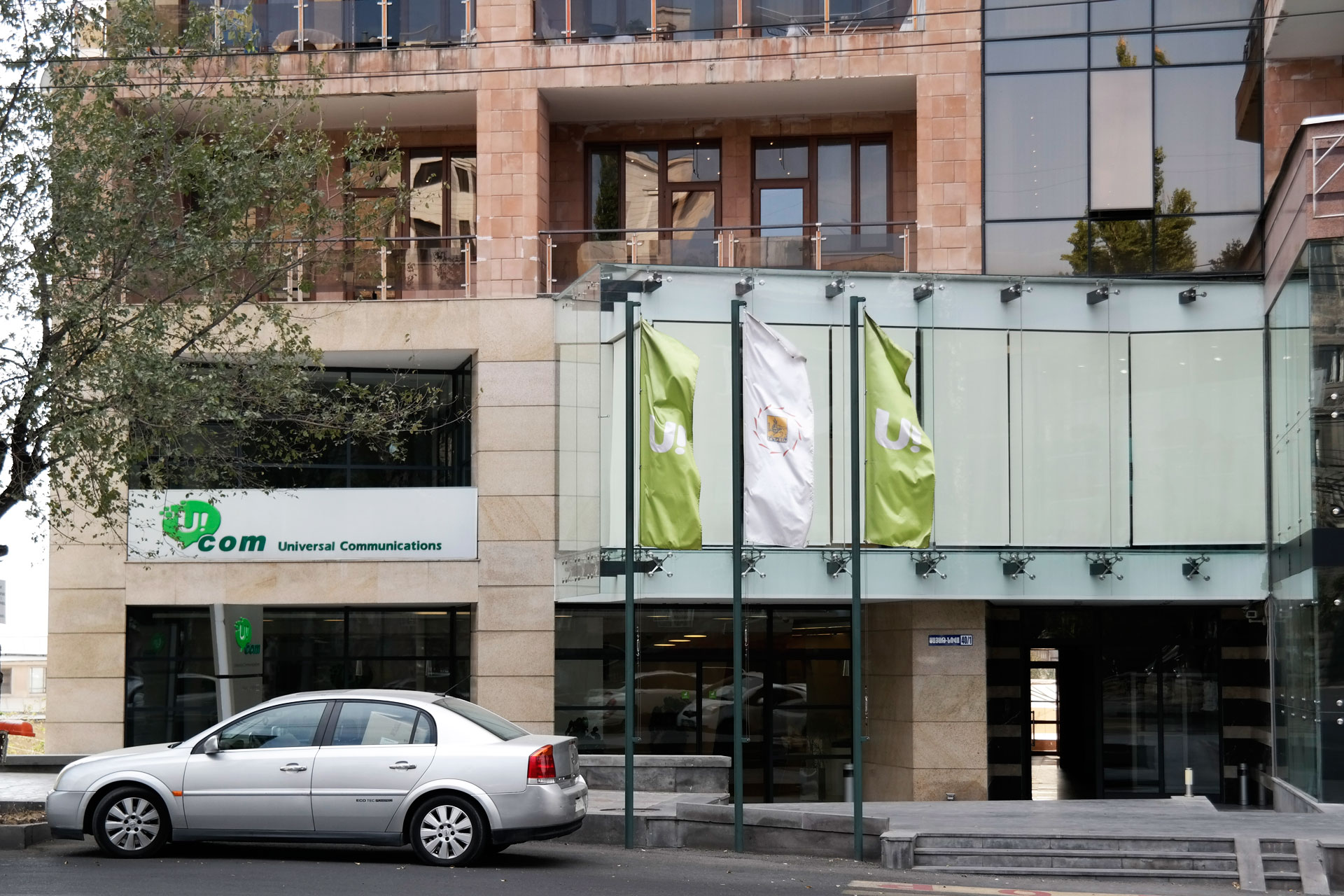 People point to Gagik Khachatryan (Armenia's current Minister of Finance and former State Revenue Committee Chairman) as the owner of internet provider Ucom in Armenia. He's periodically denied the link. "I do not own Ucom. In addition, it's a company making a 100% profit," Khachatryan told A1+ TV. He's also denied having any stake in the company. "I don't own any business. Prove otherwise."
Gagik Khachatryan was appointed finance minister in April 2014. Before this, he served as the State Revenue Committee Chairman from 2008. Khachatryan claims to be a modest man who lives sol;ely on his government salary. However, his financial disclosure filed when he was appointed minister shows millions of dollars in cash holdings. In April 2014, when he took the job, he declared $2.5 million in the bank, whereas his annual salary only amounted to $21,000. As assets, he also listed five mature saplings, a private house with acreage and commercial structures, and two apartments.
So what links Gagik Khachatryan to Ucom?
Ucom (Universal Communication) was founded in 2007 and started operating a bit later. It offers broadband internet, IP television and fixed telephone service. As of March 24, 2015, it had 67,303 internet subscribers. The company enjoys a 26% share of the country's fixed internet market. Overall, it has a 13% share of the fixed and mobile internet market in Armenia.
It started offering internet accessibility in Yerevan and then branched out in the provinces.
From 2009-2010, when Ucom was trying to solidify its position, the company shareholder was Armen Nazaryan, the son of Gagik Khachatryan's aunt. There have been four shareholders as of 2011. General Director Hayk Yesayan and his brother Aleksander (who heads the company's external affairs department), each own a 5% stake. 41% is owned by Aram Khachatryan (a cousin of Armenian Finance Minister Gagik Khachatryan). 49% is owned by Cyprus registered IU Telekomunicate Ltd. This company is wholly owned by Darison Management Ltd., registered in the British Virgin Islands, an offshore location known for its secrecy. It's a favorite haven for officials wishing to hide their commercial dealings.
When we asked Ucom business director Aram Barseghyan who were the owners IU Telecomunicate, he responded, "It's a foreign investor." He avoided answering from what country and what was the investor's name. "Naturally, they are individuals. But since I am the business director and have nothing to do with it. I cannot say," Barseghyan replied.
We then wrote to Hayk Yesayan regarding the identity of the 'hidden' owner. No reply was forthcoming. These foreign investors would haredly have a reason to remain secret, but the 'key' to the millions owned by Gagik Khachatryan, nevertheless, is also to be found in the Virgin Island registered company.
The cash holdings of Gagik Khachatryan grew in parallel to the development of Ucom. According to an official list of taxpayers in Armenia, 2011 proved to be a break-out year for Ucom. As of 2011 the company's market position improved greatly. In 2010 it was listed as the 664th largest taxpayer. By 2014, its position had soared to 55th.
2011 was also a banner year for Gagik Khachatryan. According to his 2009 financial disclosure, Khachatryan had 54 million AMD (US$113,000) in revenues. In 2010, his disclosed revenues amounted to 59 million AMD ($124,000). His revenues shot up the following year when he served as president of the State Revenue Commission. While he declared no real estate or other transactions, other investments or securities, his overall financial holdings shot up several times. At the close of 2011, Khachatryan declared cash holdings of 278 million AMD ($600k) and another $3 million. His only declared revenue for the year was 8 million AMD ($16k) in salary. In 2012, he declared $3.6 million and $3.5 million in 2013.
From 2011 to 2014, Khachatryan's wife Laura Yepremyan also periodically declared $3.2 in cash – this for a person whose only source of income was allegedly her salary.
Based on Hetq investigations, Armenia's Transparency International Anti-Corruption NGO petitioned the State Ethics Committee for Top Government Officials in 2012. The NGO wanted the Committee to look into a possible conflict of interests regarding the business interests of the State Revenue Commission president and his duties.
The Committee found no such conflict of interest despite proving that the children of Gagik Khachatryan were shareholders in MegaMotors and Apeeron. It also found that his cousins were shareholders in the companies Megafood, Ucom and Chronograph.
In July of 2015, Ucom bought out Orange Armenia, whose chief executive officer, Francis Gilbert, was asked why Orange decided to sell and leave the country.
Orange had provided wireless broadband internet via H+ radio links. According to the company's 2014 year-end report, it had 130,725 broadband internet subscribers (not counting users via telephone).
Orange is another big player, providing wireless broadband internet via H+ radio links. According to the company's 2014 year-end report, it had 130,725 broadband internet subscribers (not counting users via telephone).
Orange Armenia Ltd. is an 100% subsidiary of Orange Group (France Télécom S.A.), which was founded by Orange Participations SA . A major shareholder of Orange Group is the Fondsstratégiqued'investissement) - 13,5 %, the French government - 13.45%, Orange employees - 4.81 %, and the company - 0.58%.
Gilbert said Orange could not offer the increasingly popular consumer option of packaging four services for one price: cellular connection, landline connection, landline internet and cable television.
He said the salewill allow Ucom to corner 20 percent of market share while providing such a package.Orange's market share was so small that it had lost about € 185 million (US$ 207 million) in recent years and did not see realistic opportunities for growth, he said.
GNC Alfa – Who is hiding behind Rostelecom?
Under the brand name Rostelecom, GNC Alfa CJSC provides fixed telephone, internet, and new generation IP TV services to private and corporate customers in Armenia. As of December 31, 2014, Rostelecom (Armenia) had 26,208 internet subscribers.
Rostelecom's network in Armenia is based on fiber-optic cable (FOC) infrastructure covering 80% of the territory of RA and spreading for over 3000km. It is connected to region's main terrestrial networks and largest traffic exchange nodes as well as international channels of Iran and Georgia.
GNC Alfa was founded in 2007. The founder and sole shareholder was ArmenMelik-Santurdichyan. The company quickly reorganized and became a closed stock company. The shareholders also changed.
The company entered the market in 2012 when Rostelecom purchased 75% of GNC Alfa's stock; in one share. According to a company statement, Rostelecom paid $22.5 million for the stock. With this purchase Rostelecom expanded its operation outside Russia for the first time and enlarged its network; connecting the Persian Gulf overland with Europe. This was a strategic move for Rostelecom.
We asked GNC Alfa Executive Director Hayk Faramazyan about the company's shareholders. "Rostelecom OJSC is the shareholder of GNC Alfa," Faramazyan replied.
In reality, the picture is different and Faramazyan concealed the facts. The company's stock now belongs to Filor Ventures, a company registered in Cyprus. Filor Ventures has two shareholders – Bovlon Investments Ltd. (25%) and Rostelecom International Ltd. (75%).
Rostelecom International Ltd. is a 100% subsidiary of the Russian Rostelecom OJSC. And Rostelecom's largest shareholders are various Russian government agencies - Russian Federation represented by Federal Agency for State Property Management (Rosimushchestvo) - 43%; National Settlement Depository (NSD) -42%; Vnesheconombank – 3.8%, and the Russian Direct Investment Fund (RDIF) (Controlled by Vnesheconombank) – 1%, Rostelecom – 6.8%, Mobitel- 12%:
We again contacted Hayk Faramazyan as to who owns the remaining 25% of GNC Alfa. "…Please tell us who is/are the shareholder(s) of Bovlon Investments Limited," we wrote to Faramazyan.
"100% of the shares are owned by Filor Ventures Ltd. Rostelecom OJSC controls shares," again answered Faramazyan.
Local Providers
The other relatively large internet providers are local limited liability companies. – Interactive TV, Aranya, Arpinet, Maylan and web.
In 2012, Ucom bought Interactive TV.
Aranya joined the Rostelecom's fiber optic cable network and offers broadband internet to the entire Ararat Province of Armenia. It has three shareholders – the brothers Andranik and StepanMinasyan, and Arman Gabrielyan.
Arpinet services Armenia's Armavir Province, providing internet and IP television to private and corporate customers. The sole shareholder is Grigor Babakhanyan.
Mylan Ltd. is registyered in Vanadzor and provides internet to Lori Province. Armen Merdjanyan is the shareholder.
Web has three shareholders –Albert Doneyan, Kolya Hovhannisyan, and Ruben Mkrtchyan. It was founded in 1996 and now has 1,265 subscribers.
megabit per second
---
If you found a typo you can notify us by selecting the text area and pressing CTRL+Enter