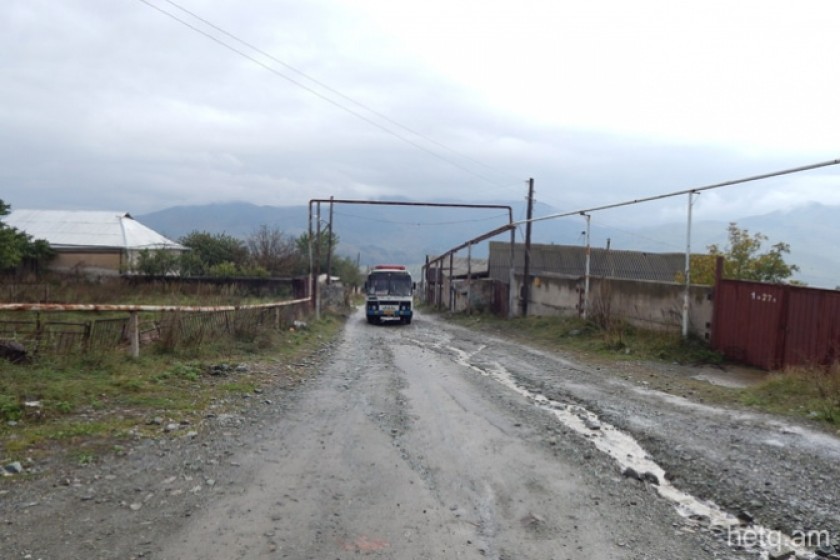 Company Promises 'Safe Mining' to Arjout Residents Despite Planned Use of Cyanide
Vardan Mkrtchyan, mayor of the 1,400 resident village of Arjout in Armenia's Lori Province since 1996, says that growing fundamental problems have led to an increasing number of people leaving.
"Right now, a large number of residents are leaving because there is no work," says Mkrtchyan.
The village even lacks a kindergarten, and while the Vanadzor landfill is located in Arjout, no one maintains it. Thus, garbage is piling up at the village's entrance.
Mayor Mkrtchyan believes the owners of the Arjout gold mine can solve the problems faced by the village. The mine is located 1.5 kilometers from the village.
"We are waiting for something to happen. They promise 150 new jobs for the village," the mayor says.
Gayaneh Mesropian, the village school principal, estimates that only fifty families remain in Arjout.
A company called Baktek-Eco wants to operate the gold mine and company representatives have said, during public hearings, that environmental risks will be reduced to zero. Mayor Mkrtchyan says he believes what the company has promised.
There have been four public hearings so far and the mayor presented Hetq with the minutes of two.
"As far as I know, the hearings were quite limited in terms of attendance and village residents have no idea about the mine or the consequences if it starts operating," says school teacher Karineh Khachatryan.
She blames the mayor for this lack of information.
"The mine is of no benefit to us. The benefit goes to those removing the ore. You or I will get nothing. Who take our opinions into account?" exclaims village resident Albert Tamaryan.
Principal Mesropyan says that the teaching staff only attended the first public hearing.
"They told us there would be no risks. They didn't say that they would also build a factory," she says.
Levon Galstyan, from the Armenian Environmental Front, told Hetq that this is another example of a mine project being presented where there is practically no mention of environmental risks and health related issues.
Nevertheless, on June 27, 2014, Mayor Mkrtchyan and the village council gave the go-ahead to Baktek-Eco to operate the mine.
The company says it will be using cyanide, a toxic chemical, to separate god particles from the ore.