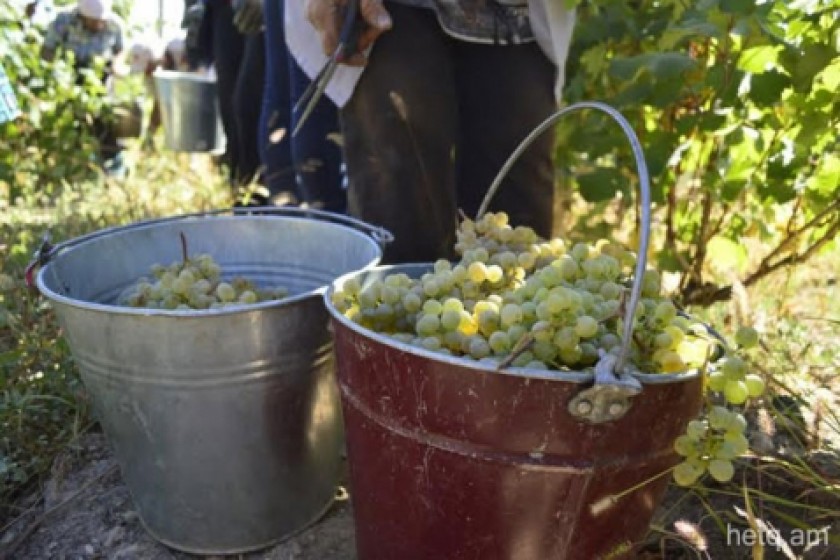 Armenia: Cradle of Winemaking
By Levon Minassian
Armenia is home to some of humanity's first grape cultivators and many of the elements of Armenian culture stem from its experience growing and consuming the crop.
The story of the grape in Armenia has been characterized by harsh transitions and rebirths which have dictated culture and national values.
Wine has been vital economically throughout the country's history and the prosperity of the country can be seemingly linked to its ability to produce vintage quality wines. Today, Armenia's wine industry is thriving yet farmers and wineries face many challenges in producing grapes and doing business.
One of the country's wineries earned that honor of recently being named one of the world's top ten wines, a sign that quality wine is currently being produced. (19). Concurrently though, Armenians passionate about winemaking have noted the need to address the threat of phylloxera, to change taxation schemes that create barriers to entry, and to modernize both the existing infrastructure and educational training for vituculturalists and technicians at wineries. (14, 20)
Ancient Winemaking: Areni Cave and More
The story of wine in Armenia begins when Noah landed on Mt. Ararat and planted a vine in Genesis 9:20. He subsequently got drunk and fell asleep naked. His son Ham found him in this state and told his other two brothers Shem and Japeth. Shem and Japeth then took a garment and proceeded to walk backwards into their father's tent to cover him without seeing his nakedness. When Noah awoke and discovered that Ham had broadcast his being naked instead of covering him on his own, he cursed Ham's son Canaan and stated that Canaan should be the slave of Shem and the Lord should give Japeth the territory of Canaan. (Genesis 9:20)
Elsewhere in antiquity, Armenian wine is noted by Herodotus, who wrote that merchants would carry 25 tons of wine down the Tigris and Euphrates to Babylon in barrels of palm tree wood during the fifth century. This was the first cited example in written history of anyone using barrels to store wine. (2) This technology, along with ideas and values surrounding wine, spread down these rivers out of the Caucasus and into Egypt and Europe.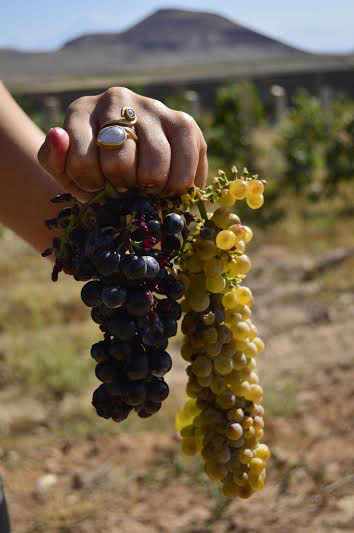 Armenia is home to some of the world's most ancient grape varieties
There have been recent excavations of this history. The world's oldest recorded wine making location was found in 2007 and was excavated by Boris Gasparyan and a team of archaeologists. The group researching it dated the cave to 4000 BC, providing evidence that the fruit was central from the beginning of Armenia's evolution. This cave, called Areni-1, was found to be home to many other artifacts including a shoe which is 500 years older than the wine. Their findings have led to further research and have created international interest in traveling to Armenia by many wine connoisseurs from abroad. (3, 4, 5)
Also at the Karmir Blur (Red Hill, modernly known as Teishebaini) excavation site, archaeologists found 12 different types of grape seeds that are still used in Armenia today. They also found over 400 ancient wine barrels. The site was home to the Transcaucasia province of the Uratian kingdom and is very close to the modern capital of Yerevan. (6)
Upon adopting Christianity as its national state religion in 301 AD, Armenians synthesized prior rituals and beliefs about vine cultivation into the new religious iconography. To the early Church, the cross represented a wine press in which Christ, the "True Vine", was crushed in order to achieve eternal life. (7)
To this day, the Armenian Orthodox church still practices the ritual of blessing the grapes at an altar before they are crushed. The Blessing of the Grapes ceremony takes place on the Feast of the Assumption of the Mary. (8)
Throughout the Middle Ages wine continued to be a central focus in Armenian spiritual and cultural life. It was said to have represented victory, love and eternal life. (7) It has also been widely accepted to be useful in medicinal settings.
Wine Making in Soviet Armenia
Wine production became industrialized starting in the 1870's. After World War I, the vineyards in multiple regions of Armenia were decimated and things had to start anew, a common trend throughout the history of the crop at the expense of invasions and other political changes.(7)
Production underwent rapid changes during the last century when the Soviet Union converted wine production in Armenia to large scale grapes grown for cognac. Like many trends in agriculture in the world at the time, Armenia's wine industry adopted practices that made production heavily dependent on external chemical inputs.(10)
Armenian grape production reached peak levels during the Soviet Union and accounted for 12 percent of all cognac consumed in the USSR despite its small territory. The country also produced 25% of the Soviet Union's brandy, most of which was consumed in Russia. Wine grapes, took a secondary role during this era due to the preferences of the Russian markets which farmers were focused on growing for. (9, 14)
However, once the Soviet Union broke apart so did the grape growing industry in Armenia. In the decade leading up to the collapse, Armenia produced its highest levels at 200,000 tons of grapes annually which were intended for wines and brandy.(9,14)
The Soviet era ended and brought difficult changes, partially due to a lack of inputs which Armenian farmers were dependent upon. Vineyards were torn out and throughout the 1990's Armenia's farmers were primarily focused on subsistence agriculture. It took until the mid 2000's for wine to begin its resurgence. (9.12, 13)
Agriculture and grape-growing in particular continues to play a vital role in shaping Armenia's economic position in the world today. Agricultural products account for 20% of its GDP compared to only approximately 5% of US GDP. 40% of employed people in Armenia are involved in agriculture to some capacity. Wine products are also one of few sectors of agriculture in which Armenia has a positive trade balance. Most other agriculture sectors are highly import dependent. (9) Aside from exporting to Russia, several Armenian wineries are beginning to send bottles to Europe and the United States. (15, 16)
Rebirth of Winemaking in Armenia Today
Vahe Keushguerian, the winemaker at Karas Vineyard and head of Semina Consulting, a wine consulting firm, marked 2006 as the beginning of a revival in Armenian wine production. After spending time as a wine merchant in California and working in Tuscany, he traveled to Armenia and met Eduardo Eurnekian, a wealthy airport owner from Argentina who was looking to invest in wine in Armenia. The two partnered to found Karas on 450 hectares in the Ararat Valley in 2009. (12)
Keushguerian claims that Karas has set the standard for wine production in the country in the recent era. In an interview he stated that the example Karas has set for the industry has had spillover effects in the form of showing how investment could lead to a uniform and consistent product over time. This gave others interested in Armenian wine the confidence that wine production could be economically successful and dismissed preconceptions that Armenia's volcanic soils were unsuitable for modern wine grapes. (12)
Today there are 40 Armenian companies producing over 100 varieties of wines. Over 83% is produced in the Ararat Valley and Armavir region. The other four winemaking regions are Tavoush, Aragatzotn, Syunik, and Vayots Dzor. 95% of all Armenian vineyards are held by small scale farmers according to the FAO. Most of these small producers however are still focused on brandy production primarily. (9, 14)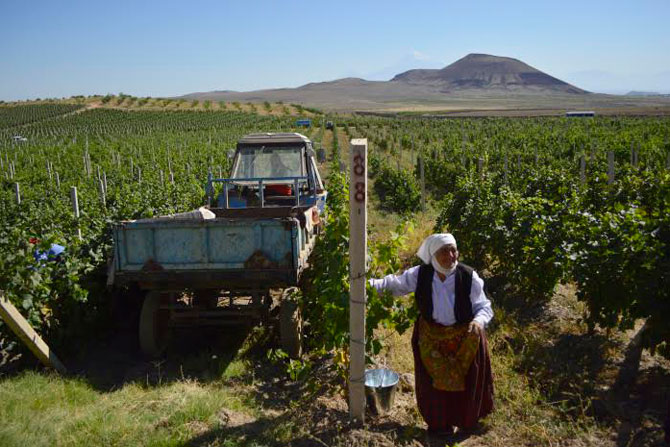 Over 100 types of wine grapes are grown in Armenia today
Organic Wines: Overcoming the Challenges
Part of the resurgence among Armenian wines is the interest in attempts to farm organically. Along with changes to the structure of the economy and land rights, farmers of grapes in recent years have had to adjust to different production techniques. Nunee Darbinyan, head of EcoGlobe, the primary certifier of organic produce in Armenia. She stated in an interview that some farmers have had trouble dealing with fungal issues without some of the inputs which were commonly used during the Soviet era. (10)
"In Armenia, several grape growing regions [are] sensitive to fungi caused by the climate because fungi grow in humid conditions", said Darbinyan, who believes that organic can be a niche market that Armenian farmers in multiple sectors can target in Europe. "Because of the tradition of growing grapes during the past decade or during soviet system was very much based on chemical pesticides, people lost qualifications or the know-how which [for addressing] sensitivity to diseases and fungi without using pesticides."(10)
Darbinyan also stated that currently some winemakers are teaming up with farmers in to help them transition to organic as there is a three year certification period which is economically challenging for those who would seek to change their farming practices. She suggested that this sort of value-chain approach could allow industry to assist farmers who seek to produce organic grapes by helping to fund their certification and buying their grapes during the three conversion years. (10)
Volcanic Soil: Trinity Canyon Vineyards
One Armenian vineyard which is has planted primarily indigenous varieties and is currently undergoing organic certification is Trinity Canyon Vineyards in the Vayots Dzor highlands. The volcanic soils make it an ideal location for growing ancient Armenian red and white grapes. Artem Parseghyan, a young winemaker who studied in Germany and France after earning his BS in Biology in Armenia, decided to return to his homeland to work at Trinity Canyon because he agreed with the farming practices of the viticulturalists there. (13)
Artem said over Skype that unlike some of the larger vineyards like Karas, every individual at Trinity Canyon is involved in every step of the process in managing their 4-5 cultivated hectares and making wine from their harvest. He explained that in comparison to the previous era of winemaking in the country the education for viticulturalists and winemakers was separate so people were doing one or the other but not vice versa. This translates to greater care and understanding of the total process of winemaking on a small scale. (13)
"Now it's commonly accepted that you can't make good wine from bad grapes. 70% of wine quality is in vineyard - it doesn't mean we don't try to use new technology but first we want healthy good quality grapes," said Parseghyan who noted that larger vineyards have still been slow to switch over to organic labeling. As a carryover of the Soviet era, "many wineries in Armenia have really great equipment but they don't care about the quality of the grapes but hopefully a lot of things are changing among the new wineries [which] are emerging out of nowhere."(13)
Phylloxera Threatens Ancient Grape Varieties
Despite signs of an improving industry and growing interest in Armenian wines, viticulture as a whole in Armenia is facing a serious crisis in the form of phylloxera, a soil borne pest that is currently in parts of Armenian grape growing regions and has the potential to rapidly wipe out entire vineyards. The aphid-like insect, which originated in North America, lives in the soil and attacks the roots of vines by sucking their sap. In the 18th century it was brought to France by winemakers interested in growing American varieties to hugely detrimental effect. Huge damage was also caused to California's Napa Valley in the late 1980's by the pest. (11, 17, 18, 21)
Varoujan Der Simonian (on right) and fellow researchers from California have worked to establish vineyard nurseries in Armenia and Artsakh to mitigate the effects of phyllexora"
There are no ways of remedying phylloxera once a vineyards soil is contaminated. The only effective strategy for mitigation of the problem is by grafting a given variety of vine onto resistant rootstocks from North America that evolved or were bred to be immune to the disease. Growers can graft healthy scions of native varieties onto these American rootstocks as has been done in Nagorno-Karabagh. Ancient varieties of grapes which are not grown anywhere else in the world face extinction if this goes unaddressed. (11, 13)
Varojoun Der Simonion, the executive director of the Armenian Technology Group Inc., a nonprofit group based in Fresno, CA, stated that his group is working to address the issue as they did in Nagorno-Karabagh when growers faced the problem there. In 1998, in Hermamort , 20 minutes north of Stepanakert, his group set up a nursery with imported phylloxera-resistant rootstocks that were donated by Western Nursery, based in California's San Joaquin Valley. By setting up these pest resistant rootstocks, farmers there were able to work to preserve local varieties by grafting onto American rootstocks. (11)
Efforts to mitigate the problem in Armenia have included setting up quarantines and burning fields but this has not stopped the spread of the pest due to its characteristic of living beneath the soil. These efforts have been attempted elsewhere in the world where phylloxera has been present and they have been similarly unsuccessful. (11)
"The solution is resistant rootstocks," said Der Simonion. His group is currently trying to raise funds to set up similar nurseries in Armenia as were set up in Karabagh. He stressed that all other efforts to prevent the spread of the disease were futile as the pest lives under ground. Equally important in his mind was the ability to raise awareness about the issue among diaspora Armenians and anyone else traveling in and out of the country who might unknowingly bring phylloxera infested rootstocks to the country. (11)
More action is needed at a governmental level according to Der Simonian, who noted that in addition to implementing phylloxera-resistant rootstocks in vineyards there is difficulty addressing the problem from a border customs standpoint. Armenia currently lacks strong regulations to verify the safety of products coming in at airports and other points of entry. More oversight is needed to ensure that diseased plants can be discovered and prevented from entering the country.
Similarly Vahe Keushgeurian suggested that the government has two strategies to address phylloxera: creating strict quarantines to prevent the unaffected areas from developing the disease and by preventing the spread of it from contaminated areas or alternatively to open up the market so that anyone could bring resistant rootstocks into the country. (11, 12)
It is apparent that more action needs to be done to prevent the spread of the disease. There likely needs to be more coordination between the Ministry of Agriculture, affected farmers and research groups who can analyze the pest and propose solutions. Such measures will soon become inevitable should the disease continue to spread without appropriate action to prevent it and to heal vineyards which are currently contaminated. At stake are the economic lives of hundreds of Armenian farmers, let alone the preservation of the country's ancient grape varieties and traditions. (21)
Despite these challenges, domestic consumption levels are rising. Aside from the threat of phylloxera, Vahe Keushguerian believes that greatest barriers to further prosperity among Armenian grape growers are proper irrigation technologies and a lack of red varieties to export. He is involved in addressing the two issues. (12)
"The market is heading in right direction; lot of land used for vineyards isn't good for other things. The land has the poor soil that the grape needs so the growth of wine industry is beneficial to everyone here", said Keushguerian. "It's not an elastic supply and demand; if market demand increases you can't just increase production - it takes 4-5 years. Overall it is a good industry and a national pride for many."(12)
Trinity Canyon vineyard has never had the pest because of its higher elevation within the Vayots Dzor region. Artem Parseghyan noted that consumer preferences are changing constantly citing the 2% rise in per capita consumption of wine over the past 10 years. Furthermore, the modern success of his vineyard and others in the country is attracting some of his former classmates from Europe to come visit the "cradle of winemaking". (13)
Top Photo: Preparing for the fall harvest at Armas Winery
Photo credit: Kohar Minassian (first 3 photos), Armenian Technology Group (4th photo)
Sources
1. Genesis 9:20
2. Proof: The Science of Booze by Adam Rogers
3. http://www.wired.co.uk/news/archive/2011-01/12/ancient-winery
4. http://www.wineterroirs.com/2011/05/oldest_known_winery_areni_armenia.html
5. http://www.eurekalert.org/pub_releases/2011-01/uoc--cac011111.php
6. http://en.wikipedia.org/wiki/Teishebaini
7. https://www.youtube.com/watch?v=o472SAjsMq8
8. http://www.armenianchurch-ed.net/feasts/annunciation/the-blessing-of-grapes/#null;
9.http://www.fao.org/fileadmin/user_upload/Europe/documents/Publications/AI_briefs/AI_breiefs2012/fao_armenia.pdf
10. Nunee Darbinyan Interview
11. Varoujan Der Simonian Interview
12 Vahe Keushguerian Interview
13. Artem Parseghyan Interview
14.https://www.icare.am/uploaded_files/Baseline%20Study%20of%20the%20Armenian%20Wine%20Sector%20-%20ICARE_1%281%29.pdf
15. http://www.ers.usda.gov/data-products/ag-and-food-statistics-charting-the-essentials/ag-and-food-sectors-and-the-economy.aspx
16. http://www.fao.org/armenia/fao-in-armenia/armenia-at-a-glance/en/
17. http://www.atgusa.org/
18. http://en.wikipedia.org/wiki/Phylloxera
19. http://hetq.am/eng/news/54131/diasporan-armenians-vineyard-in-armenia-produces-one-of-the-worlds-top-10-wines.html
20. http://asbarez.com/131480/a-new-epidemic-is-at-armenias-doorsteps-says-atg/
21. http://www.panarmenian.net/eng/economy/news/39195/
If you found a typo you can notify us by selecting the text area and pressing CTRL+Enter