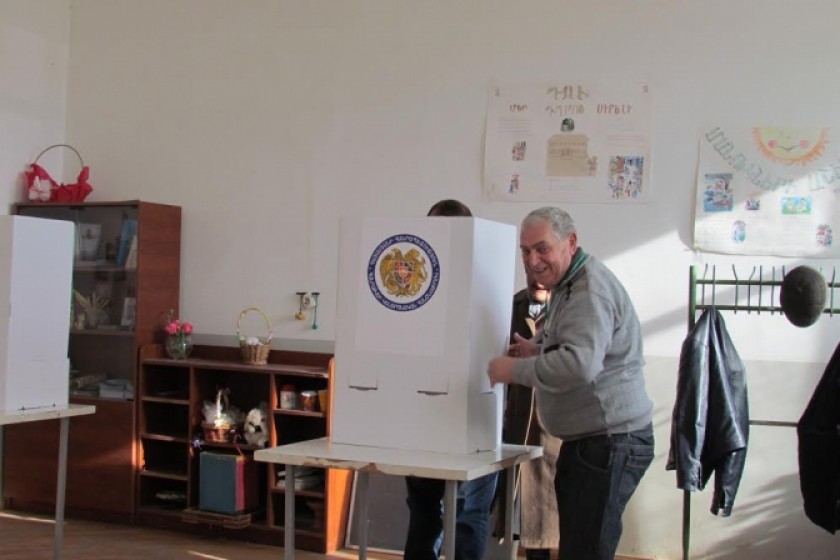 Seryozha from Margara: "I voted yes because I heard the kolkhoz would reopen"
1,099 people in the village of Margara, in Armenia's Armavir Province, are eligible to vote in the country's constitutional change referendum taking place today.
Polls throughout the country opened at 8am. As of noon, 98 Margara residents had cast ballots.
Seryozha Yeghishyan was one of the first. He told this reporter he'd be voting in favor of the referendum.
Yeghishyan said he was told that according to the draft constitution, the old Soviet kolkhoz would be reestablished. The senior citizen is a fan of the 'old order'.
After dropping his ballot on the box, he chided the local election officials. "You're the authorities. Why don't you visit the villages? By all means come and talk to us."
Yeghishyan said that a few days ago he went to see Armavir Provincial Governor Ashot Ghahramanyan, telling him that it would be great if the local kolkhoz operated again.
"He listened to me, said it was a good idea, but that he couldn't be of assistance," said Yeghishyan.
Yeghishyan says that some 80% of the population of Margara is now working abroad and that the village is slowly dissipating.
"I don't understand what the authorities are thinking. The country is emptying and people are leaving because to make a living. We've become gypsies. If I had a chance I'd leave as well," said Yeghishyan, his voice getting louder.