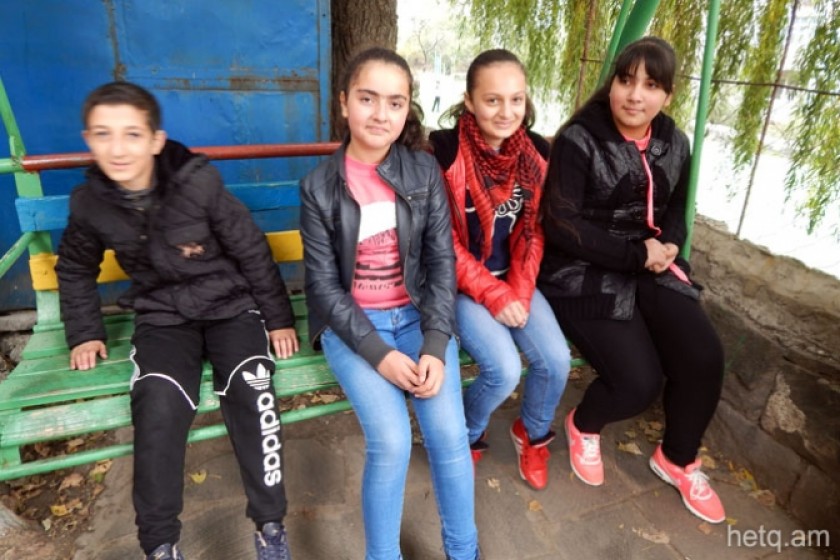 Alaverdi Pupils Speak Out: Are School Uniforms 'Cool'?
Travel to the northern Armenian town of Alaverdi in September and you'll find public school pupils smartly attired in their school uniforms.
Such common dress, however, only lasts for two weeks once school commences. Local principals say that once the weather starts turning cold, pupils are forced to discard their uniforms for warmer, more sensible clothing. Many schools in town lack central heating.
Alaverdi pupils have a diversity of opinions regarding standardized school uniforms.
Karina Vardanyan, a 12th grader at the Alaverdi No. 5 Senior School, says she likes how her teachers dress and tries to follow their example when it comes to taste and fashion.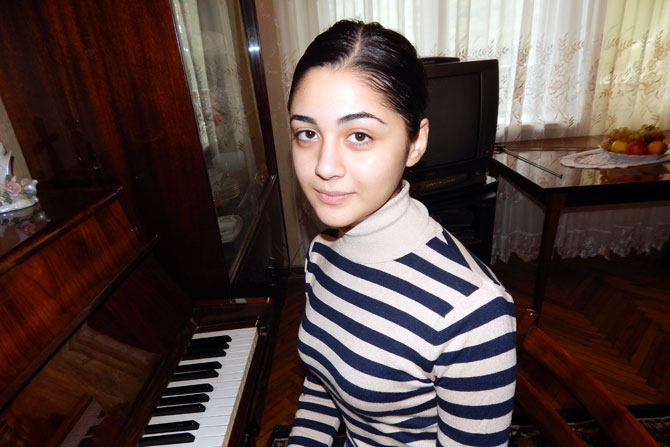 "We take note of the difference in how they dress. I especially like the attire worn by my Russian teacher Asya Davoyan. She's always dressed in classic fashion and I find it most acceptable for me," says Karina.
The pupil says that school principal Laura Meliksetyan sees to it that children come to school in their uniforms. But when the temperature starts to dip, she allows pupils to dress as they like.
"We have no uniforms for the colder weather. The student council is discussing this issue. The majority has come out in favor of the idea of standardized dress," says Karina
The 12th grader says she prefers attending school wearing standardized attire. After class, she switches to her favorite pair of jeans and other clothes.
School principal Laura Meliksetyan complains that girls in the upper grades often come to class in ripped jeans. "They come and change their clothes in school. When they leave for home, they change back into their regular clothes," says the principal. Meliksetyan brought this to the attention of parents at a recent parents-teachers meeting. Some parents told the principal that their daughters oftentimes do not agree with their advice when it comes to appropriate school attire.
Principal Meliksetyan notes that given the financial difficulties faced by some parents, she believes school uniforms should be provided them at no cost.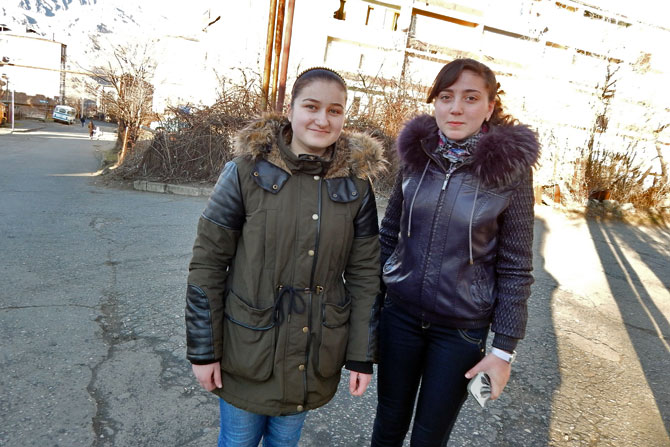 Lyudmila Mosinyan, who attends Alaverdi State College, says she has no problem with standardized dress for pupils.
"But I know that many of my peers who have a problem with school uniforms. They say that each pupil is an individual and that if everyone wears the same attire it gets too homogenous and that no one stands out. Of course, I don't subscribe to this view all that much," says Lyudmila.
Syuzanna Gevorgyan, a 12th grader at the Sayat-Nova School, believes that pupils look prettier when wearing standardized attire. "It's not a question of looking all the same. On the contrary, it's one of the beautiful symbols of our youth," says Syuzanna.
Another female pupil in Syuzanna's class, who wished to remain anonymous, says that she'll wear a uniform when it suits her shape.
Sousanna Sokhikyan, a 7th grader at Alaverdi No. 12 Primary School, usually prefers to wear sports attire rather than a uniform. She says that she wears the uniform rarely.
Zoya Ghazaryan, a classmate, says that everyone at the school prefers informal attire and those who wear the uniforms stick out.
"In the warmer months I wear the uniform; a black dress and a white shirt. I'd like to wear pants, and a uniform displaying hues of pink," says Zoya.
Gohar Avetyan, principal at the No. 12 Primary School, says she demands that pupils wear the school uniforms but that they only wear the attire in the spring and summer.
"It's now winter. You'll note that the school's heating isn't the best. The halls are cold. So we close our eyes a bit regarding what the pupils wear," says Avetyan.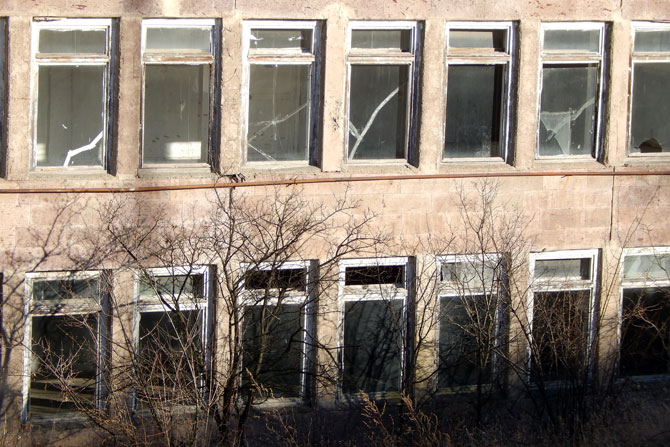 Many of the windows at the school were broken. Avetyan also says that many pupils don't wear a uniform because many households cannot afford them.
"The school's enrollment is 528. Some 30% come from financially challenged families. Before asking pupils to wear uniforms, we need to check into conditions back home," says Avetyan.
Marina Tozavagyan, a psychologist and teacher at Yerevan's Urartu University, says that clothing is a way for individuals to express their individuality.
"The attire worn by teachers should not lead the attention of their pupils astray and must spur the development of their sense of taste," says Tozavagyan.
The psychologist believes that schools should allow pupils to express their individuality within certain prescribed limits.