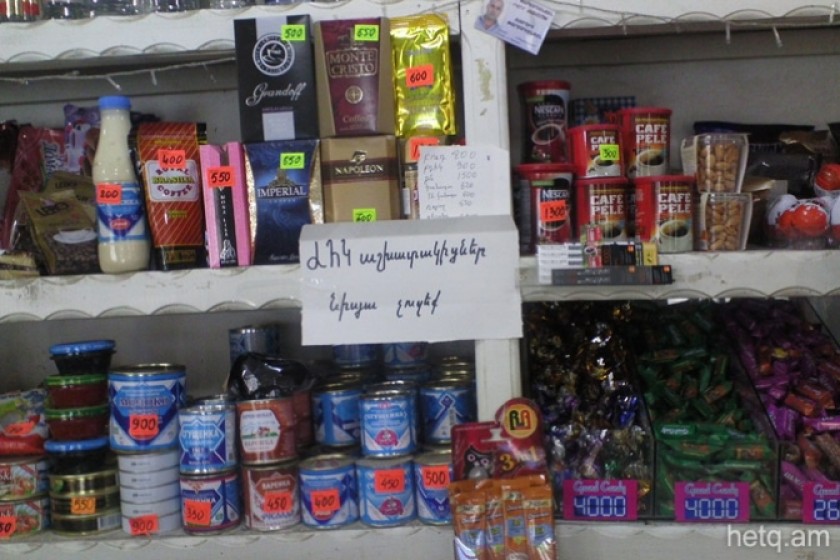 "No Credit Allowed": Akhtala Shopkeepers Get Tough With Unpaid Mine Workers
No one at Masko Mine, the parent company of Akhtala Mountain Enrichment Combinat (AMEC), wants to talk to workers, Akhtala resident, or the press regarding the problems AMEC is facing due to a drop in world copper prices.
Masko Mine owner Martun Hakobyan's secretary informed me today that AMEC has no press affairs person and that the only person capable of providing information on the matter is Martun Hakobyan.
Hakobyan, however, stubbornly refuses to meet with Hetq or to speak to us by phone.
Vasak Tarposhyan, press secretary at Armenia's Ministry of Energy and Natural Resources, today advised Hetq to take AMEC to court over the information given that it's a private company.
Akhtala Mayor Haygaz Khachikyan told Hetq that he isn't surprised at the lack of transparency displayed by AMEC.
Khachikyan said that on several occasions he has advised Martun Hakobyan to talk to workers and clarify what is going on at AMEC, but to no avail. The mayor says that 265 workers have been fired at AMEC and the remaining 435 are afraid they'll lose their jobs as well if things continue as they are.
"I believe that if things get worse or, if god forbid, the plant closes, a social catastrophe awaits Akhtala because the town was created surrounding the mines. There is no talk yet of closing the plant but people have heard that the Sagamar Company shut down in neighboring Armanis and they are worried," said Mayor Khachikyan.
AMEC hasn't paid workers for the past three months. Employees have thus been forced to buy food and other staples on credit at local stores. Storeowners are now at their wits end and tensions in the town are bubbling. Some stores in town have closed due to the unpaid debts amassed by AMEC workers.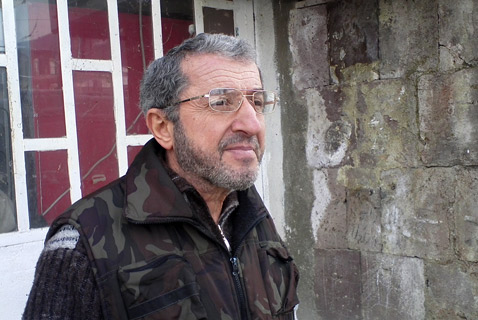 Akhtala shop owner Valery Bezhanyan says he's been forced to hock some gold just to keep his grocery store open.
"We are carrying too much debt. Most of the people who owe me money are AMEC workers.
The company doesn't pay its workers and those workers now cannot pay me. Some 300 AMEC employees have unpaid tabs at my store."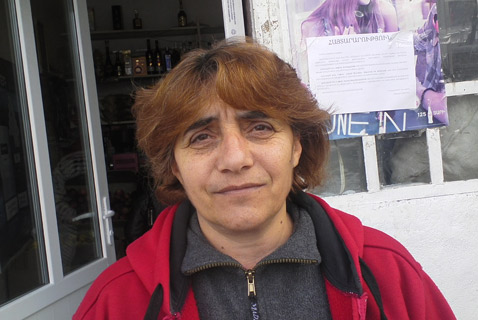 Laura Ramazyan, a customer we met coming out of Bezhanyan's store, said she has a 50,000 AMD debt there. "What can we do? We are angry at the government. My three kids don't work. Neither does my husband, nor do I. I had to borrow 1,000 dram just now from somebody to buy a bit of food."
"The people don't get paid so they are forced to ask for credit from us for food," said shopkeeper Ruzanna Khachikyan. "I had to close the store for three days. We have been forced to buy supplies on credit. This situation can't continue. It's just too taxing on all of us."
Ruzanna has affixed a large "No Credit sign on the wall of her store.
Rutik Parsadanyan, another Akhtala store owner has affixed a sign with a similar message but target to a specific audience. It reads, "AMEC employees, don't ask for credit".
On the day Hetq visited Parsadanyan's store, it was empty.
"People don't have money. Why should they come here? Some think they will come and ask for more credit on top of what they already owe. But how will they pay for it all in the end?" Parsadanyan said.
According to the shop owner, his business goes up whenever AMEC workers get paid. Business remains good for a few days afterwards, Parsadanyan said.