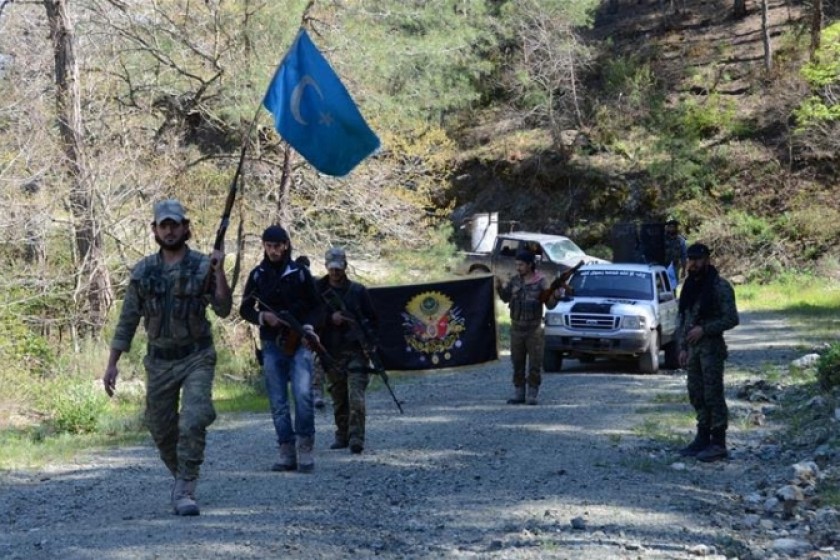 The Peculiar Case of the Turkmens in Syria
By Harout Ekmanian
Despite playing a groundbreaking role in the Syrian civil war, Turkmens get scant media coverage and they are often represented solely through the lens of the Turkish media.
The recent escalation of military operations in rural Aleppo and in nearby rebel held territories close to the Turkish border, was one of the few occasions during the past five years when the Turkmen factor resurfaced into the media debate.
Turkmens are ethnic Turks who lived in the territories, that later emerged as the Arab states of Iraq and Syria, since the 11th century. There are small numbers of Turkmens in Lebanon and other places in the Middle East. After Syria got its independence from the Ottoman Empire, confessional (religious) identity remained the basis of official minority status. Thus, certain ethnic groups, however large they were, were subsumed into the overarching Sunni majority.
Armenians, for example, constitute a confessional minority in Syria, not an ethnic minority. Therefore, they are granted a minimum of 3 hours per week for learning their mother tongue under the name of "liturgical language," which enables Armenians the right to worship their religion. While the majority of Kurds, Turkmens and other ethnic groups were Sunni Muslims, they couldn't benefit from the same right to learn their own languages in schools.
This arrangement was very similar to what it was like in Turkey after the 1923 Lausanne Treaty, which recognized only Jews, Armenians and Orthodox Greeks as minorities, and opened the way to categorize large groups of ethnic minorities who professed Sunni Islam (Kurds, Arabs, Circassians, Laz, etc.) as Turks.
Kurds and Turkmens respectively are the second and third largest ethnic groups after Arabs in Syria. The two groups share a lot of similarities, but also several differences. Kurds in Syria enjoy a relatively bigger geographic concentration compared to Turkmens. While Kurds make up the majority in Syria's north and northeastern Jazeera region, in urban centers like Afrin, Kobane and Rojava, the Turkmens are dispersed across the country, predominantly in rural settlements. They constitute a majority only in the villages of the Turkmen Mountain (Jebel Turkmen, or Bayir-Bucak in Turkish) southeast of Kessab near the Turkish border. This is also one of the reasons that makes it easier to estimate the number of Syrian Kurd, at around two million, while the estimate of the number of Turkmens varies between a few hundred thousand to more than two million. In this regard, Assyrians share a similar situation with Kurds, despite being a confessional ethnic minority group in the country.
Syrian Turkmens relationship with Turkey
Unlike the Kurds, Turkmens claim national bonds to another country in the region, neighboring Turkey, which also debunks a common misconception about Armenians being the only group in Syria that has national bonds with another country.
Ironically, Armenians and Turkmens lived in close vicinity in Syria. Turkmen farmers used to work hand-in-hand with Armenian landlords in Kessab. In Aleppo, the Armenian Nor Kyugh (Midan) neighborhood is next to Bustan al-Basha and Hullok, which are populated by large numbers of Turkmens.
It is a striking fact that Turkey wasn't able to develop cordial ties with the Syrian Turkmens until the honeymoon between both countries started in 1999 and ended in 2011. Benefiting from the atmosphere of tolerance towards Turkish influence during this period, a large number of Turkmen youth from Syria were offered scholarships and training in Turkish universities and institutions. While on another track, away from academia and business offices, another form of network between Turkmens and Turkish authorities and intelligence was forming on the ground - first tested in smuggling, then in military operations after 2011.
Turkmens took an active part in the uprising in Syria from the start. From Homs to Idlib, Raqqa and the Turkmen Mountain, Turkmen battalions were formed bearing the names of various Ottoman sultans; Sultan Selim, Abdulhamid, Faith Sultan Mehmet, etc. Their operations were planned and controlled from headquarters inside Turkey, like Yayladagi in Hatay province and Gaziantep. Turkmens also had large representations in, first the opposition Syrian National Council, and then in the Istanbul based Syrian National Coalition. Turkmens who were living in Turkey before 2011 had an active role in forming and supporting these bodies and becoming the link between Syrian Turkmens and Turkish authorities, beginning with President Erdogan and including various political, intelligence and military high personnel.
Scant media coverage despite active participation in uprising
Despite this active participation by Turkmens in the Syrian Uprising, they have been referred to by news and media reports very seldom. One of the big media storiesregarding Turkmens broke in January 2014 in Turkey, later echoed by the international media, when lorries full of weapons belonging to the Turkish State Intelligence (MIT) were caught enroute to Syria. The Turkish government, then led by Prime Minister Erdogan, first claimed that the cargo was a "national secret", but later claimed that the lorries were carrying food and medical supplies to the Turkmen population in Syria. The Cumhuriyet newspaper released footage of the search, confirming that the lorries were in fact carrying weapons. Editor-in-chief Can Dundar and the newspaper's legal representative were arrested on November 2015 and released on February 25, but are still threatened with life imprisonment.
Kessab invasion – Turkish links
Another media association with Syrian Turkmens came up duringthe invasion of Kessab in March 2014, launched from Turkish territories by an assortment of radical Islamist groups like Ahrar Al-Sham and other Al-Qaeda linked militants.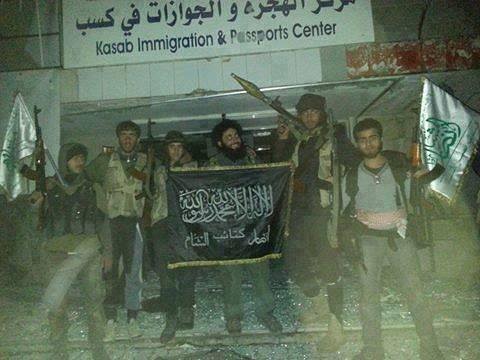 Jihadists capturing an administrative office in Kessab, March 2014
Turkmen brigades from neighboring Turkmen Mountain took a pioneering role in this attack against their Armenian neighbors in Kessab. Some of the earlier networks of smuggling and MIT links were tested and exposed in these fights. Names of Turkmen rebel leaders like Heysem Topalca became public and his links with the Turkish Intelligence and the terrorist bombings of the Turkish border town of Reyhanli in May 2013 were spread in the Turkish opposition media, as well as abroad.
Starting in November 2015, Turkmens reappeared in the news. Following the start of the Russian air bombing campaign in Syria in September 2015, and the downing of a Russian jet by Turkey on November 24, 2015, the Turkmen Mountain, the Kurdish mountain to its east (Jebel al-Akrad), and other Turkmen villages were particularly targeted by Russian and Syrian government forces and its loyal militias in their campaign to retake the strategic locations in the provinces of Latakia, Idlib and Aleppo. Tens of thousands of civilians had no other choice than to flee to the Turkish border. However, the refugees faced discriminatory treatment. While Turkmens were allowed in, other Syrians were left stranded at the borders.
Apart from group politics, Turkmen individuals are active on various sides of the Syrian conflict. The so-called Islamic State's deputy leader of Syria, Abu Ali al-Anbari, and its deputy leader in Iraq, Abu Muslim al-Turkmani, are both Turkmens. In politics, Khaled Khoja, the current president of the opposition Syrian National Coalition, is also of Turkmen origin. On the government side, the longtime chief-of-staff and then minister of defense Hasan Turkmani was a Turkmen Alewite killed by a bombing claimed by the FSA in July 2012 along with other top Syrian military officials. There are also Syrian historical national figures of Turkmen origin, like Yusuf al-'Azma and Jamil Mardam Bey, who resisted the French mandate.
Despite playing a decisive role at the various stages of the Syrian uprising, Turkmens have been regularly missing in debates about Syria and the regional turmoil. The Syrian conflict has surpassed all modern-day records of brutality and inhuman atrocities of our times. Thus, it is hard to believe that various communities like the Kurds, Arabs, Turkmens, Armenians and Yezidis will be able to once again live side by side.
Of course, such a possibility also greatly depends on the form of state and governance that will exist in Syria in an optimistic future, when the crisis is finally resolved.
Top photo: Turkmen fighters carrying "the Turkmen Flag" and the coat of arms of the Ottoman Empire in the Turkmen Mountain region in Syria. (Anadolu Agency).
(Harout Ekmanian has spent more than a decade covering news out of the Middle East and South Caucasus. His work has been featured in the Voice of America, Tagesspiegel, O Globo, Near East Quarterly and other international journals. Originally trained as a lawyer in Aleppo, he was an O'Donnell Visiting Scholar in Global Studies at Whitman College in 2014. He has been a fellow at the Institute for the Study of Human Rights of Columbia University in 2015. He has also worked in media and development in Armenia for several years in various capacities at the Civilitas Foundation. He contributes regularly to Hetq Online from New York City.)