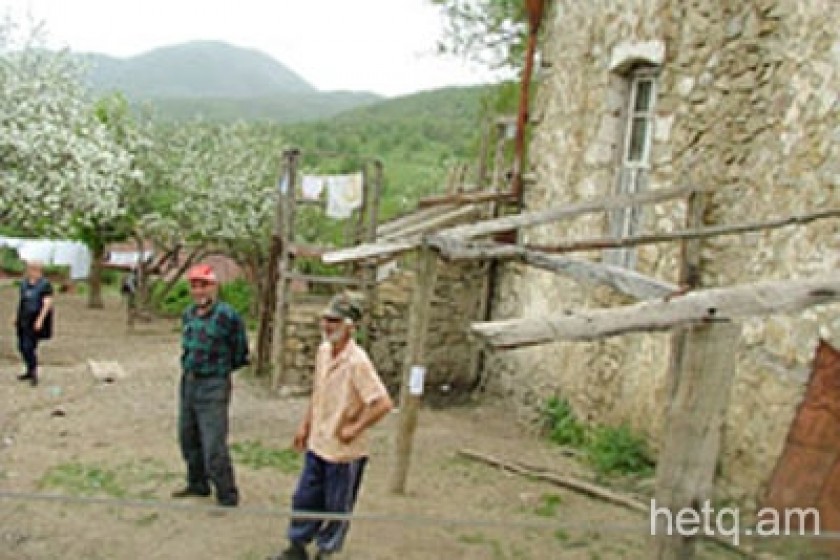 Something Draws Me Here. What, I Can't Understand
Artsakh Bunyatyan, Chief Physician at theBerdzorHospital, thinks that people who live in Kashatagh deserve special status.
"Living here, in such conditions, is already heroism," the doctor said. He cannot accept the fact that when Kashataghtsis go toYerevanand Stepanakert to have complicated operations, they have to pay huge fees. "How would a Kashataghtsi have that kind of money? What is our government thinking? " Bunyatyan asked.
Verishen is the northern-most village in the Kashatagh region. There are only three families living there. There is no electricity. Karen Nalbandyan and his family moved here ten years ago. Karen wasn't home when we visited; he had taken his wife to the hospital. We spoke to their two children, and Karen's mother and father.
"When my son first came here, he fell in love with the place. He came toYerevan, and said, "Let's go to Kashatagh. We came. My son got married here. We had the wedding here, " recalled Hasmik, Karen's mother.
Karen's father, Hrahat, worked for 45 years inYerevan's textile factory. He didn't like his older son's proposal, but he took his wife and came to live in Verishen anyway, leaving their younger son inYerevan.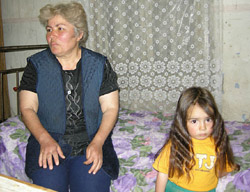 "When we used to visit my parents' home in Artashat, my son would always get restless after we had been there a while, and urge me to leave. Here, he milks the cow, keeps livestock and cannot stay anywhere else. I don't know why Karen likes this place so much. He lived here alone for several years, and then brought us. When we came, I looked around and said, 'My God, what is this place? Where have I come to?' I told the driver of the car to wait, that we were going back in the morning. When we reached the place it was dark, there was no light, you couldn't see anything. When the morning came, I looked around and said, 'Where am I?' No neighbors, no shops, no life, no hospital. He said, "Mother it's going to be ok." Frankly, we wanted to leave, but there was no transportation for six months and we couldn't. My son said, 'Mother you went into exile yourself.' We didn't have any money at the time. Imagine, we didn't see bread for weeks, we would eat whatever. Then we went to Yerevan, our relatives saw us and cried; they didn't recognize us. Not me, not my husband. My son in Yerevansaid, "Mom, Pop, how's my brother taking care of you?" Of course, we couldn't say that we were hungry all the time. We hadn't lived too badly in Yerevan; we all worked. It's only in the last three years that our situation here has improved. It's three years since the livestock increased," Hasmik recounted.
The Nalbandyan family has 28 cattle, eight of which give milk. They make cheese and sell it inYerevan. They also sell livestock, when buyers come to the village. They are, of course, unhappy with the buyers, but do not have any other options. "They always cheat us. There isn't a scale in the village or nearby, so they state the weight themselves and take the animal without paying for the exact weight, and we always lose out, " Hrahat said.
It is time for their eldest grandson to start school, and so they have to move from Vernishen to the south, where there is a school, and electricity. "We have already learned how to live without electricity, but we pity the children. The other families will also leave this year for the southern villages, " Hasmik said.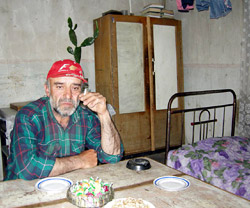 Hrahat remembers that three years ago five families left the village, when there were rumors that the authorities were going to give up the land. "It was as if it was done on purpose; people left, " Hrahat remembered.
The hostess offered us her homemade yogurt, repeating that it was better than yogurt inYerevan. Hasmik, who grew up inYerevan, had no idea about dairy farming when she moved here, but now she makes everything herself. "Yes, I didn't know anything, but when I came here, there were many people from Sisyan in the village. I learned everything from them, " she said.
When I asked about returning toYerevan, Hasmik replied, " We've gotten used to it here. When we go back toYerevan, we think about coming back. We miss our village. As if something is drawing us. What, I don't know. I always think, I wasn't born here, and didn't grow up here, but something draws me here. What, I can't understand."