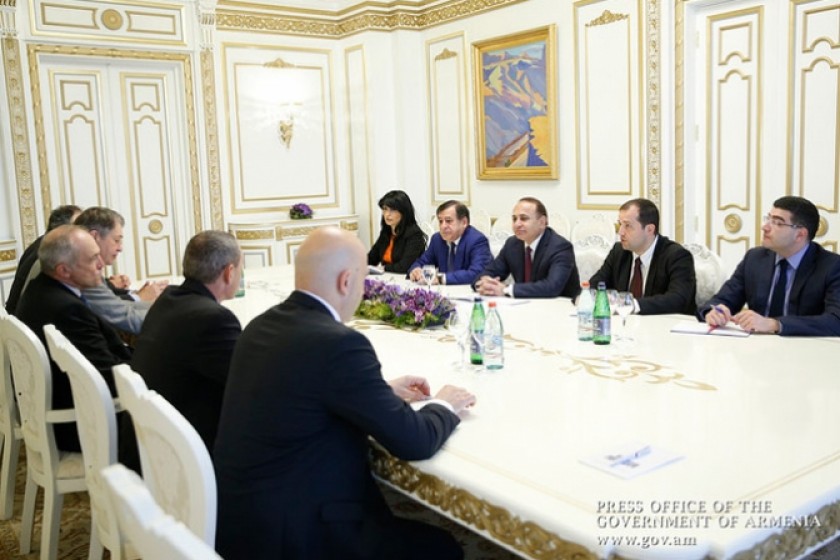 Armenia Prime Minister Talks Gold Mining with Lydian International CEO
Armenian Prime Minister Hovik Abrahamyan today met with Howard Stevenson, President and CEO of Lydian International, a company registered in gthe Channel Islands planning to invest US$400 million in the Amulsar Gold Project in southern Armenia.
At the meeting, Abrahamyan argued that mining was a top priority for his government and that, given the downturn in international mining commodity prices, his government is trying to assist those companies operating in the sector.
Stevenson said Lydian International has recently drafted a financial package for Amulsar and that construction is planned to begin in a few months. The company CEO thanked Abrahamyan's for his government's continued assistance.
The two then discussed various aspects of the Amulsar Project and the need for proper environmental safeguards.
The Amulsar gold project is located 170km south of Armenia's capital Yerevan on the border between the provinces (Marz) of Vayots Dzor and Sunnik. Lydian holds two Mineral Exploration Licences and a mining licence for the Artavasdes and Tigranes open pit at Amulsar, through its 100% owned Armenian subsidiary Geoteam CJSC. The Amulsar licences cover a total of 65km2.