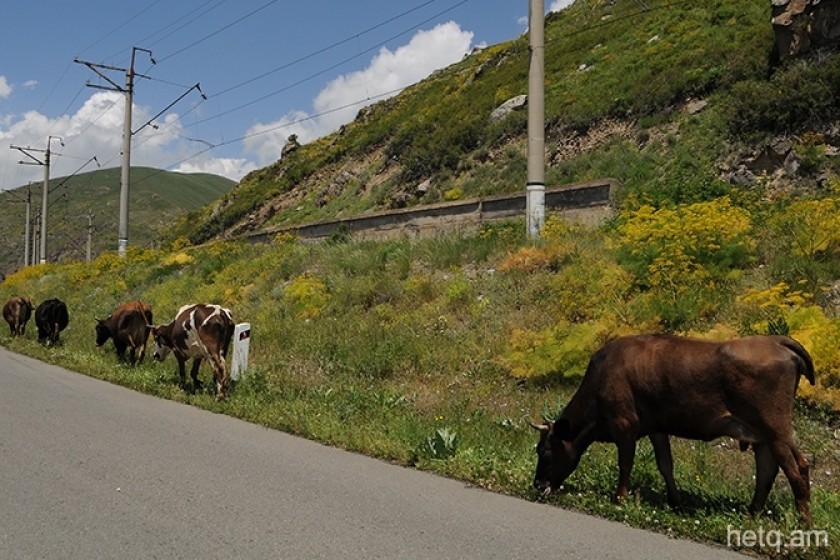 Foot-and-Mouth Disease Reported in Gegharkounik: Health Officials Claim No Such Knowledge
Residents in several communities in Armenia's Gegharkounik Province say their animals are displaying symptoms of foot-and-mouth disease, a highly contagious ailment almost exclusive to cattle, sheep, swine and other cloven-hoofed animals.
Veterinary and health officials say they have no such information.
Humans, who seldom contract the disease, may be carriers, as may rats,dogs, birds, wild animals, and frozen meats.
Symptoms of the disease (also known as hoof-and-mouth disease) have been reported in Artanish, Djil, Aghberk, Shorzha, Drakhtik and Tchambarak.
Aghberk Mayor Vasil Aghasaryan told Hetq that the disease hasn't affected his community.
"No, no. There were just two animals in the upper neighborhood and they were treated. That was one month ago. It's all clear now. You can check if you want. Neighboring communities may have the disease. I don't know."
Despite Aghasaryan's denials, the mayor from the nearby community of Shorzha says that the disease spread from Aghberk.
Shorzha Mayor Souliko Shoushanyan said that the disease reared its head one month ago but has since dissipated.
"It was rampant one month ago. It surfaced in the nearby community. Certain animals were culled and others were treated. The scope of the disease has since decreased. Some animals are still being treated," Shoushanyan told Hetq.
Shoushanyan says that around 18 animals currently have the disease in Shorzha and claims that the contagion emanated from Aghberk, located three kilometers away.
Djil Mayor Mikayel Gharibyan said his community hasn't been affected and that only Aghberk and Shorzha were.
Artanish Mayor Karen Shoushanyan disagrees, claiming that while his community has been spared, Djil, Drakhtik Aghberk and Shorzha weren't so lucky.
If the disease is confirmed by laboratory testing, the concern is that the meat from sick animals will find its way to local markets where it will be sold cheaply.
Armen Avagyan, who heads the "Veterinary and Phytosanitary Service Center" told Hetq that animals had been previously vaccinated and that his organization isn't aware of any foot-and-mouth cases in Gegharkounik.
If you found a typo you can notify us by selecting the text area and pressing CTRL+Enter