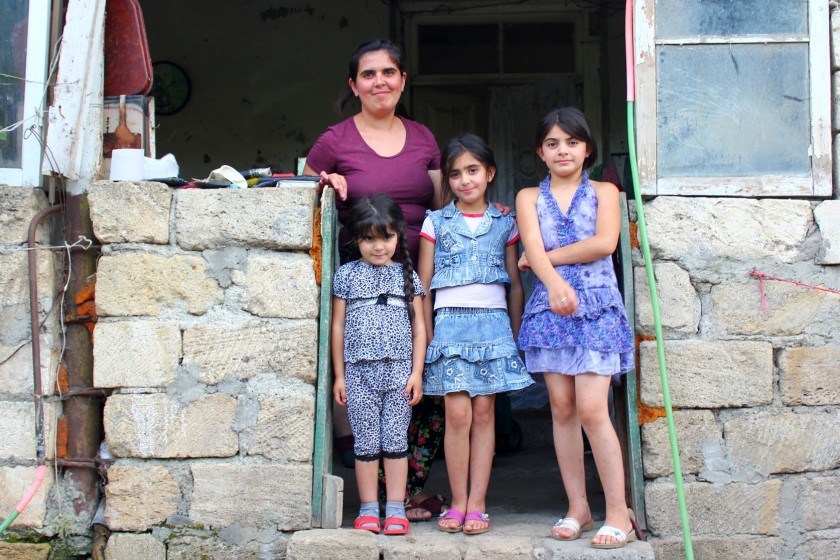 Karvatchar, Artsakh - Love and Disappointment Under One Roof
Taking advantage of a resettlement plan, the Virabyan family from the town of Charentsavan in Armenia moved to the village of Nor (New) Verinshen in the Nor Shahumyan district of Artsakh.
One member of the family, the mother-in-law Alvard Arakelyan, wants to return. She's had enough of the hard life and the way the family's been treated by the regional authorities in Karvatchar.
"If my daughter-in-law doesn't provide for me, I take my children and return to Charentsavan, to my home," says Mrs. Arakelyan
Alvard Arakelyan
Aregnazan, her daughter-in-law doesn't want to leave. "I love the place very much. If I leave Karvatchar for a few days I want to quickly return. I don't see myself living anywhere else," says Aregnazan.
In 1999, Alvard Arakelyan moved to Nor Verinshen with her two sons. When the village was Azeri-populated, before the Artsakh War, it was called Chaykyand. One of the sons later moved to Russia.
Robert, the other son, fell in love with Aregnazan who moved to Nor Verinshen from Yerevan, with her family.
Robert and Aregnazan have six kids – Siranuysh, Alvard, Armenak, Shoushanik, Aram and Khandut. The eldest is nine and the youngest eight months old.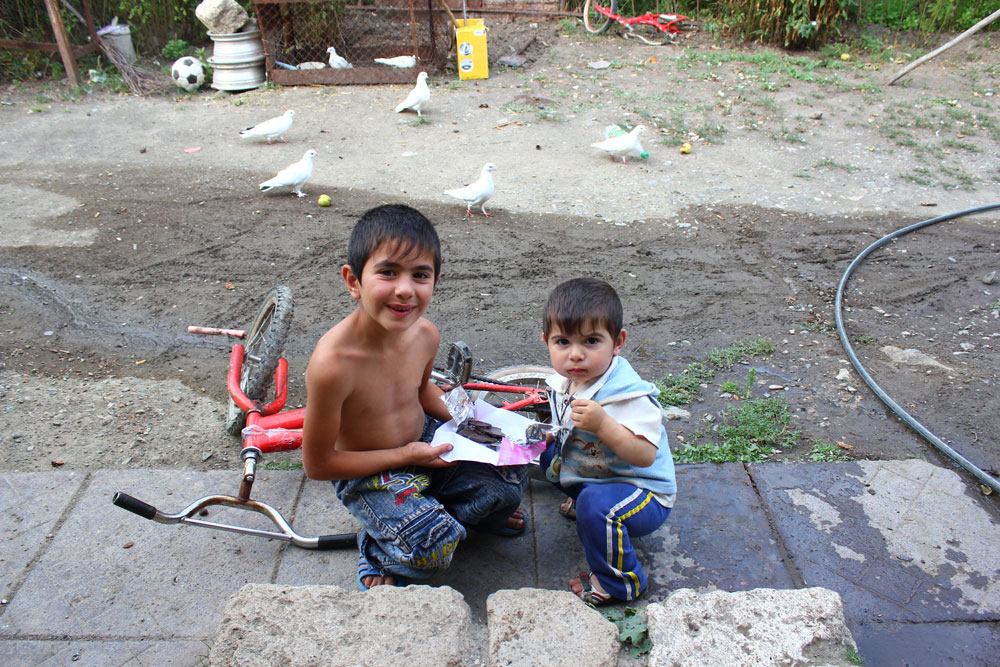 Armenak and Aram
Alvard Arakelyan has had her fill of Nor Verinshen. When I ask why, she responds that there is no land to till. And then there's the house the government allocated as settlers.
"My children wanted to move, so we did. We saw the house. What an embarrassment. We figure to leave after the five-year contract. The five years turned into ten and then fifteen. We've lived here for over fifteen years, but these four walls haven't become our property. Every year, we present the documents to the regional authorities in Karvatchar but they don't privatize the house. The land is privatized in our name but not the house," says Alvard Arakelyan.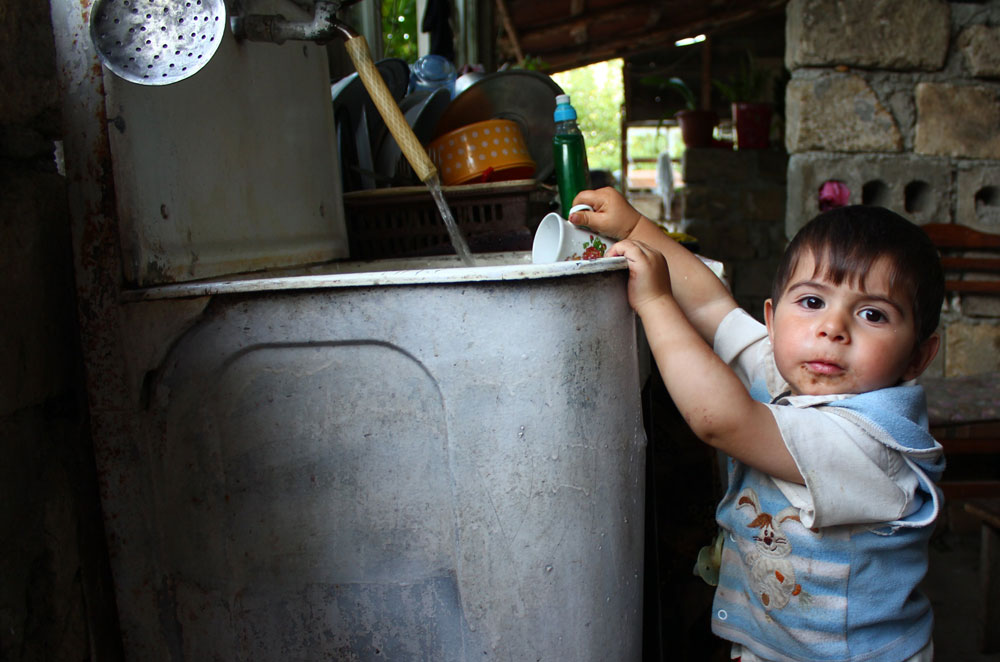 Aram
The house is in bad shape. The roof leaks and the floor has buckled. Aregnazan's husband used to serve in the military. For the past several months, he been unemployed. He's gone to Armenia, Ararat Province, on a construction job.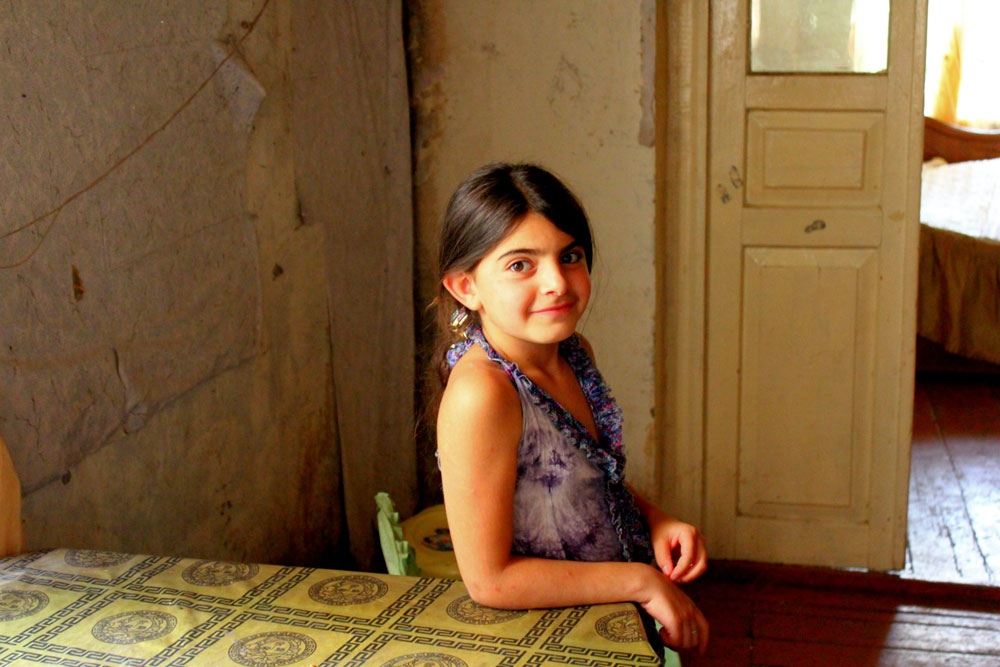 Siranuysh
Aregnazan was born in Alaverdi, a town in Armenia's northern Lori Province. Her father, Albert Avetyan, was a reporter who covered the Artsakh War of the early 1990s. Afterwards, he stayed in the army and moved to Yerevan for work. After retiring, he sold his Yerevan apartment and moved the family to Karvatchar, to resettle the liberated territories. Aregnazan says her father loved the area and did his best to keep his children in Artsakh.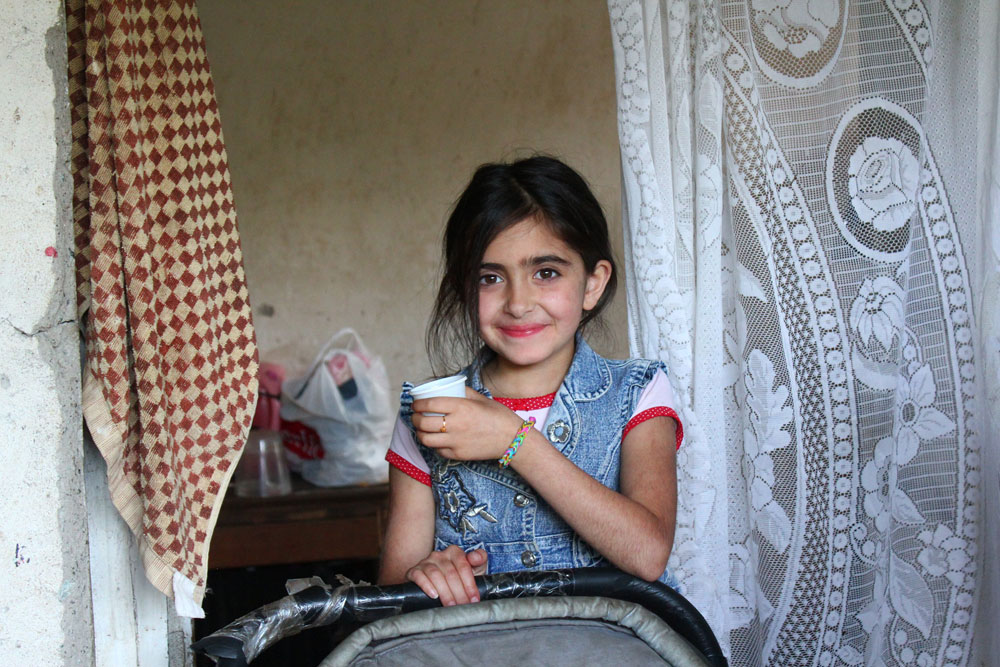 Alvard
"When we arrived, it was very hard. There was no electricity or transportation. In those conditions we'd travel from the village to Stepanakert for class. Now, thank god, we have water, electricity and the internet. What's the problem? Let my kids grow up in the midst of this wonderful natural beauty," Aregnazan says.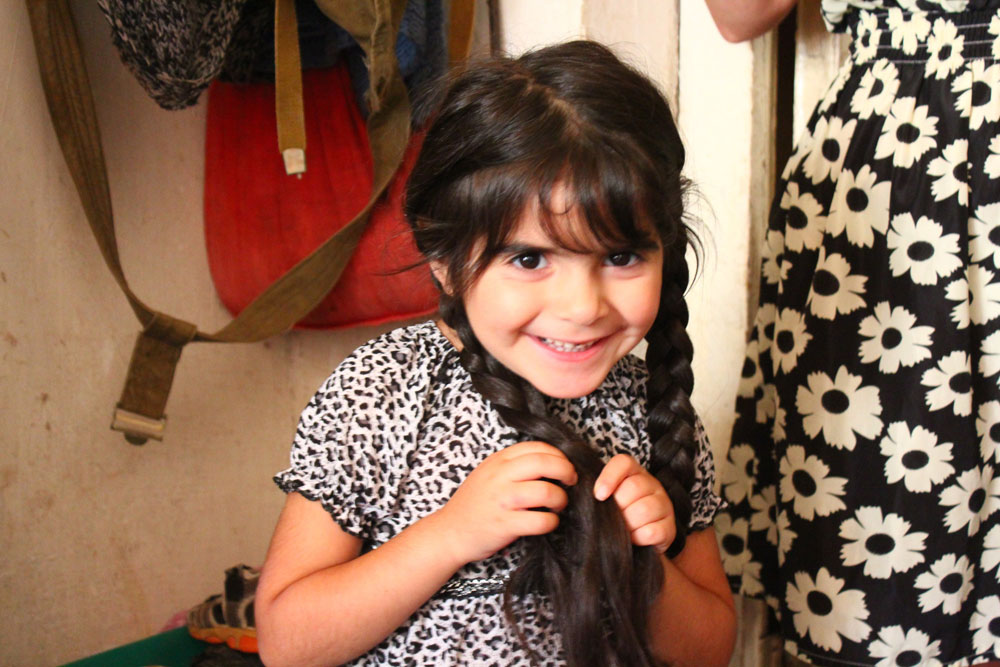 Shoushan
The Artsakh government allocates a house to every family with five children or more. Aregnazan says that while she has six kids, they haven't yet been allocated a house. Seven other families in New Shahumyan have.
"I've submitted the paperwork. A sixth child has been born to us, but it seems that no one remembers," says Aregnazan.
Aregnazan and daughter Khandut
Aregnazan works as a band director at the Karvatchar Cultural Center. Ovsanna, her sister, is the art director at the same center.
While the two sisters studied music in Stepanakert, the capital of Artsakh, and have had opportunities to relocate there, they say they are tied to the land.
"I, as a resident of Karvatchar, am closely linked to the land. Our father infused us with that love. His grave is here. I am tied to Karvatchar. If we don't make it prosper, who will?" asks Ovsanna.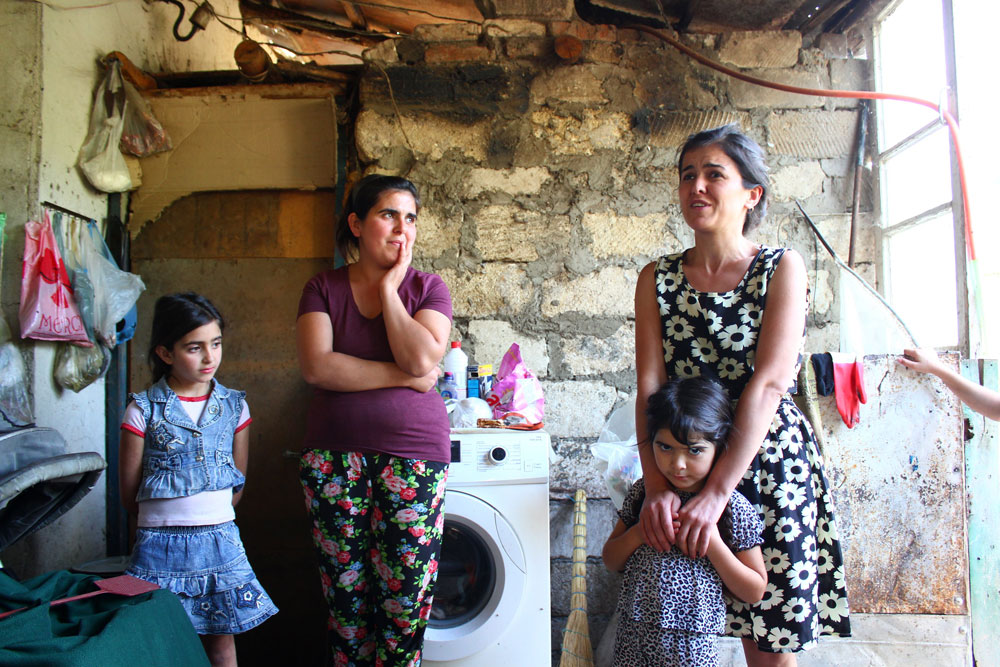 Ovsanna (right) expresses her love for Karvatchar
Rather than giving up and moving, Ovsanna believes in tackling the issues one is faced with. She perseveres when it comes to improving the water system and roads in the district. She's been so persistent that Artsakh President Bako Sahakyan has promised that these problems will be solved by 2017.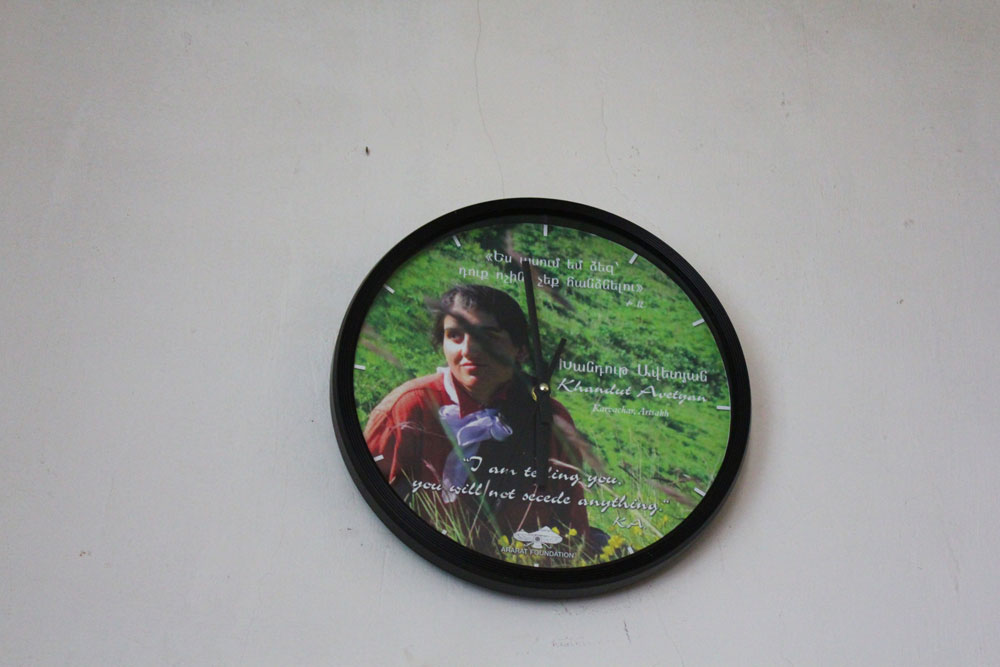 There's a unique clock hanging on the wall in the apartment of Aregnazan and her parents. It is adorned with a photo of Aregnazan's sister Khandut, who passed away in 2015 after battling cancer.
Khandut Avetyan is famous for uttering the words: "I am telling you, you will not give anything back."
If you found a typo you can notify us by selecting the text area and pressing CTRL+Enter