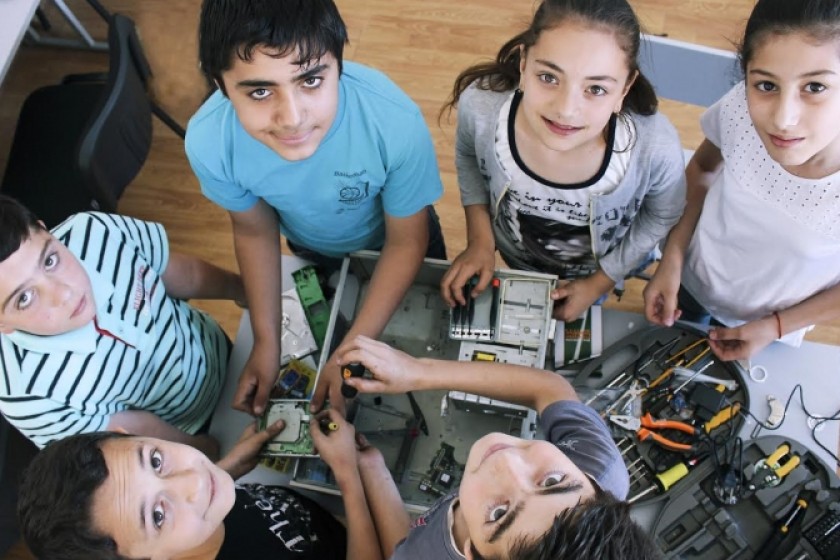 Armath Engineering Labs: How Technology Is Changing the Way We Approach Education in Armenia
By Maral Firkatian Wozniak
Kima is 9 and she wants to be a doctor.
Why? Because on her "adamhadik", an Armenian tradition which takes place when a child gets their first teeth, she pulled a slip of paper out of a bag and that determined her future profession. To this day, some 9 years later, she is still determined to be a doctor. Her conviction, if not her motivation, is impressive.
This may be a harmless tradition, something to amuse adults and excite children, but is it perhaps indicative of a much more complex and, in some ways, twisted world view which we present to our youth?
The question "What do you want to be when you grow up?" is something we have become so used to asking children that we seem to overlook the fact that it is in many ways confusing, limiting and unintuitive way to look at the world.
It has been suggested that a better question to ask is "What types of problems would you like to solve?"
With this approach, you introduce the idea that a child should be aware of themselves and how they fit into their community on a local and global scale. Education, thus, becomes a means of not only sharing information, but of creating thoughtful, innovative and active members of society.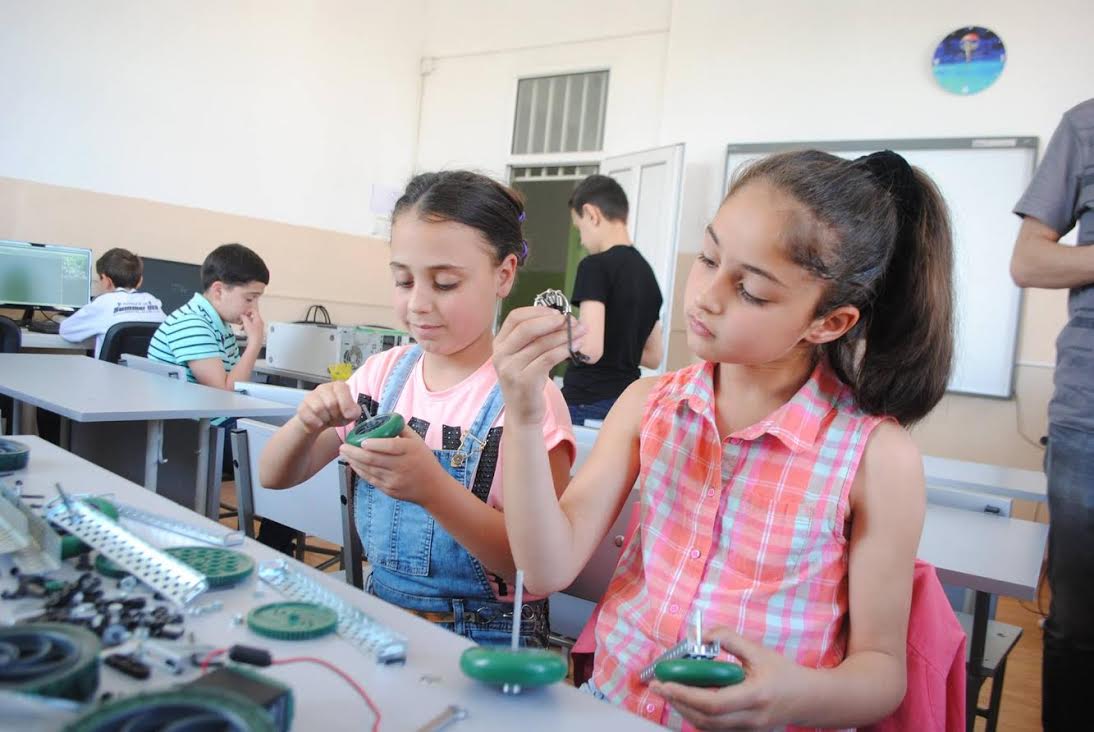 This is exactly the goal which Vahagn Poghosyan of Instigate had in mind when he spearheaded the development of Armath engineering labs in conjunction with the Union of Information Technology Enterprises. He wanted to introduce students as young as 12 to computer sciences and specifically robotics so that they would have their eyes opened to the opportunities available to them in the world of IT, but also so that they would understand their role in their own communities.
The Armath labs are being installed in public schools all over Armenia and are equipped with technology that can revolutionize the way we approach education.
The students learn to write code by creating basic video games which they can then play and share amongst themselves and an entirely new community, online. They experiment with robotics kits which allow them to create robots which then need to be coded to move; the students can then print 3D replicas of the pieces that have already been used to create new robots.
"We added 3D printers to the laboratories so that students can not only build robots from the constructed parts which are pre-made for them, but also use the 3D printer to invent a new type of robot which immediately added a dimension to the lab...[it] is a tool to show them what this profession is in a tangible way, in a clearly understandable way," says Mr. Poghosyan.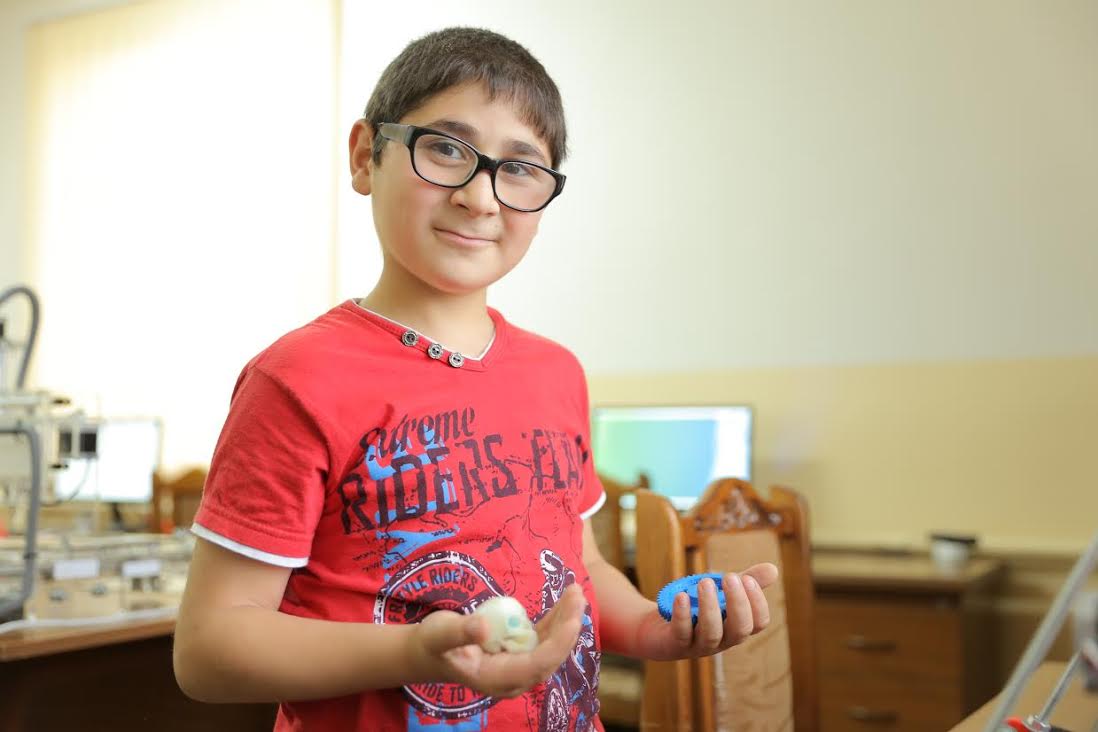 If you think that teaching students to build robots is not "practical" or else inviting them to live in some alternate reality, think again.
Robots are all around us, and as such, understanding how they function and how to build and program them is becoming an increasingly valuable skill. Not only is it useful on a professional level, working with robots has a surprisingly human element to it.
Nora Ayanian was recently named one of MIT Technology Review's "35 Innovators Under 35". She models her robots after human behavior because, after all, humans are naturally good at problem solving. "Distributed and diverse teams are always better at problem-solving, once they learn to work together." she told MIT. This applies to both ends of the process, the teams that create the robots must be diverse, as do the teams of robots themselves.
What does this mean for students studying in Armath labs? For one thing, building robots together requires teamwork and creative problem solving which often isn't a part of their regularly scheduled classes.
Currently, many of the systems in place in our education system in Armenia (and indeed, around the world) are reliant on memorization of information which does not call for, or encourage, critical thinking. In a sense, this approach makes children more like the traditional model of robots than humans- programmed to store information and regurgitate when instructed to do so.
Through studying in Armath labs, students develop skills which are not only crucial to their education but their personal and professional development as well. They learn to code and program and build robots, all of which will help them get jobs in IT in the future, if they so choose, but, more than that, they learn how to approach a challenge from multiple angles. They understand that there isn't necessarily one answer to a problem.
"Being able to have critical thinking, that's what innovation is. A business starts from a problem, not from a means, or a solution," says Mr. Poghosyan.
This principle is what inspired the creation of Real School, a secondary school model which opened its doors this year on September 1st. Real School allows students who have decided that they want to pursue a future in IT (many of whom discovered their passion thanks to exposure to Armath labs in their schools) to undergo what is effectively vocational training for computer sciences.
The curriculum is structured in such a way that students are able to get practical experiences applying their knowledge and developing the skills they need to solve real life problems.
Students travel to villages in rural Armenia and get to know the region, the community and the challenges they face. Once a problem is identified, they work as a team to find a solution which will fit the needs of the community. There are many layers to this approach, including everything from designing a product to marketing it to finding funding to execute it.
This approach is called integrative learning.
"Integrative learning makes you more like a human, a problem solver instead of a machine," Mr Poghosyan says.
Perhaps it's ironic that we are now using the study of technology to reclaim our humanity, but it's working.
The Union of Information Technology Enterprises is working to install one of these labs in every public school in Armenia so that all students can have the opportunity to study computer sciences and potentially go on to work in Armenia's booming IT sector. ONEArmenia has partnered with UITE to facilitate the construction of five more labs in the towns and villages of Paravakar, Tavush, Noyemberyan,Tashir and Alaverdi. You can contribute to this development by donating to Hye Tech Kids here.
(The author lives in Yerevan and works as the Content and Communications Manager at ONEArmenia)