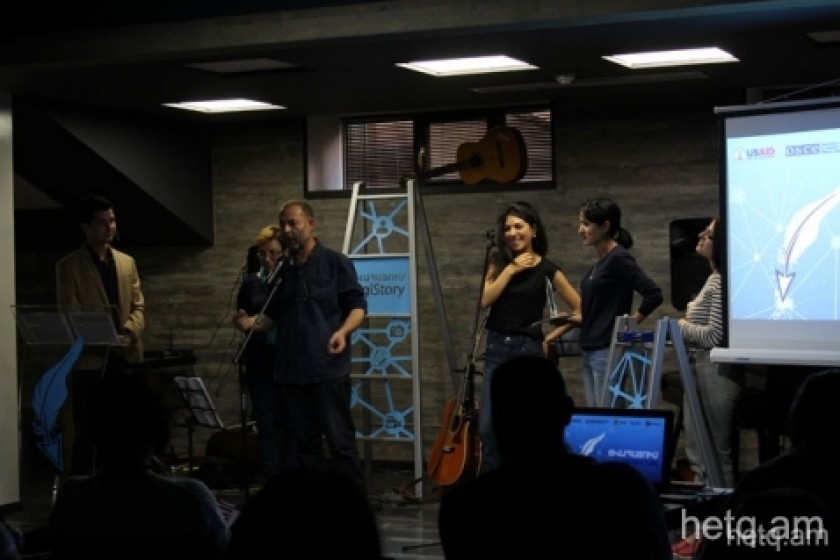 Hetq Reporters Win 4 Awards at 2016 Tvapatum (Digistory) Competition in Armenia
Hetq reporters won four awards at the "Tvapatum (Digistory) – Stories About Change 2016" competition held in Yerevan.
For their multimedia piece The Valuable Gifts of MPs, Grisha Balasanyan and Davit Banuchyan won 1st prize in the category "Best Use of Media 3.0 Technologies".
Two Hetq articles, Mihran Poghosyan: The Armenian General Who Mastered the Ins and Outs of Panama's Offshore (Kristine Aghalaryan, Edik Baghdasaryan) and How to Deceive the Public: Armenia's Ministry of Culture's "Book World" Project A Land Grab Scheme (Marine Madatyan) won the "Observer: Investigative Reportage" award.
Yeranouhi Soghoyan won special mention for her series on the Amulsar gold mine entitled "Gold, or a Sickly Future from Amulsar".
The objective of the competition, organized by the Media Initiatives Center, is to encourage coverage of changes taking place in Armenia. This year, the focus was on local elections, accountable and transparent governance, and social issues.
131 stories from 35 Armenia-based new outlets were entered in the competition. The jury was composed of media specialists Mesrop Harutyunyan, public affairs commentator Tigran Paskevichyan, media manager Manana Aslamazyan, and reporter Karine Kalantaryan.
Reporters from civilnet.am, a1plus.am, and panorama.am also won awards.
This the second year of the Tvapatum competition.
Last year, Hetq walked away with medals in three categories: Observer: Investigative Reportage, Re-information: Best Use of Reforms, and Media 3.0: Best Use of Technology".
As a result of post-competition voting, Hetq prison reporter Mher Yenokyan, serving a life sentence at the Nubarashen Penitentiary, also won an award for his piece entitled Prison Notebook: "Every day I go to the Slavonic University and the Hetq office"
If you found a typo you can notify us by selecting the text area and pressing CTRL+Enter